This post may contain affiliate links, including those from Amazon.com, which means we earn a small commission off your purchases. And here's the thing: We only mention services and products that we think are truly worth your attention, whether they're free, paid, or otherwise. This site relies on YOUR trust, so if we don't stand behind a product 110%, it's not mentioned. Period.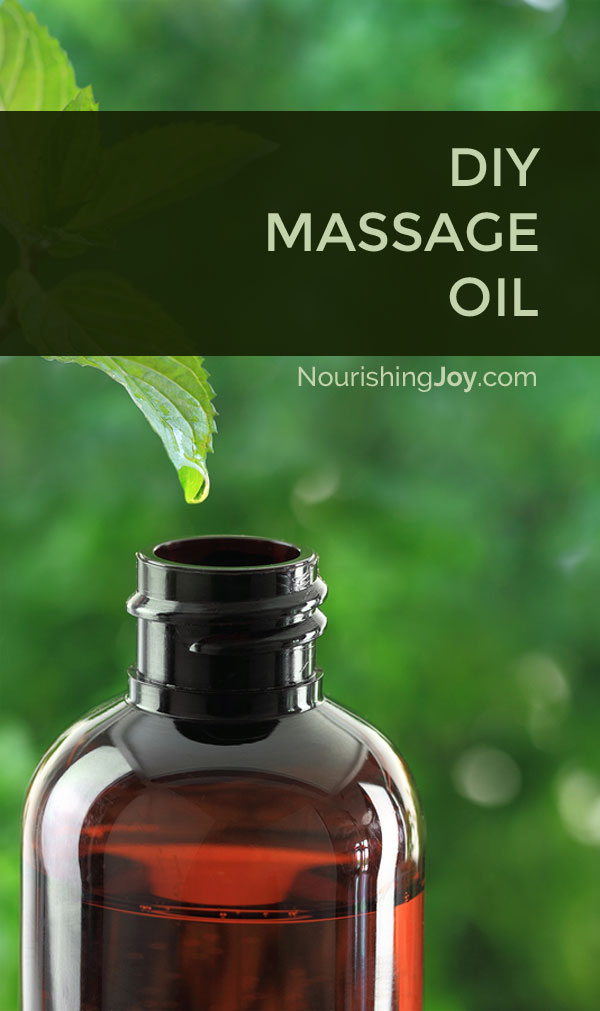 Are you in search of a thoughtful wedding gift, anniversary gift, or Valentine's Day gift? You're in the right place! This DIY Massage Oil is both perfect for everyday use and exceptional as a gift.
This week marks my husband's and my 10th anniversary. <3 Oh, and it happens to be Valentine's Day too.
Thus, it's a season for celebrating love, shared life, and a decade stuffed full of kids' messes, major moves, career changes, and evenings spent laughing (and sometimes crying) together through the chaos.
Yes, a season for celebrating, for sure.
Neither my husband and I are into big, expensive gifts, so I wanted to create a simple, meaningful gift and decided upon this simple DIY Massage Oil. Usually when one of us has tight muscles or just needs some serious relaxation, we grab some olive oil or coconut oil for massage, but this homemade massage oil really does make the occasion feel like something special.
Besides, it's SUPER simple to make and very customizable, according to how "fancy" you want to get with scent. 🙂
Okay, so for all you skimmers, here's what's in the DIY Massage Oil post:
DIY Massage Oil recipe
Melt: Massage for Couples – simple instructions for a beautiful massage
Tips for blending your perfect scent
What to do if you don't want to make your own massage oil
DIY Massage Oil
Click here to see our standard dilution chart for using essential oils safely
4 oz carrier oil, such as olive oil, sweet almond oil, jojoba oil, or avocado oil
30-45 drops essential oil or essential oil blend
1/4 teaspoon Vitamin E oil (optional)
Place half of the carrier oil in a dark-colored glass pump bottle or dark-colored plastic squeeze bottle, then add the essential oil and add Vitamin E oil, if using. Add the remaining carrier oil.
Slowly tilt the bottle up and down to gently blend oils and store in a cool, dark place for up to 6 months if you used Vitamin E or up to 1 month if you didn't use Vitamin E.
Shake gently before each use.
The Vitamin E in this recipe helps prevent oxidation of oils, so it extends the life of your massage oil. However, it's definitely optional.
My Two Favorite DIY Massage Oil Scent Blends
If you'd like to create your OWN essential oil blend, read our tips below for blending your perfect scent.
Blend #1
Blend #2
How to Give A Beautiful Massage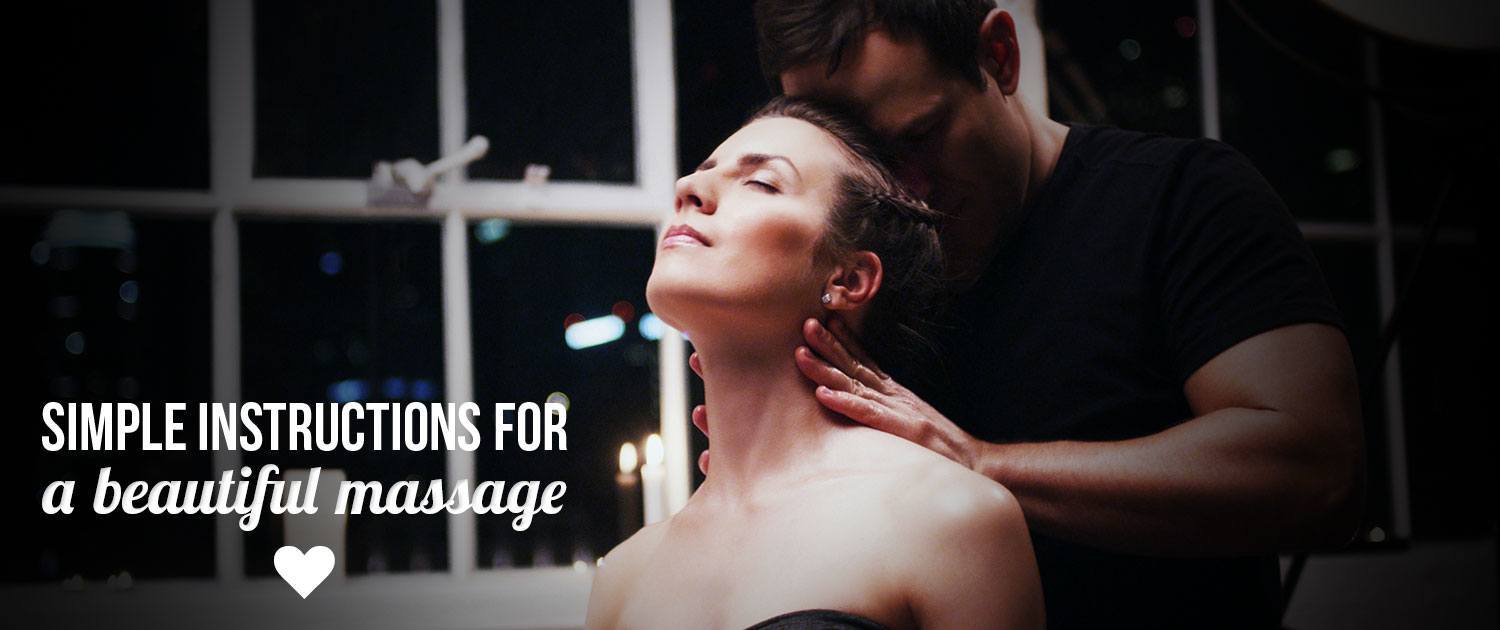 You can certainly use this DIY Massage Oil in any way you would use any other massage oil, but pairing your massage oil with the gift of massage makes this gift extra-special.
If you tend to get sore hands when you massage your loved one, or if you want to use your DIY Massage Oil as a wedding gift or anniversary gift, definitely check out Melt: Massage for Couples.
So, what IS Melt: Massage for Couples?
Melt: Massage for Couples is an online course that teaches you step-by-step how to give your partner exceptional massages, with the focus being to massage safely, massage well, and nurture and celebrate being with your spouse. It's a GREAT way to learn basic massage techniques you can use again and again.
The instructor, Denis Merkas, who has been a professional massage therapist for nearly 20 years, makes it beautifully pleasant and downright simple with clear demonstrations and calm encouragement.
Namely, Melt is everything you want in a gift: it's classy, it's thoughtful, it SCREAMS "I want to spend time with you," and it's the type of gift that keeps on giving.
It's also ready for you instantly, so it's a perfect last-minute gift as well!
My husband and I also use the techniques we've learned from Melt on a day-to-day basis to help massage out tired muscles and sore backs. So, SO lovely!
So, if you're looking for a gift for your sweetie, to give for a wedding, or to pocket it to have ready for your next anniversary – grab Melt now!
Tips for Blending Your Perfect Scent
Essential oils evaporate and release their scent at differing rates, so thus creating a blend is a really wonderful idea so that you can enjoy the aroma throughout your massage, not just right at the beginning when it's first applied.
Thus, your goal is to create a blend that you enjoy throughout all of the stages of evaporation. It's the art and science of perfumery and aromatherapy, but at home!
To do so, you'll want to use a mix of oils that each release their scent at different times, often called top notes, middle notes, and bottom notes.
Top notes are oils with strong aromas that generally evaporate faster and absorb into skin very quickly. Most citrus oils and mints, such as lemon, sweet orange, mandarin, grapefruit, peppermint, bergamot, and eucalyptus are good examples.
Middle notes tend to be less aromatic oils with more subtle, longer-lasting fragrance. Many floral and herb oils fall into this category, such as chamomile, lavender, geranium, neroli, ylang ylang, anise, cardamom, clary sage, and thyme.
Base notes tend to bring the blend together and have a lingering aroma. Most woody and heavily floral scents such as rose, vanilla, sandalwood, frankincense, patchouli, cedarwood, and myrrh fall into this category.
And note that even though it is recommended to use oils from each category, it's certainly not required. Use your nose and your intelligence to decide what YOU like!
Experiment, THEN Blend
When creating an essential oil blend, I highly recommend making a small amount first to decide what you like best.
For example, if you want to make a blend of geranium, ylang ylang, and vanilla, drip just a few drops of each in the ratio you'd like to mix on a cotton ball, then smell it and decide if you like the ratios. Perhaps smell it again the next day to see if your conclusion is still the same.
If so, then using that same ratio, blend the two together in a larger volume for your DIY massage oil.
Also, there's a lovely short article with really great blending tips at the Mountain Rose Herbs blog.
Essential Oil Safety
Click here to view our full printable for essential oil safety
Always rub the massage oil on a small, inconspicuous area first before applying any essential oil blend to large areas of the body. Remember that not all allergic reactions are immediate. Wait at least twenty minutes, then check the test site for redness or swelling.
In case of allergic reaction, do not rinse with water! The best way to remove oil is to apply liquid dishwashing soap to dry skin where the oil is present. Rub gently until you are certain that the oil has been removed before rinsing, usually at least 30 seconds.
It is strongly recommended that pregnant or breastfeeding women consult with a professional physician or aromatherapist before using essential oils or other herbal remedies. You may also consult the searchable database in our Safe Essential Oils for Children and Babies article, but keep in mind that that's no substitute for consulting a knowledgeable healthcare professional who can evaluate how particular herbs and essential oils will interact with YOUR body.
Also, remember to wear sufficient clothing to provide sun protection if you must be exposed to sunlight after applying essential oils to your skin. Some essential oil blends (especially those containing citrus oils) have the potential to make skin more sensitive to UV damage.
What to do if you don't want to make your own massage oil
Through the years, I have been super-impressed with Mountain Rose Herb's pre-mixed massage oils. They're affordable, very pleasantly scented, and effective. My favorites have been the Aches & Pains Massage Oil and the Rose Moon Massage Oil.
Click here to see all their pre-mixed massage oil options.
Either that, or you could ask a friend or your spouse to make the DIY massage oil as a gift…
Happy Massaging!