Dukkah: A Snack Your Kids (and You) Will Love
This post may contain affiliate links, including those from Amazon.com, which means we earn a small commission off your purchases. And here's the thing: We only mention services and products that we think are truly worth your attention, whether they're free, paid, or otherwise. This site relies on YOUR trust, so if we don't stand behind a product 110%, it's not mentioned. Period.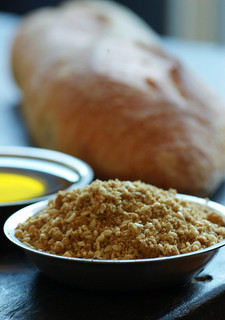 What's your house like at dinnertime? I don't know about you, but ours is usually the very definition of joyful (or not so joyful) chaos.
We call it "the five o'clock witching hour." The six-year-old who has been at school all day is tired and hungry, the 2-year-old is grumpy and hungry, and the baby is clambering to be fed. All while Mommy is finishing dinner preparations and Daddy is just arriving home from a long day at work.
We're pretty strict in our house about snacking. Snacks are okay, but only at specific times of day. And a half-hour before dinner is not a designated snack time.
However, lately I've been changing my methodology around mealtime. We have now been allowing small healthy "appetizers" for our kids, both to help settle the troops, and because as my husband reminds me, "As long as they're eating a balance of nourishing food, they're not actually spoiling their dinner." Well said, Daddy.
So, then I remembered an Egyptian recipe I ran across several years ago. It's full of flavorful spice, good protein, and it's everyday fare in modern Egypt. It's called dukkah and it's basically a mix of ground nuts, seeds, and spices. A friend of mine claims that her kids eat twice as much of anything if it has this on top.
We serve this in a traditional manner, with perhaps a few un-traditional food items for dipping. Traditionally, the dukkah is served with a bowl of olive oil and pieces of bread, which you dip first in the oil, then in the dukkah. When I set out our dukkah, I set it out with both the bread and olive oil, but I also set out other fruits and vegetables that my kids like to make the dipping fun and the spread more nourishing. Bananas, apples, and pineapple work especially well in this case, but try it with anything your kids already love.
You can also use this as a condiment (in fact, you'll see this recipe in our upcoming condiment cookbook). Sprinkle it over fish, chicken, soup or yogurt for a nourishing flavor infusion.
Egyptian Dukkah
Makes approximately 1 cup
1/2 cup hazelnuts or almonds
1/4 cup coriander seeds
1/4 cup sesame seeds
2 tablespoons cumin seeds
1 teaspoon fennel seeds
1 tablespoon black peppercorns (for a mild heat), 1/4 tsp cayenne (for medium heat), or 1/2 tsp red pepper flakes (for more intense heat) – optional
1/2 tsp ground turmeric
1 teaspoon dried mint leaves
1 teaspoon unrefined sea salt
Heat a heavy skillet over medium-high heat, then add the nuts. Dry-toast them until they're slightly browned and fragrant, being careful they don't burn. Remove from the heat and set aside. Repeat the toasting with each of the seeds and peppercorns (if using). Allow each of them to cool completely.
Place the nuts and seeds, along with the turmeric, mint, and salt, into a food processor and pulse until coarsely ground. (Do not let the mixture become a paste.) You may also crush the mixture in a mortar – just pound until the mixture is finely crushed.

Store in an airtight container in a cool place for up to 1 month.
This post has been shared at Fat Tuesday.