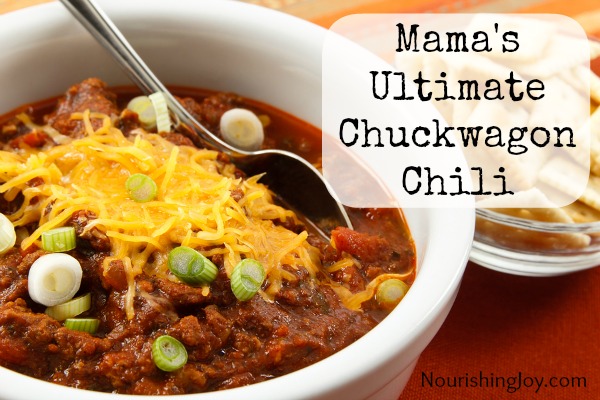 Usually I'm a proponent of telling my kids exactly what they're eating. I figure that way, even if they don't like it now, they'll come to appreciate each food over time.
But then there are the days when I just want to hide every nourishing thing I can think of in their favorite foods so they'll blissfully chow down and get the foods they need with nary a word of protest. (Sing with me! "Where seldom is heard a discouraging word…")
This chili is one food that always delivers.
It's a standard chuckwagon chili – chunks of meat and no beans – but in it is hidden just the right amounts of liver, pumpkin, beets, zucchini, and chocolate. You'd never guess, though, as it's as delicious a chili as you'd find on any chili cookoff table.
And as a added benefit, the liver will give mama an anti-fatigue boost. Bonus!
Mama's Ultimate Chuckwagon Chili
Don't be put off by the long list of ingredients – most of them are just spices. And if you need to avoid the coffee and chocolate, feel free to skip them – they're just there as flavor enhancers. The tradition of coffee in chili got started by the old chuckwagon cooks who would toss in the remains of the morning's cowboy coffee as the chili was stewing through the day.
4 tablespoons tallow or bacon grease, divided
3 pounds beef chuck, cut into 1/2-inch cubes
1 pound beef liver
2 lemons or limes
2 large white or yellow onions
1 jalapeño pepper, deseeded and finely chopped, more to taste
1/4 cup chili powder
1 tablespoon ground cumin
1/4 teaspoon smoked paprika
1/2 teaspoon ground coriander
1 teaspoon dried oregano
1 bay leaf
5-6 large cloves of garlic, minced
24 ounces dark beer OR 3 cups beef stock
8-10 tomatoes, roasted, peeled, and diced (if you did this during the summer preservation season and are now just pulling them out of the freezer, give yourself a pat on the back)
1/8 teaspoon all-natural liquid smoke (optional)
1/2 cup tomato paste (learn how to make it here)
1 cup beef stock
1 cup pumpkin pureé (learn how to make it here)
1 small beet, shredded
1 small zucchini, shredded
2 teaspoons unrefined sea salt
1 ounce bittersweet or extra-dark chocolate, coarsely chopped
1/4 cup leftover dark coffee OR 2 shots of espresso
Ideas for serving:
grated cheddar or pepper jack cheese
chopped scallions
fresh cilantro
tortilla chips
At least 12 hours before you want make the chili, place the beef livers in a bowl and cover with water. Juice the 2 lemons or limes and pour in all of the juice. Lift each liver to make sure the water mixture gets in contact with every surface. Place in the refrigerator and let sit until chili time. This step will minimize the "liver-y" taste, so it's definitely recommended.
When you want to make your chili, heat 2 tablespoons of bacon grease in a large, heavy-bottomed pot. Drain the livers and coarsely chop them. Place them in the heated pot and brown them over medium heat until they begin to fall apart. Remove them with a slotted spoon and place them in a food processor or large bowl and grind them or smash them to the consistency of ground beef. Set aside.
Meanwhile, brown the beef chuck in 2-3 batches. After each batch is browned, set aside.
Add the remaining bacon grease to the pot and toss in the onions. Sauté until they are translucent but not browned. Add in the jalapeño, spices, and garlic and sauté until fragrant, 30-60 seconds. Pour in the beer to deglaze the pan, then add all remaining ingredients and the reserved liver and beef chuck.
Stir well to make sure the tomato paste and pumpkin are well mixed in, then bring to a boil. Reduce heat to medium-low, partially cover, and let simmer until the chili is thickened and the meat is very tender, about 1 1/2 hours. Stir occasionally to make sure the chili isn't sticking to the bottom of the pot.
Spoon into bowls, top with your favorite toppings, and enjoy!