This post may contain affiliate links, including those from Amazon.com, which means we earn a small commission off your purchases. And here's the thing: We only mention services and products that we think are truly worth your attention, whether they're free, paid, or otherwise. This site relies on YOUR trust, so if we don't stand behind a product 110%, it's not mentioned. Period.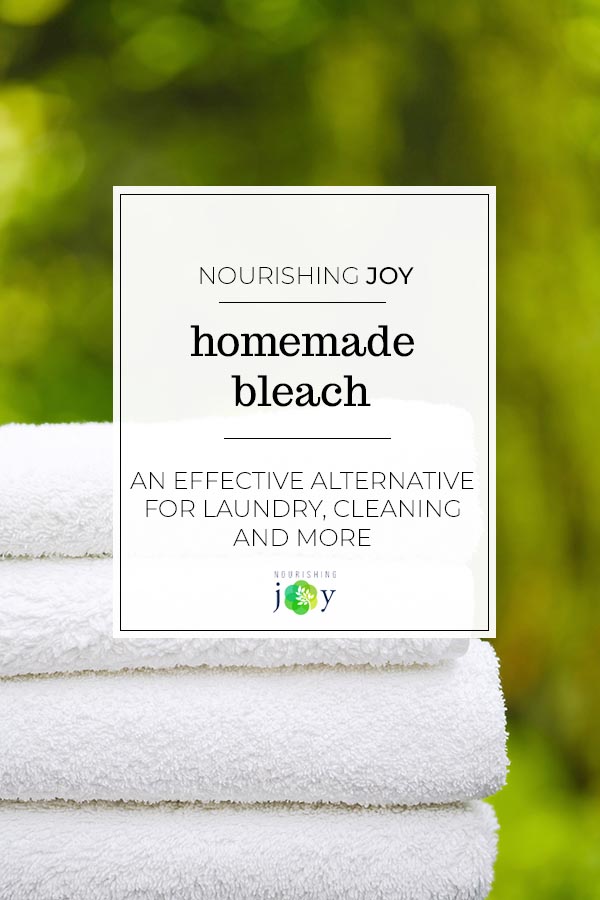 In my quest to make my home as natural and non-toxic as possible, naturally I wondered whether I could make bleach at home. Chlorine bleach is rather nasty stuff, it tends to give me headaches when I use it, and I want to use it as little as possible in my home. And besides, some people are allergic to chlorine – might there be a decent alternative for them?
But the question is – homemade bleach is great for whitening laundry, as Jillee at One Good Thing and Robin at Thank Your Body have shown, but what about cleaning? Have I been wrong about chlorine bleach? Can a homemade version be as effective as chlorine?
The short answer – yes.
The long answer – yes, but laundry and cleaning require different recipes AND you have to be aware that, since you're making your own solution, you can make an educated guess, but not actually verify, which viruses and bacteria your solution is actually killing. (It's still effective though!)
Want an alternative to chlorine bleach but don't want to make your own? I often use this non-chlorine bleach in my home, as well as this powdered version for laundry.
WHY on earth would you want to make your own bleach?
To decide whether homemade bleach is right for you, first you should know your ingredients, both of regular chlorine bleach (aka sodium hypochlorite) and the homemade versions.
Chlorine bleach
Chlorine bleach is sodium hypochlorite, a solution of chlorine and diluted sodium hydroxide. That's interesting for two reasons:
One, when exposed to the air, the chlorine evaporates as a gas from the bleach solution at a high rate, which is why there is such a strong smell associated with chlorine bleach. Honestly, chlorine inhalation is what bothers me most about having it in my home. Chlorine fumes can cause everything from mild headaches and dizziness to internal tissue damage of the nasal, pulmonary, and bronchial tissues, if the exposure is either severe or prolonged.
Two, sodium hydroxide is highly corrosive, and even though it has changed states here due to the chemical reaction with water and chlorine, the mixture is still corrosive. You may remember sodium hydroxide as the active ingredient in drain cleaner and the ingredient we use in soapmaking to convert oils into soap (it's also known as "caustic lye"). And if you've ever made soap, you'll know that you need to use extreme caution when handling the sodium hydroxide crystals.
However, despite those two hazards, chlorine bleach is relatively shelf-stable and has been widely tested and approved as effective against multiple viruses, microbes, bacteria, protozoa, and other pathogens on both hard and porous surfaces, as well as an effective whitening agent.
Homemade bleach
Hydrogen Peroxide
Hydrogen peroxide can be just as corrosive as chlorine bleach, depending on its strength, and it's more volatile at higher concentrations, yet hydrogen peroxide has been approved as an effective household disinfectant by the EPA since 1977.
Hydrogen peroxide can be found in multiple potencies. The kind typically available at a common drugstore is a diluted 3% solution.
However, it can also be found in industrial and food grade strength, which are all above 30% dilution. Of course, this will make a MUCH more potent cleaner, but it's also extremely volatile at that strength. It can burn your skin severely (ask me how I know…. ::sigh:: ), corrode certain materials (such as vinyl countertops), tarnish metal, and explode if stored improperly.
(Interesting side note: In its purest form, hydrogen peroxide even sometimes used to propel rockets because of its explosive nature! Cool, huh?)
However, at the concentrations we use here, the corrosive levels are very low and there is very little vapor vulnerability. In a nutshell, THIS is why I make my own homemade bleach.
Vinegar
Vinegar is easy to find, cheap to source, and can even be made at home (my book, The DIY Pantry, has a recipe for homemade wine vinegar, but it's strictly a culinary recipe – there's no way to ensure a homemade recipe consistently has sufficient acetic acid for efficient anti-microbial action).
Vinegar has been proven to inactivate certain strains of influenza, including H1N1, as well as other viruses (pdf), and according to an anecdotal quote from an executive at Heinz, pure 5% white vinegar will kill approximately 99% of bacteria, 82% of mold, and 80% of germs (their word, not mine) when used for cleaning.
However, as I describe below, vinegar is most potent when combined with hydrogen peroxide.
IMPORTANT REMINDER:
I am legally required to remind you that since you are making your own solution and I cannot be present beside you with testing kit in hand to verify your method, measure your exact ingredients, and test the potency of your finished solution, the recipes below are NOT guaranteed to kill coronaviruses or any other pathogens that enter your home. All the information here is listed strictly as guidelines for you to be able to do your own due diligence.
So, with that, let's get to the recipes!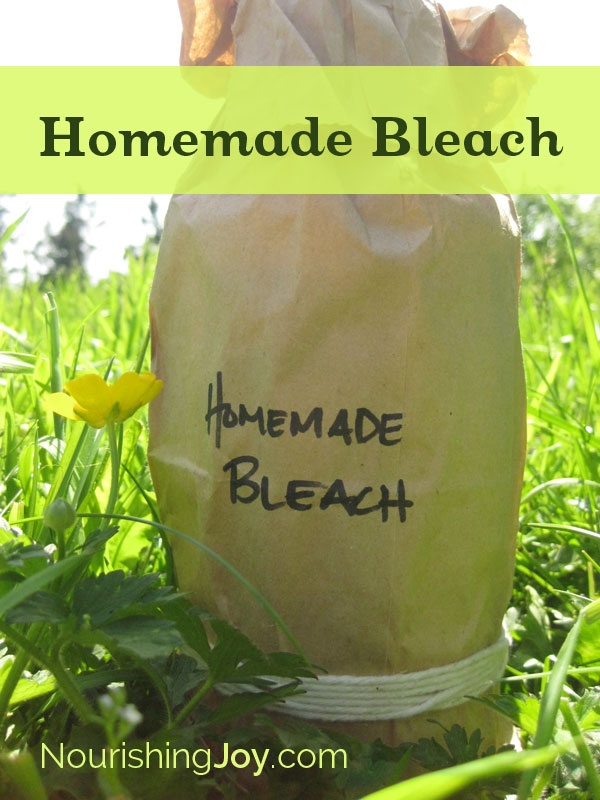 Homemade Bleach for Cleaning
For cleaning, you want oomph, and a 50-50 blend of 3% H2O2 and water seems pretty standard by the scientific community to sufficiently deal with common household bacterias, viruses, and molds. Of course, I always like things a little more potent, so sometimes I skip adding the water altogether.
makes 1 quart
2 cups hydrogen peroxide (3% solution) – see where to buy hydrogen peroxide
2 tablespoons lemon juice OR 1/2 teaspoon citric acid – see where to buy citric acid
2 cups water
10 drops lemon essential oil
Store in dark or covered bottles, as exposure to light will weaken the solution. Lasts up to 1 month in a clear bottle, 2-3 months in a dark bottle.
Here are a few ideas for keeping your solution in the dark:
Keep old peroxide bottles and kype a spray nozzle from another bottle.
Wrap the spray bottle in a brown paper lunch bag and secure at the top.
Cover the spray bottle with construction paper or wrapping paper and make it decorative – I'm not a crafty type, but those of you who are crafty at heart, feel free go to town!
Homemade Bleach for Disinfecting Surfaces & Washing Produce
Peracetic acid, which is formed when acetic acid (vinegar) and hydrogen peroxide mix, is a very potent cleaner against multiple viruses and bacteria according to the EPA, but it is very unstable and weakens quickly once mixed. (Source: CDC Guideline for Disinfection and Sterilization in Healthcare Facilities, 2008)
It is even potent enough to be used for sanitizing some medical, surgical, and dental supplies, and is approved in the US for use on hard, non-porous surfaces in cheesemaking facilities, wineries, and other food service locales, again according to the EPA.
However, I have not been able to find any information regarding its effectiveness against protozoa and amoebas, so I cannot recommend its use against those pathogens.
To make homemade bleach for cleaning, keep two separate spray bottles on hand – one with standard 3% hydrogen peroxide and one with 5% or 7% white vinegar, then spritz them each on the surface to be cleaned – such as countertops, cutting boards, or fresh produce. (Source: Journal of Food Protection // "Control of pathogenic bacteria on fresh produce," Peters, D., Sumner, et al. 1996)
Let the spray then sit to dry without wiping or rinsing.
Because it weakens and loses its potency so quickly once mixed, there is no "recipe" for it beyond that, as you don't want to mix it up ahead of time.
I personally like to spray a bit heavier with the hydrogen peroxide, as peracetic acid + hydrogen peroxide is an even more potent disinfectant, but a 50-50 mix is certainly sufficient.
A Note about Fumes:
Since vinegar in particular is recommended so commonly for natural cleaning purposes, you may have run across mentions that vinegar should never be mixed with either chlorine bleach or hydrogen peroxide, as "toxic fumes may result."
This is true, but at the concentrations we're working with, there is little cause for concern. Remember that the hydrogen peroxide typically found at the drug store is a 3% concentration – that means it's 3% hydrogen peroxide and 97% water. If you use a hydrogen peroxide above 10%, you may need to start paying more attention to fumes and to how it comes into contact with your skin, but with the ingredients as we have listed them here, there is no more cause for concern than you would experience if sniffing either the vinegar or hydrogen peroxide on their own – not comfortable, but not dangerous. (See more discussion on this topic.)
Homemade Bleach for Laundry Use
For laundry, you want something a little less potent – just so your colors actually stay, you know, colored. If you do use the cleaning recipe for laundry, use only 1/4 cup and test on light colored fabrics first!
The lemon juice is actually an important part of this recipe, so don't skip it. The citric acid acts as a whitener, a very mild disinfectant, and as a water softener (thus allowing stains to be lifted out more easily).
Makes 1 quart
(multiply everything by 4 to make 1 gallon)
1/2 cup hydrogen peroxide (3% solution)
2 tablespoons lemon juice OR 1/2 teaspoon citric acid
3 1/4 cups water
5 drops lemon essential oil
Use 1 cup per load of laundry.
Results will definitely vary according to the hardness of your water.