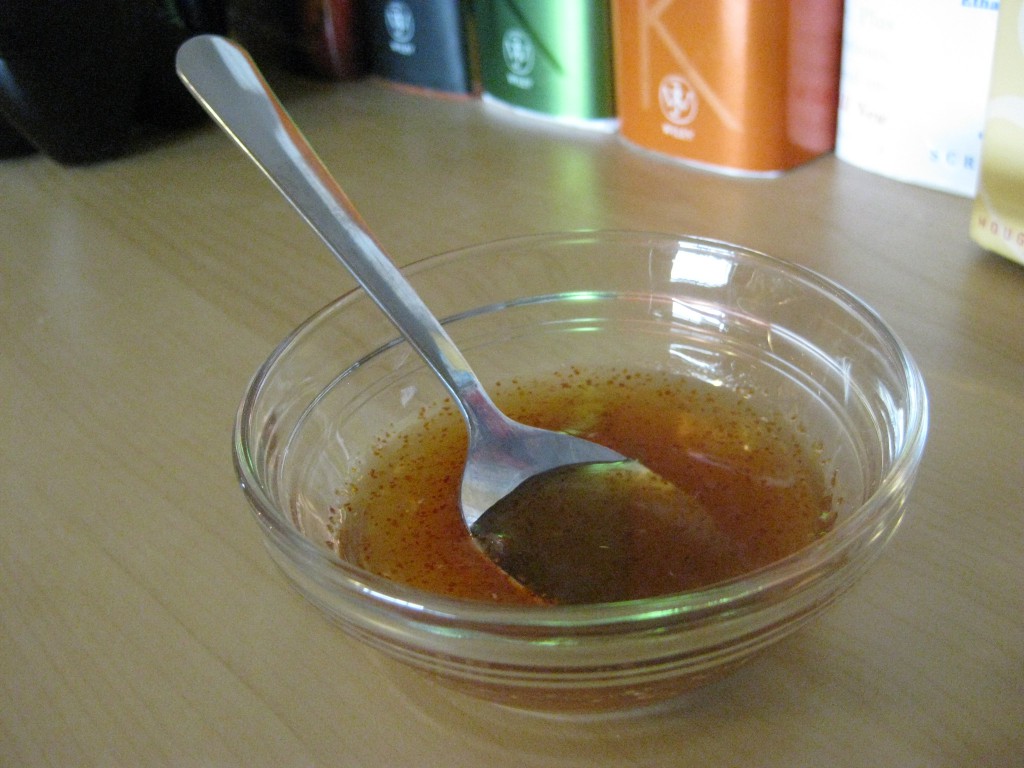 Because our family eats mostly whole, nutrient-dense foods, and because we have been blessed with healthy immune systems, we rarely catch the bugs that make the rounds. (For this I'm definitely grateful!)
But when sickness does overtake us, we reach for natural and traditional remedies to heal our bodies whenever possible. This is compounded even more since I'm currently pregnant – no way do I want most OTC medicines available these days coming anywhere near my precious baby's developing brain and endocrine, hormone, and nervous systems.
So recently, when I came down with a hacking cough, tickly throat, and a swollen larynx, I reached for a few simple ingredients in my kitchen and mixed up this homemade cough syrup that quieted my cough and allowed me to sleep. We have found that even if it doesn't alleviate the cough entirely, it soothes the throat considerably and gives the membranes a chance to rest.
The original version of this recipe appeared in the 1982 edition of Herbally Yours
by Penny C. Royal. I prefer a thicker syrup, so I've added more honey and don't use any water, but overall it's very similar to the recipe she recommends. And obviously, due to the honey content, this syrup should not be used with an infant under the age of 12 months.
If you would prefer cough drops, we've got homemade cough drops too!
Cough Syrup
1/4 tsp cayenne pepper
1 tsp fresh grated ginger OR 1/4 tsp ground ginger
1 clove garlic, grated (optional)
2 Tbls raw honey
1 Tbls apple cider vinegar
2 Tbls water (optional)
Place all ingredients in a small jar with a tight lid and shake to combine or whisk vigorously in a medium bowl. The mixture will stay fresh for several days, especially if stored in the refrigerator, but is most effective when made fresh every two days.
Take 2-3 spoonfuls every few hours or as needed. (I find it very drying to the throat, so taking a dose more than once an hour becomes an irritant for me – you'll find your right balance easily.)
The Ingredients
The cayenne pepper has capsaicin, which acts as a pain reliever. Even though it's also what makes hot peppers spicy, capsaicin interrupts the pain message between the nerves and the brain, thus alleviating the pain sensation. It is warming and stimulating to the nerves, thus increasing blood flow and promoting healing.
Ginger is a natural antihistamine and anti-inflammatory, as well as anti-nausea agent. It likewise is warming and stimulating to the nervous system and is helpful in relieving chest congestion. I prefer using fresh ginger because it is more potent and the juice is especially helpful in this recipe, but ground ginger is certainly a worthy substitute.
Garlic is known for its anti-viral properties and stimulates the immune system. Include the garlic in this recipe if you are fighting a particularly nasty viral infection.
Honey is soothing, tasty, and coats the throat. Raw honey is packed with nutrients and enzymes and is a powerful antiviral and antibacterial substance, due to the propolis, which is what the bees themselves use to seal the hive from bacteria and infection. One study published by Stanford University (pdf) has shown that buckwheat honey is especially effective for cough relief.
Apple cider vinegar has a plethora of beneficial uses and in this case provides antiseptic, antiviral, and antibacterial properties. It also provides a large number of minerals, vitamins, enzymes, and amino acids, which boost the immune system and promote healing in the body.
Other Cough Remedies
Mixing raw honey and fresh lemon juice in a ratio of 1 Tbls honey to 1 tsp lemon juice is a very simple syrup to concoct and soothes most sore throats and annoying coughs. It's refreshing and soothing and provides a needed dose of Vitamin C.
A few medical notes…
Please remember, any cough that:
lasts more than a week, especially if coupled with a fever
is accompanied by a whooping sound
has swollen tonsils with white dots and feels like you're swallowing glass
brings up blood or thick yellow or green mucous
needs to be seen by a doctor, naturopath, or other medical professional. Most coughs are harmless and annoying, but some can be the first signs of something much more severe and in some cases are highly contagious and need to be treated quickly.
Also, if you are prescribed an antibiotic, remember to eat plenty of yogurt and other probiotic foods, such as sauerkraut, kombucha, or kefir. The antibiotics work successfully by killing off the bacteria in your system and the good bacteria need to be replenished. (Do also remember, though, to not eat the dairy-based probiotics, such as yogurt or milk kefir, at the same time as the medication, as the dairy will interfere with the effectiveness of the drug.)