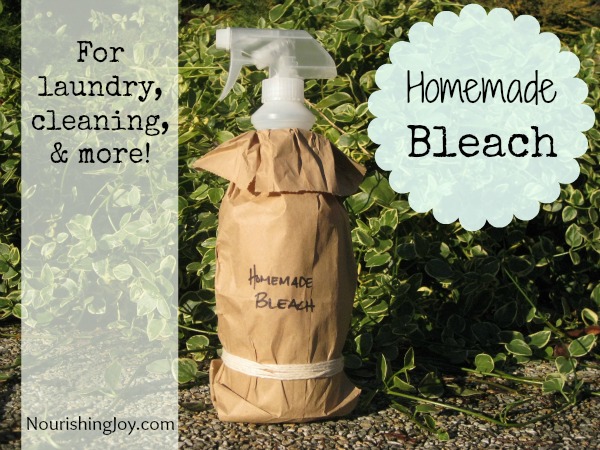 In my quest to make my home as natural and non-toxic as possible, naturally I wondered whether I could make bleach at home. Chlorine bleach is nasty stuff, and short of a major catastrophe where it be required for purifying water for survival, I don't want it anywhere in my home.
But the question is – homemade bleach is great for whitening laundry, as Jillee at One Good Thing and Robin at Thank Your Body have shown, but what about cleaning? Can a homemade version be as effective as chlorine?
The short answer – yes, absolutely.
The long answer – yes, but with different recipes for laundry and cleaning if you really want to knock out viruses, not just mold and bacteria.
The recipe that works well for laundry will kill approximately 99% of bacteria, 82% of mold, and 80% of germs when used for cleaning (those are the stats for pure vinegar before it's boosted with lemon juice, according to Heinz, one vinegar manufacturer). Hydrogen peroxide has been approved as an effective household disinfectant by the EPA since 1977.1
Homemade Bleach for Cleaning
For cleaning, you want oomph, and a 50-50 blend of 3% H2o2 and water seems pretty standard by the scientific community to sufficiently deal with common household bacterias, viruses, and molds. Of course, I always like things a little more potent, so sometimes I skip adding the water altogether. (Shhh… don't tell. It's not quite as frugal, but it makes me feel good.)
makes 1 quart
2 cups hydrogen peroxide (3% solution) – see where to buy hydrogen peroxide
2 tablespoons lemon juice OR 1/2 teaspoon citric acid – see where to buy citric acid
2 cups water
10 drops lemon essential oil
Store in dark or covered bottles, as exposure to light will weaken the solution. Lasts up to 1 month in a clear bottle, 2-3 months in a dark bottle.
Here are a few ideas for keeping your solution in the dark:
Keep old peroxide bottles and kype a spray nozzle from another bottle.
Wrap the spray bottle in a brown paper lunch bag and secure at the top.
Cover the spray bottle with construction paper or wrapping paper and make it decorative – I'm not a crafty type, but those of you who are crafty at heart, feel free go to town!
Homemade Bleach for Disinfecting Surfaces & Washing Produce
Peracetic acid, which is formed when acetic acid (vinegar) and hydrogen peroxide mix, is a very potent cleaner,2 even for conquering e. coli, listeria, salmonella, shigella, staphyloccoccus aureus, and most viruses like the flu, but it is very unstable and weakens quickly once mixed.3
It is even potent enough to be used for sanitizing medical, surgical, and dental supplies4, and is approved in the US for use in cheese making facilities, wineries, and other food service locales.5
Because it weakens so quickly, however, there is no "recipe" for it, as you don't want to mix it up ahead of time.
However, if you keep two separate spray bottles on hand – one with standard 3% hydrogen peroxide and one with white vinegar, then spritz them each on the surface to be cleaned – countertops, cutting boards, or fresh produce,6 for example – you will effectively kill any pathogens present.7
I personally like to spray a bit heavier with the hydrogen peroxide, as peracetic acid + hydrogen peroxide is an even more potent disinfectant, but a 50-50 mix is certainly sufficient.
And of course, you'll have the best results if you spray and let it sit to dry without wiping or rinsing.
Homemade Bleach for Laundry Use
For laundry, you want something a little less potent – just so your colors actually stay, you know, colored. If you do use the cleaning recipe for laundry, use only 1/4 cup and test on light colored fabrics first!
The lemon juice is actually an important part of this recipe, so don't skip it. The citric acid acts as a whitener, a very mild disinfectant, and as a water softener (thus allowing stains to be lifted out more easily).
Makes 1 quart
(multiply everything by 4 to make 1 gallon)
1/2 cup hydrogen peroxide (3% solution)
2 tablespoons lemon juice OR 1/2 teaspoon citric acid
3 1/4 cups water
5 drops lemon essential oil
Use 1 cup per load of laundry.
Would you consider using homemade bleach in your home? If you already have, what's been your experience?