The Pleasure of Homemade Bagels
This post may contain affiliate links, including those from Amazon.com, which means we earn a small commission off your purchases. And here's the thing: We only mention services and products that we think are truly worth your attention, whether they're free, paid, or otherwise. This site relies on YOUR trust, so if we don't stand behind a product 110%, it's not mentioned. Period.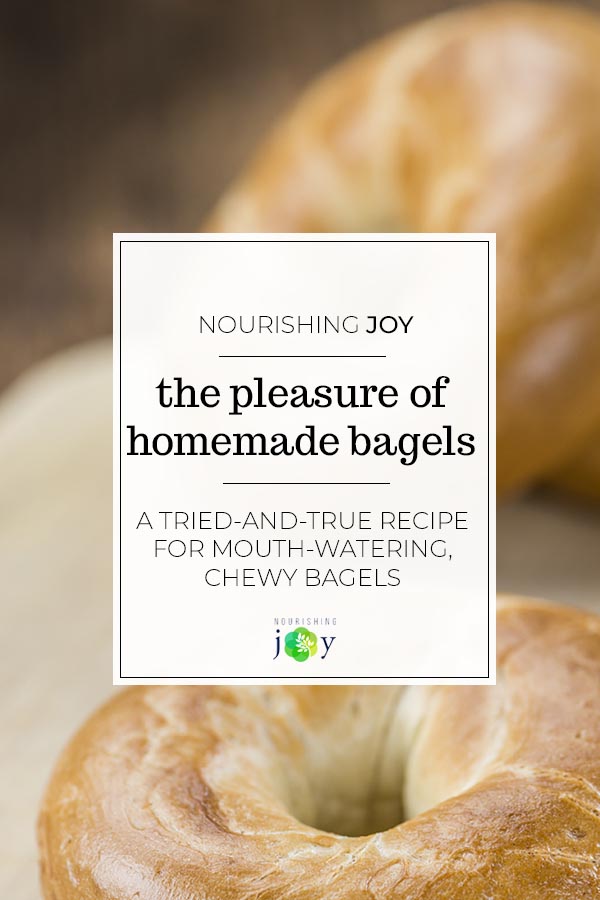 One Saturday when it was time to do our weekly baking, my husband and I both had a hankering for bagels, so I opened up various cooking tomes to see what I could find. What developed was so easy and so mouth-wateringly delicious that it has become a weekly staple. My daughter loves them with a schmear of cream cheese, but I love them best with butter and jam.
I haven't tried these as sourdough bagels yet, and that might take these even to the next level…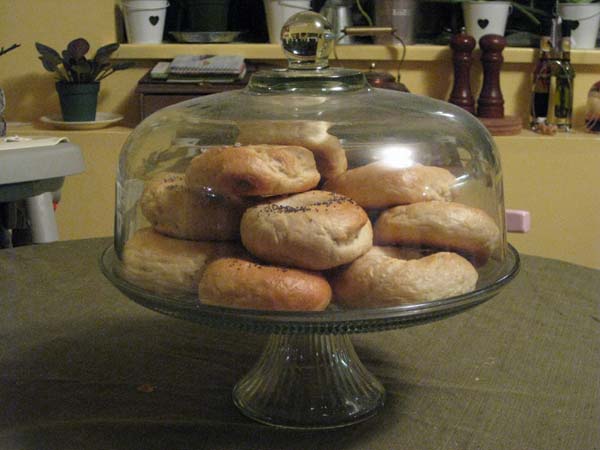 Homemade Bagels
Ingredients
For the bagels:
2 ¼

teaspoons

1 pkg active dry yeast

2

cups

warm water

2

tablespoons

sugar or honey

3

tablespoons

milk

1

tablespoon

barley malt extract

,

see note below

1

tablespoon

sea salt

5 ¾

cups

unsifted flour

,

preferably sprouted

Kosher salt

,

poppy seeds, sesame seeds, grated cheese, or your favorite topping (optional)
For the water bath:
2

quarts

water

1

tablespoon

barley malt extract

1

tablespoon

sugar

OR

2

quarts

water

1

heaping tablespoon baking soda
Instructions
Make the dough:
Place the water in a large bowl and sprinkle the yeast and sugar over, stirring to dissolve. Add the barley malt and stir again. Add the salt and flour all at once. Work the dough with your fingers and hands, kneading the mass into a stiff dough. Add 1-2 tablespoons extra flour if needed. Turn out the dough onto a lightly floured board and knead until smooth. You may also do this entire process with a mixer equipped with a dough hook.

Shape the dough into a ball and place it in an ungreased bowl. Cover with a warm, wet dishtowel, such as a flour sack, and let rise in a warm place until double in bulk, about 1 hour.
When the dough is risen, prepare everything for the cooking process:
Preheat the oven to 450 F degrees.

Bring the ingredients for the water bath to a boil.

Line a baking sheet with parchment paper and set aside at the ready.

Punch down the dough and divide it into 16 equal portions. Roll each portion into a ball. Let rest for 10 minutes.
Form the bagels:
For a quick, easy, rustic look, pierce the center of each dough ball with your index finger and shape each portion of dough into a circle like a doughnut ring.

For a smoother, more elegant look, flatten each dough ball, then fold the top and bottom into the center in an overlapping pattern, flattening them with the heel of your hand after each fold. Fold the dough in half lengthwise and flatten again. Roll the flattened dough into a 8-9″ rope. Find the seam at one end and open the dough out. Curl the rope into a circle, laying the unopened end inside the opened one and lightly push the seam together. (This is much easier than it sounds!)

If the water is boiling, turn off the heat. When the bagels are dropped into it, the water should be just below the boiling point.

Drop the bagel rounds into the just-under-boiling water and let them "cook" for about 20 seconds on each side. This poaching activates the yeast and the water additions help the flavors develop and give the bagels their traditional texture and sheen. Immediately lift the rounds from the water, using a slotted spoon to drain as much water as possible.

Place the bagel rounds on the prepared baking sheet, sprinkle with your topping of choice, and bake for about 20 minutes or until golden brown.

Turn out onto cooling racks and let cool completely before storing.

******
To prep the bagels ahead of time, say the night before so you can have warm, fresh bagels at breakfast, just make a few simple changes to the recipe:
Reduce the yeast to 1 tsp. and the salt to 1 1/2 tsp.

At the first rise, rather than waiting for the dough to double in bulk, just let it rest for 20 minutes before shaping the dough.

Once you have shaped the bagels, place them on a half-sheet baking sheet lined with flour-dusted dishtowel and place in the refrigerator overnight or for at least six hours.
Notes
Where to find barley malt extract: I get mine from a local U-brew for super-cheap, but I've also seen that Eden Organic now has a barley malt in their product line.