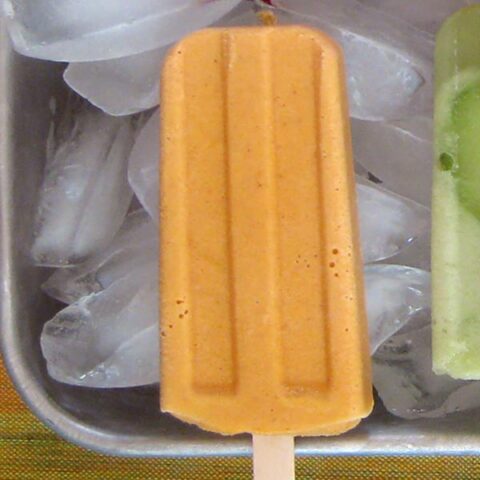 Sweet Carrot Pops
Yield:
makes approximately 10 popsicles, depending on the size of the mold
Total Time:
4 hours
30 minutes
These were most definitely inspired by this Carrot Milkshake by Megan of EatBeautiful.net. I absolutely adore her recipes and her vegetable-based smoothies. I removed the turmeric from the recipe (among other tweaks) merely because I didn't want to deal with yellow stains on my kids' shirts since it's inevitable that popsicles will drip when handled by a three-year-old!
Ingredients
4-5 medium carrots, peeled
1/4 cup honey
1/2 cup heavy cream, preferably cultured
1/2 inch fresh ginger, grated
1/2 teaspoon ground cinnamon
1/2 cup whole milk or water, if needed
Instructions
First, cook the carrots. Chop them into 1-inch pieces, then steam them until soft. Set aside to cool.
Place the cooled carrot chunks in a blender with the honey, cream, ginger, and cinnamon.
Blend until completely smooth, adding milk or water as necessary to keep the mixture moving.
Pour into the popsicle molds and freeze until completely firm, at least 4 hours.
Notes
Note about yield: This recipe makes approximately 3 cups of popsicle mixture, which makes 10 popsicles in this simple popsicle mold, but there will likely be a bit leftover. I enjoy the leftovers best as a smoothie.
[social_warfare]