21+ MORE Non-Toy Gifts for Children
This post may contain affiliate links, including those from Amazon.com, which means we earn a small commission off your purchases. And here's the thing: We only mention services and products that we think are truly worth your attention, whether they're free, paid, or otherwise. This site relies on YOUR trust, so if we don't stand behind a product 110%, it's not mentioned. Period.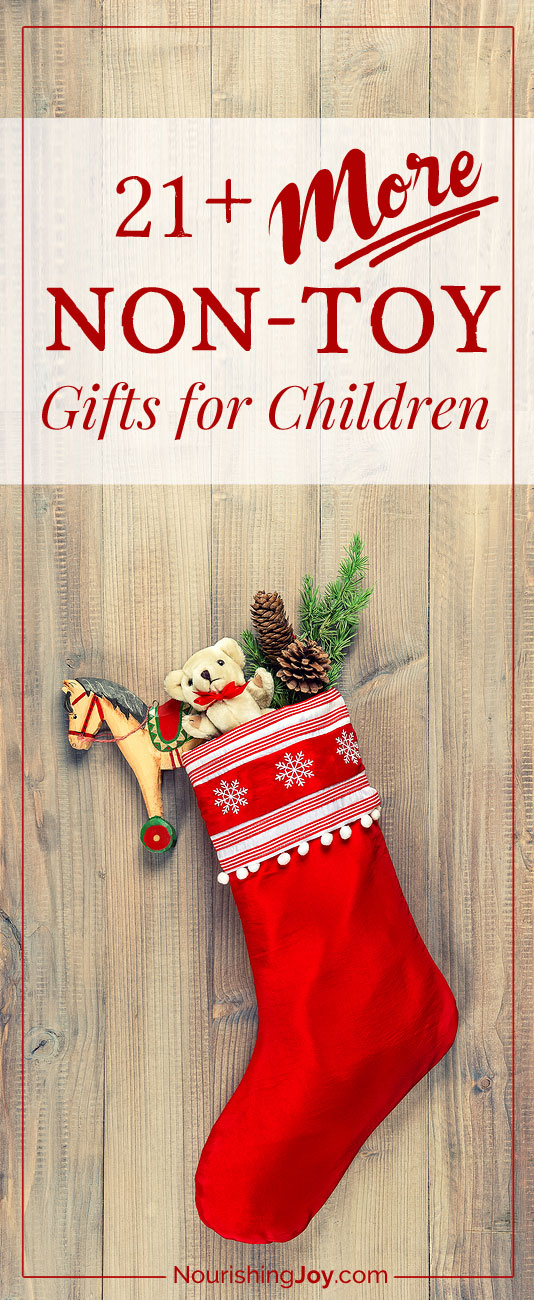 Since we published our first article with non-toy gift ideas for children nearly two years ago, we've continued to add ideas to that article and it has finally grown so long that I decided it was time to create a full new post with fresh new ideas.
However, before you read through this new list, you should know that other readers have shared some REALLY REALLY great ideas in the comments on that post, so if you haven't read it, go check it out and then come back for this Part 2.
Also, it's worthy to note that THIS post tends to have more specific ideas for non-toy gifts, while the original post has more general ideas, which might spark a bit more inspiration. 🙂 Either way, may they both help you according to what you're looking for!
So, with that brief intro, here are 21+ MORE non-toy gifts for children. Happy gifting!
Want more gift ideas? Check out our DIY Gifts, Green Christmas Marketplace, and Growing Creative Kids Pinterest boards!
21+ Non-Toy Gifts for Children
1. Subscription boxes. I ended the original article with this item, and it's worthy to start this one with it as well, as there are SO many excellent, excellent subscription boxes out there.
What is a subscription box? It's simply a package that is mailed to you or your children once a month with creative, innovative materials for encouraging hands-on exploration of a topic to enliven your child's imagination. There are boxes for art, STEM activities (Science, Technology, Engineering & Mathematics), geography, and so many more.
My favorites: KiwiCo (TONS of options according to age) // Little Passports // Green Kid Crafts
In short, subscriptions – including subscription boxes – are my #1 recommendation for a non-toy gift, especially if you're gifting to a child who is not your own (a grandchild, niece or nephew, friend, etc).
2. Wildcraft game. I love family games in general, but I'm particularly impressed with the Wildcraft Adventure game. Not only does it require cooperation in order to win rather than competition (not that there's anything wrong with friendly competition, but it's nice to work on the skill of cooperation….), it teaches players how to identify several dozen herbs – both edible and medicinal – and helps them know what those herbs are used for, which is a practical life skill for anyone. It's well-designed and I'm seriously impressed.
3. Snap Circuits. A totally engaging kit for boys and girls alike to build and discover about electrical circuits – even in the human body! – while also developing analytical and problem solving skills. This is a super-long-time-favorite in our house. I recommend the Basic kit, the Deluxe kit, or the best-selling kit.
4. Buddha Board – Kid's Art Canvas size or the original, slightly larger size – even as an adult, I *love* using a Buddha Board. But what I *especially* love is that a child can sit and "paint" for hours, and yet there's not a single scrap of paper lying all around the floor afterward. All the benefits of painting and creating without any of the clutter! Also, if you want to save any of your child's artwork created with the Buddha Board, simply snap a photo and print it or enlarge it as a poster. Save only what you want to save.
5. Painting supplies. On the other hand, if you want to get real paint onto real paper, grab either watercolor or tempera paint and a few brushes and you're good to go. Or if you want, just grab the Faber-Castell Learn-to-Paint kit that comes in the adorable, wipeable storage bag. We have purchased this kit multiple times over the years because it has worked so well for our kiddos and made clean-up time so easy. Granted, I'm also biased since my last name happens to be Faber, and I'm always proud that Faber-Castell products are such high quality. 😉
6. Clay. I'm not talking about Play-Doh (although that's a great option too, especially if it's a homemade kind that's squishy like the store-bought kind…), but I'm talking about honest-to-goodness modeling clay. Get 2-3 boxes and a few simple not-terribly-sharp carving tools and let your little artist discover the joy of creating sculpture.
7-8. Fort and play tent building supplies. While the classic chairs-and-blankets fort is still the most charming, there are some AMAZING fort building kits available that help kids build magnificent forts in multiple shapes – and allow the love-to-build kids among us a chance to show off their skills. (And even better, they tear down into small pieces that store easily.) Here's a basic building kit and cover fabrics (if you don't have blankets to donate to the cause). You could also just use a few sets of wooden fort-blanket clamps. Another option for younger kiddos is to create an insta-fort with a fort cover set over a table or with a pop-up tent. There's also a super-cute DIY play tent option if you want to build one yourself.
9-10. A swing-set and/or playhouse. Okay, this one is rather an investment, but my kids could very happily play all-day, every day on a swing set and playhouse, which allows for hours and HOURS of creative play nearly year-round. This kind is the one I DREAM about having in the back yard, but there are both more extensive models and simpler models available as well.
And if you don't want to pay the full investment, you can make a DIY seesaw for under $30 or put together a DIY home gym for kids.
11. A pair of binoculars. Whether it's to observe the stars or a bird in a tree, a pair of binoculars brings the natural world into sharp focus and helps kids become keen observers of the world around them. This pair is the right size for children's hands and simple to use.
12. Interlocking building bricks. Okay, okay – this one may or may not fit in your definition of "toy," but the reason I'm listing it because I'm advocating sets of building bricks that are simply that – bricks and nothing more, which become more of a creative challenge than an entertaining toy. More commonly known as Lego, building bricks are actually made by several companies. However, these non-Lego bricks are of excellent quality and interfit with Lego-brand bricks, so you can extend your current set at a much lower price. However, again, the reason I mention them here in this post is that these are truly just a set of interlocking bricks – the imagination for what those bricks become is entirely left up to you (and your child).
13. Wall stickers. Wall decals help make your child's room (or section of a shared room) feel like their very own – without damaging the wall or the paint job. Foster your child's sense of identity and independence by providing them with materials you actually approve of them putting on the wall! There are dozens of designs available across many different brands, so take a bit of time to find ones you know your child will love.
14-16. DIY Play Areas (play kitchen, play workshop, dollhouse, and more). If you're a DIY type, there are some super-classy, super-cute play kitchens and play spaces you can build, some of which are fairly elaborate and some with only a modicum of work. Here are just a few of my favorites:
17. Costumes and dress-up clothing. Playing dress-up used to involve raiding Mom's clothes closet or using hand-me-downs from Grandma's old clothes, but too often now it involves completely pre-made costumes, which removes an element of creativity. So, for this gift, find a few really funky, vintage, or unique items at your local thrift store (or Grandma's old clothes) and gift them in a fun play trunk, like this weathered one.
You can also make dress-up pieces, like these no-sew superhero capes.
18. Kids Cook Real Food e-course – This online cooking course designed for kids makes both a fun and practical gift! Wrap it by presenting a really nice kid's knife set, such as the Wüsthof Gourmet Junior Chef Knife Set or the much simpler Curious Chef 3-Piece Nylon Knife Set, and do the course together.
The course is available seasonally, so click here to see if it's currently available or to get on the waiting list for the next enrollment.
19. DIY Discovery Basket. Sort of in the same vein as the monthly subscription boxes, you can make your own Discovery Basket. Grab a basket and pair an amazingly cool book, such as The Curious Kid's Science Book: 100+ Creative Hands-On Activities for Ages 4-8 or The 101 Coolest Simple Science Experiments: Awesome Things To Do With Your Parents, Babysitters and Other Adults with various materials needed to explore and be curious, such as brown paper bags, scratch paper, a magnifying glass, and various empty containers (recycled jars are just fine!). You can also look inside the book for ideas and include specific supplies, if so desired.
20. A gift that helps create gifts for others. Maybe it's a beading kit or a jewelry-making kit or a simple melt-and-pour soapmaking kit – help your child nurture their creative flair while also creating items that will be meaningful and a blessing to others.
21. Model kits. If your kids are old enough, models can be a GREAT gift. Model cars, model trucks, model planes, model trains, model ships, model houses – the list is seemingly endless – and if your child has a particular interest, a model is a really wonderful way to heighten that interest, as it truly immerses the child in the topic as they build the model. Plus, it takes patience and perseverance to put a model together, and once it's done, it can be an item that will become an heirloom.
22. Wall art. Decorate a blank canvas to create wall art that highlights something your child loves. Whether you use a computer to design it and have it printed at a local printing shop or whether you hand-paint the canvas yourself, this can be a really fun project to pull together. For example, my daughter has recently become enamored with the Harry Potter books as we have read them together, so for her 11th birthday, I created a Harry Potter-themed wall print, but other great options could be inspirational quotes, photo collages, or a design using an animal or character that your child loves.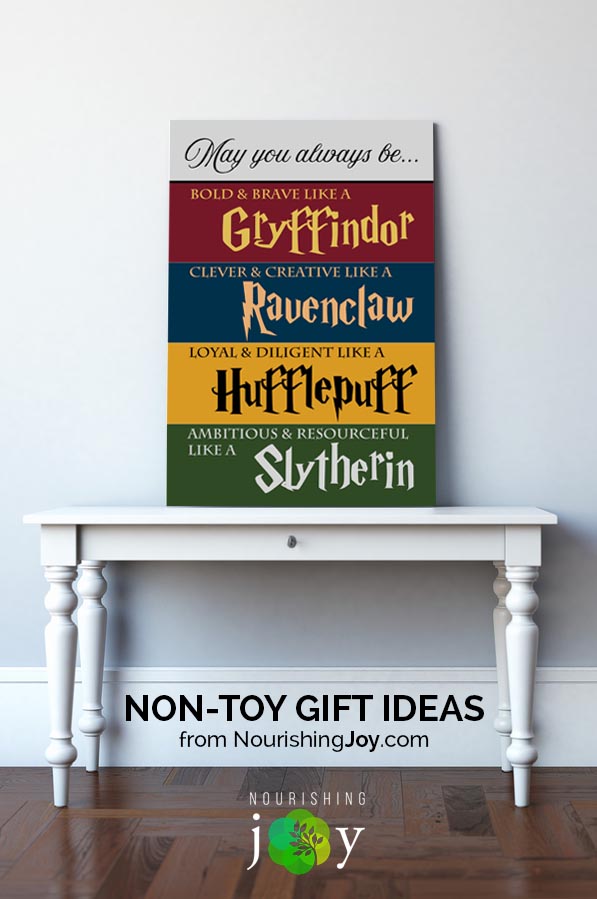 So, now that you've read BOTH of our posts with non-toy gift ideas (missed the first one? read it here), tell us… what have we missed? What non-toy gift do you love to give to your children, grandchildren, nieces, nephews, and other children you love?
SaveSave