This post may contain affiliate links, including those from Amazon.com, which means we earn a small commission off your purchases. And here's the thing: We only mention services and products that we think are truly worth your attention, whether they're free, paid, or otherwise. This site relies on YOUR trust, so if we don't stand behind a product 110%, it's not mentioned. Period.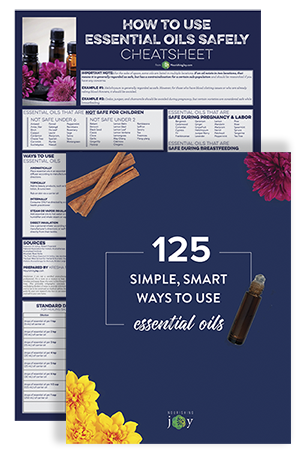 Make using essential oils EASY with our at-a-glance cheatsheets.
Be confident in using essential oils safely AND effectively! Simply click the button to download these two popular cheatsheets and see just how easy using essential oils SAFELY can be.
Merry Christmas from Nourishing Joy!
Merry Christmas from all of us at Nourishing Joy! May your day be filled with deep peace and joy.
As I have written before, it is a deep privilege to author this blog and to be connected with this wonderful community.
I look forward to another year of recipes, sustainable living tips, homeschooling adventures, and growing ever more faithful as a steward of all God has given us. I thank you from the bottom of my heart for joining me in the journey.

Enjoy these Christmas posts from the archives:
A Nonsense Song? The True Meaning of "The 12 Days of Christmas"