5 Easy Ways to Make a Face Mask
This post may contain affiliate links, including those from Amazon.com, which means we earn a small commission off your purchases. And here's the thing: We only mention services and products that we think are truly worth your attention, whether they're free, paid, or otherwise. This site relies on YOUR trust, so if we don't stand behind a product 110%, it's not mentioned. Period.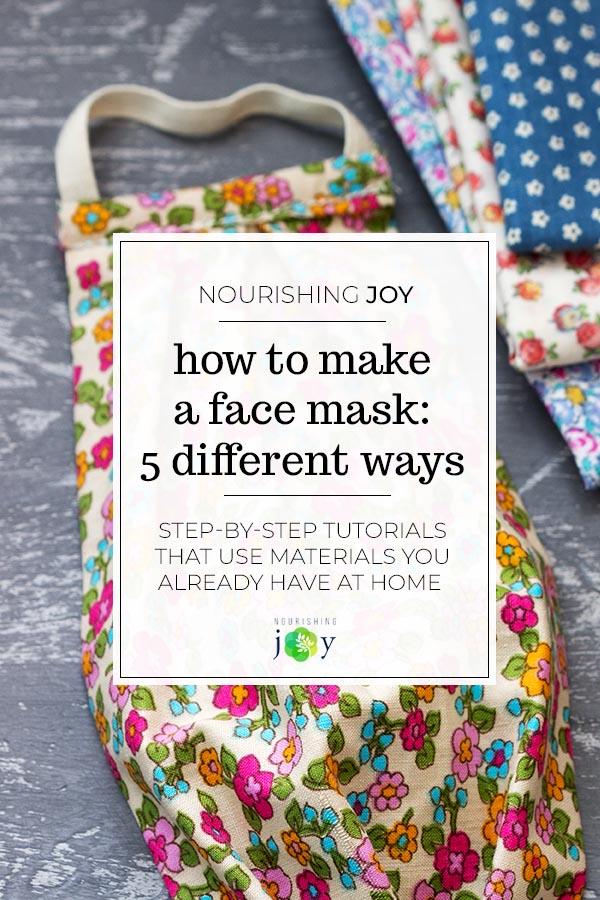 Now that the U.S. Centers for Disease Control have officially recommended the use of face masks whenever you leave home, it's a good time to stock up on face masks (no matter how you feel about actually wearing one…)
But: two problems.
One, as we've all heard for weeks now, standard and disposable face masks are in short supply, and those that do exist need to be available for healthcare workers.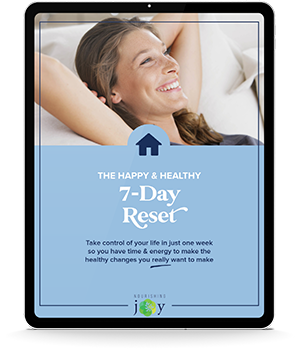 More calm, less chaos.
Use our step-by-step method to take charge of your life so you have time for what *really* matters.
Two, I'm a hard-core DIYer, but I'm not very crafty – I better pour my passion into DIY versions for food and natural remedies. ? (If you've seen my ebooks, print books, the binders I've just started to create to help you organize, or my essential oil safety class, you know *just* how much passion I have for DIY projects and natural living. ❤️ )
So, rather than try to create a tutorial for you all myself, I thought I would help you discover others who have already created AMAZINGLY helpful tutorials on how to make face masks simply and easily.
Some of these focus on using materials you already have laying around.
Some of these focus on no-sew methods.
Some focus on making the most reliable face mask you can with simple sewing.
They're ALL helpful. 🙂
I've chosen these particular face mask tutorials because I consider these the best of the best: they're straightforward, they're easy to understand, and they're creative.
A few important reminders to mention anytime we talk about face masks:
Before we go any farther, however, there are a few important reminders regarding face masks and other face coverings.
Wearing a fabric face covering won't protect you from getting COVID-19, but it might help prevent you from spreading the virus if you must leave the house. The virus can still be transmitted via germy hands, uncleaned surfaces, and droplets that make their way through the weave of the mask. This is why a face mask with multiple layers is preferable.
Wearing a face mask is not a substitute for staying at home. It's still more important to maintain distance from others than to trust a face mask to stop germs from spreading (which it won't – it will just minimize the spread).
Wash your hands regularly. Use soap and warm water, and scrub them for at least 20 seconds. Using hand sanitizer is acceptable if you are away from a sink and unable to wash your hands.
DON'T put a face mask on kids under 2 years old or on anyone who might have trouble removing the mask by themselves.
DON'T take off a mask by pulling on the cloth in the front – not only does this stretch it out, but it puts your hands right where all the germs have been collecting. Blech. Instead, take it off by lifting the straps off your ears. Wash your hands right away.
Machine wash your cloth face mask after every use. Remember, the whole point of wearing a face mask is to collect respiratory droplets, so consider your face mask contaminated after each use, like a cloth diaper. Wash in the washing machine before using again. (This is why it's a great idea to have a few cloth masks around, so you always have a clean one ready and available.)
How to Make a Face Mask: 5 Different Ways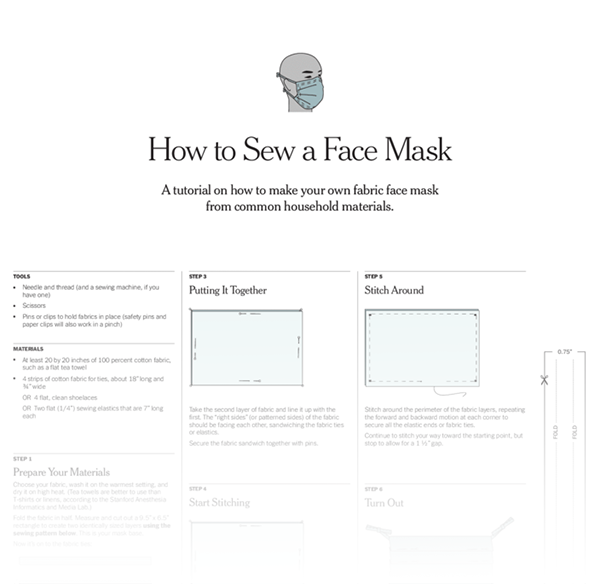 Image Source: The New York Times
The New York Times
This excellent tutorial includes a printable PDF with all the steps laid out simply and beautifully. This one makes you actually WANT to create a face mask. See the tutorial and print the PDF here.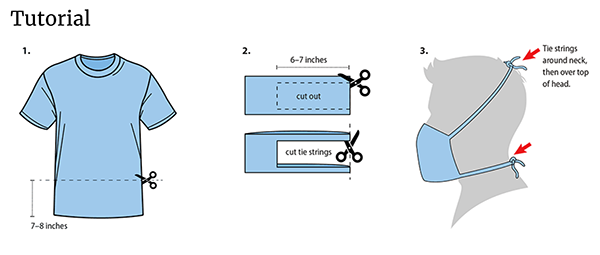 Image Source: U.S. Centers for Disease Control and Prevention
U.S. Centers for Disease Control and Prevention (CDC)
The CDC placed three simple tutorials on one page, including two no-sew tutorials. They've been designed for simplicity of use, so they're certainly easy to follow. It also includes a few FAQ and brief instructions on how to correctly wear a face mask. See the tutorials here.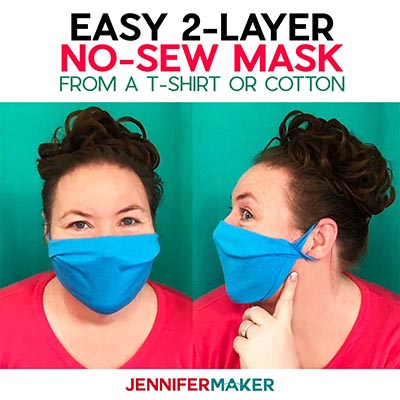 Image Source: JenniferMaker.com
Jennifer Maker
Jennifer Maker is a crafting queen and she creates absolutely thoughtful guides for everything she does. This face mask tutorial is no exception – she has gone above and beyond.
Even better, she has created FOUR in-depth tutorials:


Image Source: YouTube
Wired
Wired Magazine has shared a no-sew tutorial on how to make a face mask out of an old T-shirt or a coffee filter. If you want super-simple, this is it. See Wired's face mask tutorials here.


Image Source: YouTube
Deaconess Hospital, Evanston, Illinois
This excellent tutorial includes two 1-page printable PDFs for two different kinds of masks, as well as the video embedded above. Even better, if you would like to sew masks to donate to an organization in need, they have created an entire database to connect donors and organizations – it's a beautiful example of how people are caring for each other in this crisis. <3 See the tutorials and database here.

And lastly, if you're anything like me, wearing a mask is sometimes annoying if for no other reason than it fogs up your glasses every time you breath. :/ But here's a great little tutorial on how to wear a face mask properly so it doesn't fog up your glasses. THANK YOU, LifeHacker!
May you and your family stay well!