How to Help in the Midst of a Pandemic
This post may contain affiliate links, including those from Amazon.com, which means we earn a small commission off your purchases. And here's the thing: We only mention services and products that we think are truly worth your attention, whether they're free, paid, or otherwise. This site relies on YOUR trust, so if we don't stand behind a product 110%, it's not mentioned. Period.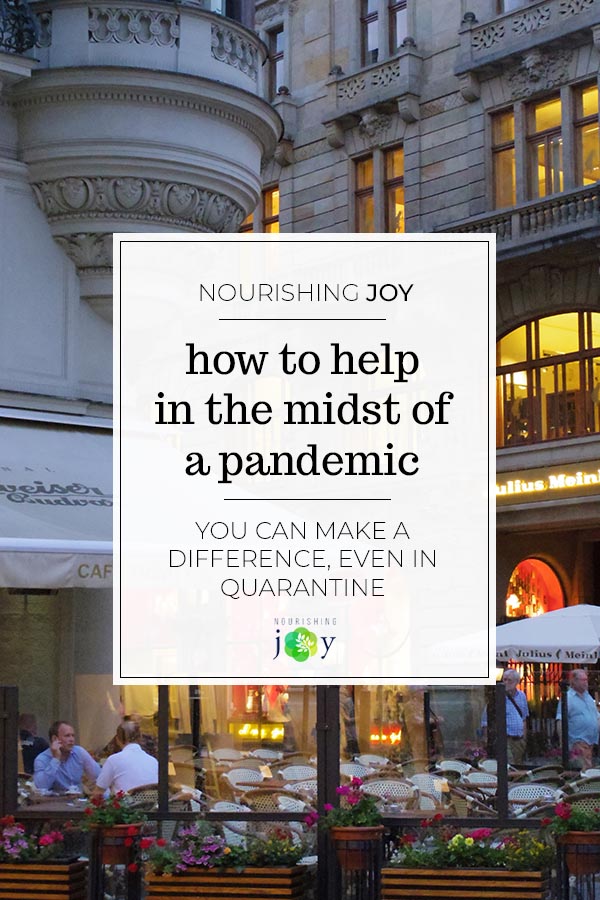 Any emergency situation is scary.
Pandemics can be doubly scary, when frightening statistics swirl and change constantly and there's the ever-lingering fear of what's "out there and coming nearer."
However, while that fear and anxiety may be well-founded and we do well to take great care so that we neither catch nor spread disease, it doesn't need to be the end of the conversation. Fear and anxiety only ratchet up when we sit at home twisting our hands, feeling like sitting ducks waiting for the worst to happen.
But as Mr. Rogers famously said, "Whenever I saw something scary in the news, my mother reminded me to look for the helpers."
So, for our mental sanity, for the unique opportunity to make an impact in our communities, and for the health of our neighborhoods, here are ten ways you can make the best of your time in quarantine and still help in the midst of a crisis:
Give Financially
There are so many organizations who are the front lines either helping prevent the further spread of COVID-19 or helping families in the midst of these turbulent times. Even my beloved alma mater has opened a special fund to help their current students with housing, food, and other needs. Needless to say, there are plenty of places and opportunities to give, so keep your eyes and ears open if you don't already know where you'd like to give, then give generously when the opportunity arises.
And in addition to new and special needs, some of these organizations need extra funds now simply to deal with the increased demands for their services, such as food banks. Having sufficient resources to do their jobs is essential, so monetary donations are truly appreciated because it allows them to use the money where it is most needed right now.
Plus, it's a great way to show that you appreciate their work, now more than ever.
Need an idea? If you need a suggestion of where to give, Big Table is a great place to start.
Donate Food and Other Materials to Organizations on the Front Lines
If you have items that might be of help to an organization that's directly affected by the pandemic, call them to see if it would be helpful before you deliver it.
If the organization has put out an all-call for a particular type of donation, such as canned food, and has already designated drop-off locations, contribute whatever you can.
To find your closest food bank, you can search your zip code on Feeding America's nationwide directory.
Do the Grocery Shopping for Elderly and Immunocompromised Neighbors
If at least one person in your home is allowed to go out for essentials (groceries, pharmaceuticals, etc), offer to do the shopping for someone nearby who can't or shouldn't be out and about. If you don't want to single someone out to make the offer, perhaps put out an email to a larger group, such as your apartment building or church group, making a more blanket offer.
If you want to maintain a safe distance when you deliver the items, agree on a place to leave the purchases ahead of time so that there's no physical interaction that might spread anything that might place them at risk.
Order Take-Out, Buy Gift Cards, and Shop Independent Stores
I am usually one to preach cooking at home as much as possible, but in this case, loving our neighbors means helping support businesses throughout the crisis so they can survive the storm. Picture your neighborhood if all the shops owned by local members of your community were permanently closed – that could be the reality if they go for weeks or months without doing any business.
So, to support other families who rely on the income from their store-front business, order as often as you can afford (even if that's just once) from a locally-owned establishment or stock up on gift cards to use later or give as gifts.
While this is most pronounced for local restaurants, this can also extend to other brick-and-mortal businesses, such as independent bookstores. Ordering from indie bookstores using their online options can help both the bookstore and authors whose book events were canceled this month.
Tip Generously
If you do order delivery or go out to a place where you tip, tip more than you would normally. Not all service, health care, and retail workers have the privilege of working from home and they're on the front lines.
Let them know you appreciate their continued work, especially in a time when many workers have reduced or heavily cut hours.
Deliver a Meal
If you know someone who lives alone, who is immunocompromised and can't leave the house, or has another similar need, consider delivering a meal or two. Whether it's a hot meal you've just prepared, a freezer meal for them to cook later, or a take-out meal – any and all can be a blessing.
Also, if you and your kids are all at home for several weeks, considering making one day a "baking blessing" day. Make cookies, make meals – whatever you desire – to share with people who may be particularly lonely during this time.
Side note: Despite how wonderful and often important it is to deliver cookies and meals with your kids, during health lockdown times I don't recommend it. The fewer people out and about to either catch or share disease the better, especially when these types of gifts are often best shared with people who tend to fall into the "high risk" categories, such as elderly and immunocompromised individuals.
Foster an Animal
Due to various quarantine regulations, many animal shelters are either relying on short staff or are required to shut their doors. Thus, they need safe places for their animals to go.
If you'd be willing to foster an animal, contact your local animal shelter to see what the current needs are.
Open Your Home as Much as You're Able
If you're able, inviting those who are stranded, who are particularly lonely, or who are under a heavy weight of extra stress to your home for a meal can be a particularly wonderful act of grace. There are college students who can't get home who may need a place to live for a few months, or travelers who aren't able to procure a flight home who need a few days of shelter, and single parents who were already stretched too thin before all the work and schedule interruptions happened.
Find Little Ways to Employ Those Who Need a Boost
If you can afford it, offer small jobs to those who are suddenly and unexpectedly out of work. Shoveling sidewalks, watering seedlings, cleaning gutters, chopping firewood, order groceries online and have them pick them up…. there are a myriad of jobs outside your home that can maintain "social distancing" AND provide some much needed cash flow to someone in a crunch.
If your community allows visitation and you're willing to let someone in your home, light housework and tutoring can also be great options.
And if you already hire someone who regularly works for you – a nanny, a tutor, a house cleaner, etc – continue to pay them even while they stay home, assuming *you're* receiving your regular paycheck, of course.
Side Note: You can also let people who are in need of employment know that Amazon has committed to hiring 100,000 short-term workers, both to provide employment to those who have temporarily lost their jobs and to help them manage the huge surge of online shopping that has come about because of this pandemic. You can read more here.
Be Kind
Fear and anxiety don't have to have the last word or control our attitudes. A little kindness can go a long way. Don't take out your stress on the clerk at the cash register, on the agent on the phone (despite the fact that you were on hold for two hours), or the pharmacist filling your prescriptions. They're helping you – as well as dealing with hundreds of other frazzled people.
Being kind to everyone you encounter makes a huge difference during trying and stressful times, even if it doesn't always seem like it.
And of course, you can help by keeping yourself and your family as healthy as possible:
Wash your hands often, for at least 20 seconds, with hot soap and water. Teach your children to do the same.
Get in the habit of not touching your face, including not biting your fingernails.
Boost your immunity with herbal teas and herbal tinctures. Eat lots of leafy greens, if you have access to them.
Stay home unless absolutely necessary to go out.
Get outside as much as possible. Read a book in the sunshine, play soccer in the back yard, draw with chalk on the sidewalk – do whatever you can to soak up as much sunshine and fresh air as possible. It's important for your immune system as well as your mental health.
Connect with friends on the phone or on a video call – take advantage of time at home to have a long conversation with an old friend. It will do wonders for your heart and mind!
Get plenty of sleep. Support good sleep with essential oils. (We love essential oils here at Nourishing Joy! We don't promote any specific brands – we're just passionate about using them well. Learn how to use essential oils safely with our free 10-day class or with our 250+ page Essential Oil Binder.)