7 Tips to Make the Most of Your Indoor Herb Garden
This post may contain affiliate links, including those from Amazon.com, which means we earn a small commission off your purchases. And here's the thing: We only mention services and products that we think are truly worth your attention, whether they're free, paid, or otherwise. This site relies on YOUR trust, so if we don't stand behind a product 110%, it's not mentioned. Period.
Herbs – whether you use them culinarily or medicinally – are a powerful ally to support ongoing wellness and vitality.
And growing herbs indoors is a simple way to liven up your meals, add much needed vitamins to your diet, and to add a cheery lift to your home. You don't have to be a great gardener (or even have a green thumb) to be successful with growing an herb garden, so it's a sweetly satisfying addition to any home.
See Related Articles:

9 Ways to Eat More Leafy Greens in Winter

How to Grow Food in Small Spaces: 8 Tips That Work (Even if Your Space is Very, Very Small)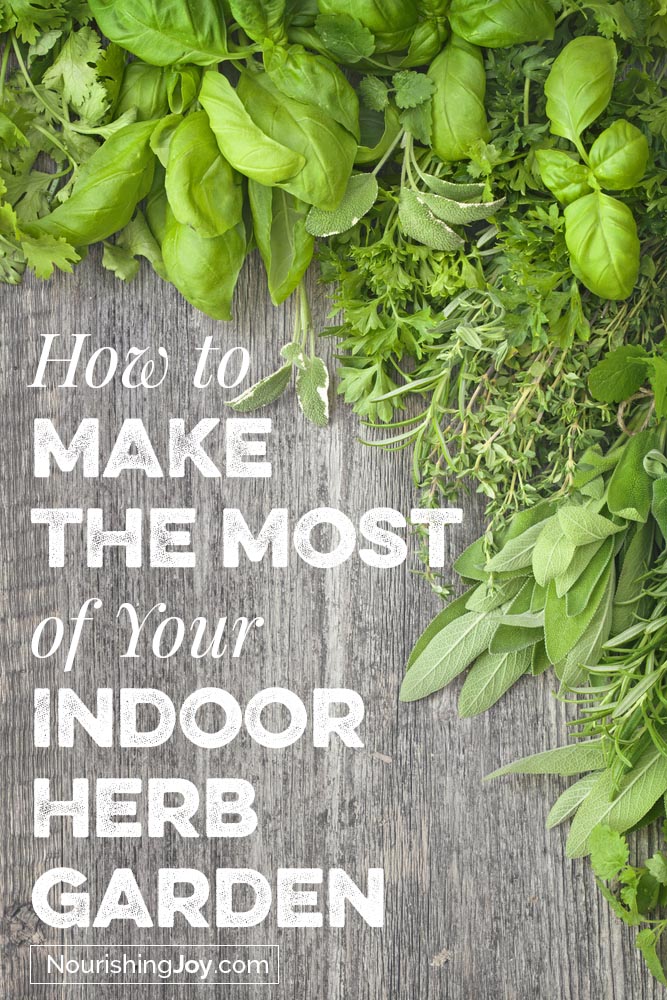 Here are seven tips for getting the most out of growing herbs indoors:
When deciding what to grow, choose fast-growing plants that you'll have plenty of opportunity to use, such as basil, cilantro, chives, mint, or parsley. I also typically recommend planting sage, rosemary, and thyme, even though they're a bit slower growing, as they are not only a boon to many dishes and highly aromatic (which is simply inspiring each time you smell them), but they've got plenty of medicinal uses as well as culinary, so they're highly useful.
Opt for simple containers – nothing fancy needed. Paper cups work well, as do recycled yogurt containers (simply cover them with brown paper bags if you want a more earthy, rustic look). Basically, just use what you have.
Use a fine-grained potting soil. You can make your own quite easily, or various growing mediums are widely available. Fine soils are important because herbs have small roots (as opposed to the larger roots of tomatoes, squash, etc) and they need to be easily able to grow through the soil. You also want the soil to both hold water and drain water well.
Seeds should be planted quite near the surface, so seeding is easy. Just look at the diameter of the seed and plant it 1-3 times that depth. In some cases, you can just sprinkle the seeds over, then sprinkle a bit more planting soil and call it good.
To help seeds sprout, place your containers in a warm place and cover them with very lightly damp newspaper just until the seeds sprout. After that, they need sunshine!
After sprouting, make sure the plants have at least 5-6 hours of sunlight a day and that the soil remains lightly moist throughout the day.
If you want to give your plants a boost, add a bit of fish fertilizer, compost tea, or the liquid that accumulates in your compost bucket to the soil once a week.
Depending on what you've planted, your herbs should be ready in 1-4 weeks and continue to grow for several months (basil is more fragile and finicky, so it may only produce 1-2 pickings, but that will depend on climate).
Happy growing!