Homemade Bug Spray and Insect Repellents
This post may contain affiliate links, including those from Amazon.com, which means we earn a small commission off your purchases. And here's the thing: We only mention services and products that we think are truly worth your attention, whether they're free, paid, or otherwise. This site relies on YOUR trust, so if we don't stand behind a product 110%, it's not mentioned. Period.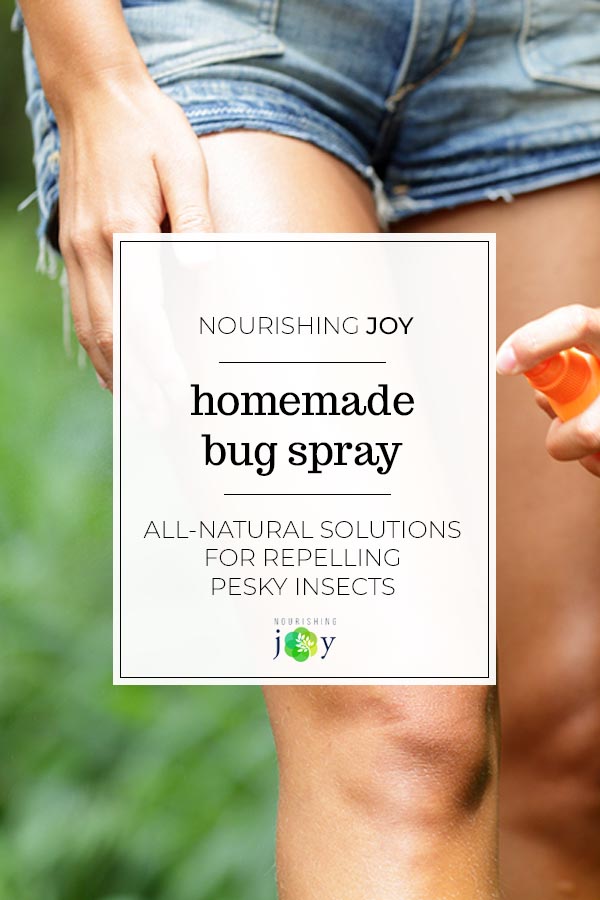 Last year I published an article on how to grow your own mosquito repellents, but this summer I thought I'd bring the DIY, homemade repellents a bit closer to home.
(Not that your patio isn't home, but when the mosquitoes are buzzing in your ears, the lovely lavender plants a few metres away don't exactly bring much comfort.)
So today, here are tried-and-true recipes for homemade bug spray, Bug-Off skin oil, insect repellent lotion, and a soothing salve for when you do get bitten.
But first, we need to talk about DEET.
DEET (or should I call it by it's proper name – N,N-diethyl-3-methylbenzamide) is the most common ingredient in commercial insect repellents and has been proven to have the longest period of repellency of any product on the market.
Although it has been deemed safe by the Environmental Protection Agency, it's also classified as a pesticide by that same organization. And although the toxicity sheets for DEET declare there is no known harm to humans with limited use, even on infants, there are increasing number of studies that bring that into question, including a 2009 study from France that shows that it not only interrupts the nervous system of mosquitoes (as previously known), but that it also interferes with mammalian nervous systems – namely, ours.
According to GreenYours.com, which quotes a study from Cornell University, DEET is "a known eye irritant and can cause rashes, soreness, or blistering when applied to the skin. Additionally, DEET has been linked to neurological problems… Researchers at Duke University Medical Center have found that DEET causes diffuse brain cell death and behavioral changes in rats."
So all in all, unless we're in an area infested with swarms of malaria-ridden mosquitoes, I would strongly prefer that my children run and hike and explore without DEET anywhere in sight. And of course, if you DO use DEET, just take the advice of the ever-wise Evidence-Based Living and give your children a really good bath as soon as you are away from all the bugs.
For these recipes, the following essential oils particularly prized for repelling bugs and since different bugs are repelled by different scents, use a mix if you can: lemon eucalyptus, citronella, lemongrass, peppermint, lemon, rosemary, cedarwood, sandalwood, thyme, or basil.

If you're making up a batch to use on kids, be sure to consult our essential oil database or download our essential oil safety chart to see which essential oils are safe to use on your children!
Homemade Bug Spray
1/8 cup apple cider vinegar
3/8 cup vodka or witch hazel
80 drops mixed essential oils or neem oil
Here's one suggested blend:
20 drops Lemon Eucalyptus essential oil
20 drops Patchouli essential oil
20 drops Peppermint essential oil
20 drops Cedarwood essential oil
Pour all ingredients into a small spray bottle and shake well. Apply often.
Variation: Catnip has been shown to repel insects very well, so if you aren't in a rush to make this recipe, stuff a bottle full of fresh catnip and fill the bottle with vodka. Let sit for 4-6 months in a dark place. Then, whenever you want to mix up a batch of homemade bug spray, use that infused vodka to make your concoction.
Bug-Off Skin Oil
This is faster to make than an actual lotion, but it does leave a residue on the skin. I call for jojoba because it's the least greasy or soybean because it has mild repellent properties naturally, but olive, liquid coconut oil, whipped shea butter, or apricot kernel oil can also work. If you're applying this on children under 5, use half of the amount of essential oils.
Be sure to reapply every 30 minutes or so if insects are heavy in your area.
1 oz jojoba oil or soybean oil
10 drops Lemon Eucalyptus essential oil
10 drops Lavender essential oil
10 drops Geranium or Citronella essential oil
Thick & Creamy Bug-Off Lotion
I choose to make a thick body butter rather than a thin lotion because I find it stays on better. If you prefer a thin lotion, choose your favorite unscented commercial lotion, preferably one with as few preservatives as possible, and stir the essential oils into that lotion. Oh, and this recipe does require an electric mixer, preferably one with a whisk attachment.
1 cup of mango or shea butter
1/2 cup coconut oil
1/2 cup of jojoba or a mild olive oil
2 tablespoons arrowroot powder or cornstarch
120 drops essential oil of your choice, such as the blend above
Prepare an ice bath in the sink or prepare a space in your refrigerator large enough to accommodate your electric mixing bowl. Meanwhile, place your electric mixing bowl in the freezer.
Over the very lowest heat possible, melt the mango and shea butters until nearly liquid.
Add the coconut oil and continue melting until the mixture is completely liquid.
Remove the mixture from the heat.
Place the arrowroot in a small bowl and slowly add about half of the jojoba oil, carefully stirring it into a slurry as you go.
Mix thoroughly, then add it to the mango/coconut mixture along with the remaining jojoba oil, stirring well.
Pour the mixture into the chilled mixing bowl, return to the freezer, and allow to cool for 10 minutes. Fit the mixer with the whisk attachment.
After 10 minutes, add the essential oils to the oil mixture, then whip on medium-high speed until stiff peaks form. If after a few minutes it does not seem to be thickening, return the bowl to the freezer for an additional 4-5 minutes.
Scrape down the sides of the bowl, then whip again and repeat this procedure until it is solid but light and fluffy. Be careful not to chill the butters too much towards the end, or you'll end up with chunks rather than light cloud fluff.
Bug Bite Relief Salve
If you don't want to render your own or can't find any locally, US Wellness Meats carries an excellent tallow. Also, Katie at Wellness Mama has a lovely homemade healing salve that uses plant-based ingredients.
½ cup rendered tallow
1 tablespoon olive oil
40 drops essential oils
Melt the tallow gently over very low heat just until it's entirely liquid.
With the tallow in the liquid state but as cool as possible (around 120°F), whisk in the olive oil.
Add in the essential oils and pour into your storage tins or jars.
Put the mixture in the refrigerator to let it solidify.
And of course, if itching due to bug bites is overwhelming, make our homemade calamine lotion for some quick relief!