Mediterranean Stuffed Halibut
This post may contain affiliate links, including those from Amazon.com, which means we earn a small commission off your purchases. And here's the thing: We only mention services and products that we think are truly worth your attention, whether they're free, paid, or otherwise. This site relies on YOUR trust, so if we don't stand behind a product 110%, it's not mentioned. Period.
This week I'm away putting the final touches on a new book, so I've asked some of my favorite bloggers to share a few of their favorite things with you. Today, Kimball from Heavy on Wholesome shares her recipe for Mediterranean Stuffed Halibut, and I – for one – am already hungry!
A couple of months ago, my husband went to Alaska on a work trip.
While he was there he had the opportunity of a lifetime to go deep-sea fishing.  (Kresha's note: I'm so jealous!) He got really lucky and caught a 50 pound halibut!
On top of that, having any fish he caught filleted and shipped home was part of the deal he worked out with the ship's crew.  So, now our little chest freezer in our garage is stuffed full of single serving, individually frozen halibut steaks.  Jackpot!
Not only did he catch the fish and get it home to us, but this guy can cook.  It's one of the reasons I fell in love with him.  He loves to cook for me, and with me.  He's a catch.  (Get it?)
Here's our latest kitchen collaboration.  Make sure you use the best quality ingredients you can find, which are free of additives.
Mediterranean Stuffed Halibut
serves 2
2 halibut steaks (4 ounces each)
1/4 cup kalamata olives, sliced
1/4 cup sun dried tomatoes in olive oil, roughly chopped
1/4 cup artichoke hearts in olive oil, divided
2 cloves garlic, minced
1/2 teaspoon sea salt
olive oil
Pre-heat an outdoor grill to medium-high.
Create a pocket in each halibut steak by slicing almost in half, leaving about one inch attached on three sides.  Stir together olives, tomatoes, garlic, and sea salt, then divide in half.
Using foil, make a pouch for each halibut steak. Place each steak on one piece of foil, then stuff each steak with half the filling and top with half of the artichoke hearts. Be careful to fold all the sides of the foil tightly, so no air or juices escape during cooking.
Place the fish pouches into the grill and cook for approximately 8 minutes.  Carefully poke a hole in the top center of the foil to check for doneness.
To serve, drizzle each steak with a little olive oil and Enjoy!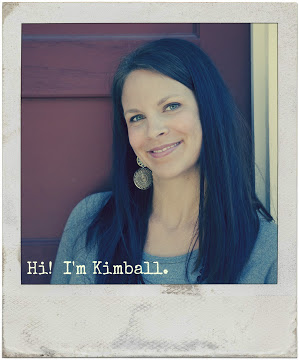 Kimball started on her journey to real food and natural, holistic living 9 years ago, when her oldest child nearly died from an allergic reaction to peanuts.  She is passionate about wholesome food, her family, and Jesus.  Kimball is married to a Naval Aviator and together they are parents to 3 hilarious boys and a sweet baby girl.  Their family is currently stationed in sunny San Diego.