Got Raw Milk? Questions to Ask Your Farmer
This post may contain affiliate links, including those from Amazon.com, which means we earn a small commission off your purchases. And here's the thing: We only mention services and products that we think are truly worth your attention, whether they're free, paid, or otherwise. This site relies on YOUR trust, so if we don't stand behind a product 110%, it's not mentioned. Period.
I love raw milk and I personally believe it's one of the most nourishing foods we can consume.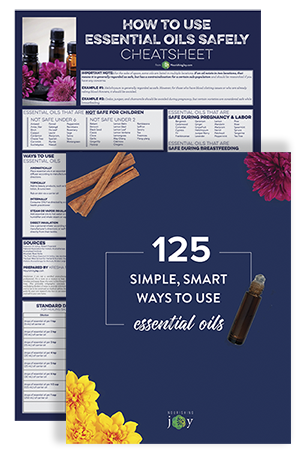 Make using essential oils EASY with our at-a-glance cheatsheets.
Be confident in using essential oils safely AND effectively! Simply click the button to download these two popular cheatsheets and see just how easy using essential oils SAFELY can be.
However, I'm certainly aware that not everyone shares my enthusiasm — largely because there are lingering questions about its safety. Is raw milk safe to drink? Really, truly?
Like most things, intentionality and being an informed consumer plays a key role in obtaining raw milk that is safe to drink.
Raw milk, unlike many foods, is remarkably safe to consume due to its highly probiotic nature. However, that's not to say it can't be overwhelmed by harmful bacteria or other microorganisms if it's produced, stored, or transported in unsafe or unclean ways and therefore becomes unsafe to ingest.
Thus, determining whether or not the milk you drink is safe is a critical question you must answer.
So, with that in mind, I've put together a list over at GNOWFGLINS to help you think through your raw milk sources.
Visit GNOWFGLINS to see the list of questions and food for thought.