10 Exceptional Family-Friendly Movies to Watch with Your Kids
This post may contain affiliate links, including those from Amazon.com, which means we earn a small commission off your purchases. And here's the thing: We only mention services and products that we think are truly worth your attention, whether they're free, paid, or otherwise. This site relies on YOUR trust, so if we don't stand behind a product 110%, it's not mentioned. Period.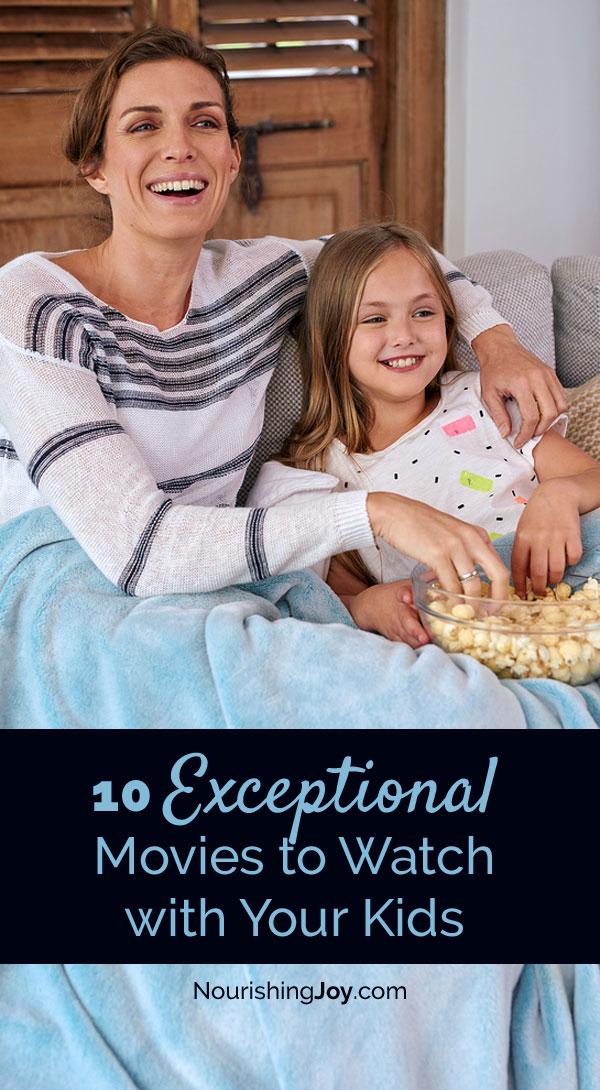 This post was written in 2016, but we still check it periodically to make sure it's stocked with our favorite family-friendly films!
The 88th Academy Awards are this weekend, and while I only sometimes pay attention to all the pomp and circumstance, I will admit a deep love affair with the art and science of filmmaking.
Just like a well-written book has a way of transporting you to new worlds and life-changing journeys, a well-crafted film is a powerful storytelling tool, whether that's for entertaining us, informing us, or inspiring us to make a difference.
Also, movies are just a great way to spend time as a family. I used to argue that it was just an excuse to vegetate, but as our family has spent increasing time watching movies together, I've realized that when the movie is GOOD, you end feeling like you've gone somewhere together, you've shared an experience, you've laughed and cried together, and – more often than not – you've got quotes that get stuck in your head that become part of the fabric of your family's life.
So Oscar weekend (or any weekend) is a great opportunity to curl up with your kiddos for some great movie watching. If you're looking for some inspiration, here are a few ideas. Find these at your local library, via Netflix (or the equivalent in your country), or on Amazon.
For general information about finding age-appropriate films to watch with your children, check out Common Sense Media and Kids in Mind (this one's good but missing a lot of films). I also largely agree with Rotten Tomatoes' 100 Kids & Family Films.
Also, I've just discovered the recommendation lists at Common Sense Media – there are some gems there! Here are a few that have particularly caught my attention:
Want to make perfect movie-style popcorn? Check out how to do it here.
10 Family-Friendly Movies to Watch with Your Kids
The Red Balloon – A short film with no words, this 34-minute, enchanting, imaginative tale from 1956 about a balloon who befriends a little boy in Paris, captivates children on every level and is a beautiful way to spend an evening together as a family. Great for the nights when Movie Night starts later than intended! Buy it, as it deserves a place on every Classic's shelf. Not rated. Buy it on Amazon.
Miracle Down Under – This is one of my absolute favorite films of all time and we watch it at least once a year at Christmastime. It's the tender story of a family trying to make ends meet during a severe drought at Christmastime in Australia and how young children learn what's truly important. This one is devilishly difficult to find, but it's worth every single penny when you do. Not rated. See it on Amazon (hopefully).
A Little Princess – A film version of the book by Frances Hodgson Burnett, this film follows a wealthy young girl who loses her fortune and her family and is forced to live and work in grueling conditions, but yet doesn't lose her kindness and generosity towards others, which inspires an unexpected chain of events. The 1986 WonderWorks version of this film trumps all versions without question, but for some reason, it's insanely expensive on Amazon, so see if you can find it elsewhere first! Not rated. See it on Amazon.
March of the Penguins – What appears at first to be a documentary about the life cycle of Emperor penguins instead turns into a breathtaking love story that is bittersweet, gripping, and engaging for kids of all ages. Rated G. Buy it on Amazon or watch it free with an Amazon Prime membership.
The Princess Bride – This may be the second-most quotable movie of all time, second only to Casablanca. This is a fantasy fairy tale at its cinematic best, exploring the ideas of loyalty, honor, valor, and "true love." We skip the Fire Swamp scene when watching this with our younger children, especially the one who is prone to vivid dreams, but overall, this can be safely watched with anyone over seven. Rated PG. Buy it on Amazon.
Cars – I love anything Pixar has made, as they are master storytellers, but I would wager that Cars is the best film they have made. It has soul and an honest-to-goodness moral, while allowing us a fantastic romp in the world of high-flying race cars. It's highly enjoyable and engaging for children and adults alike. Rated G. Buy it on Amazon or rent it.
Akeelah and the Bee – This is hands-down my FAVORITE film to watch as a family – a new addition to this list since I only discovered it a few months ago and it is a seriously hidden gem among family movies. Despite a few instances of coarse language, it is gritty and real and deep and sweet and utterly compelling. It tells the story of Akeelah, an 11-year-old girl from South Los Angeles and her journey to reach the national spelling bee. It highlights lessons of choosing compassion even when it's hard, friendship, diligence, and perseverance. An added bonus is that after seeing this film for the first time, our spelling-averse 10-year-old suddenly "got" the reason we study spelling and she *asked* to dive deeper into our All About Spelling lessons. I'll take that any day. 🙂 Rated PG. Buy it on Amazon or stream it. (And at least watch the trailer!)
Mary Poppins – Speaking of Oscars, this film had 13 Academy Award nominations in 1964 and won five, including Best Actress (Julie Andrews), and Best Original Song ("Chim Chim Cher-ee"). It's based loosely on the book by P.L. Travers, and the film's sweet storyline, coupled with Mary Poppins' seemingly magical abilities, has been a classic with kids since its original release more than 50 years ago. Rated G. Buy it on Amazon.
The Sound of Music – Again giving a nod to the Oscars, this film received 10 Oscar nominations in 1965 and won five, including Best Picture and Best Music (no wonder – the film was scored by Rodgers and Hammerstein). Considering the film deals with the true story of a family that fled Austria as the Nazis were taking over in World War II, it's surprisingly light and heartfelt. I would consider it suitable for anyone over six, although you may want to preview the last scene ahead of time to approve it for your children. Rated G. Buy it on Amazon.
The Wizard of Oz – I list this 1939 classic only because it appears on EVERY list of "Movies Every Child Should Watch" and because it's an absolute classic that has informed and shaped our culture. It's even listed by Common Sense Media as "one of the best family films ever made." However, despite the fact that I love the story and find the story behind the story intriguing, I'm not counting this in my "10 Recommended" because I myself don't really enjoy this film and I find the scene with the flying monkeys completely unsuitable for young children. It's more on the watch-it-as-cultural-homework list. And then go read the book. Not rated. Buy the movie on Amazon.
Anne of Green Gables – It's cheesy and departs wildly from the book by L.M. Montgomery, but this film is endearing and spunky and a Canadian classic. It may inspire a road trip to Prince Edward Island (be ye forewarned), and teaches some wonderful lessons about what makes a family and the blessings of good, hard work. Not rated. Buy it on Amazon.
And last but definitely not least….
Inside Out – Since I've mentioned classic Oscar-nominated films, I must mention one current nominee for 2016. This film beautifully deals with handling emotions through life's ups and downs. It's sweet and moving and endearing to kids of all ages. Rated G. Buy it on Amazon.
What movies would you add to this list?