25 Ways to Use Lentils for a Fast, Frugal, and Fabulous Meal
This post may contain affiliate links, including those from Amazon.com, which means we earn a small commission off your purchases. And here's the thing: We only mention services and products that we think are truly worth your attention, whether they're free, paid, or otherwise. This site relies on YOUR trust, so if we don't stand behind a product 110%, it's not mentioned. Period.
Some may find lentils boring, but with their earthy, sometimes-smoky flavor, I find them immensely satisfying.
What's even more alluring, perhaps, is that even though I grew up in lentil country where my schoolyard was surrounded by lentil fields (and where we did the Lentil Fun Run every year to celebrate the local legume), the only lentil I knew of was the brown lentil.
But then as an adult I started working as a server in fine dining restaurants and suddenly was responsible for explaining to customers the difference between a French green De Puy lentil and their black beluga cousins.
So, I came to love and appreciate lentils, and realized just how prominently lentils show up in various global cuisines.
Lentils are a staple food in many cuisines – and for good reason. They're a surprisingly rich source of fiber, protein, iron, and folate, as well as many trace nutrients. These nutrients are vital for our health, and can be especially beneficial for trying-to-conceive, pregnant, and nursing mothers.
Lentils also tend to be very affordable, making them an invaluable part of a frugal pantry.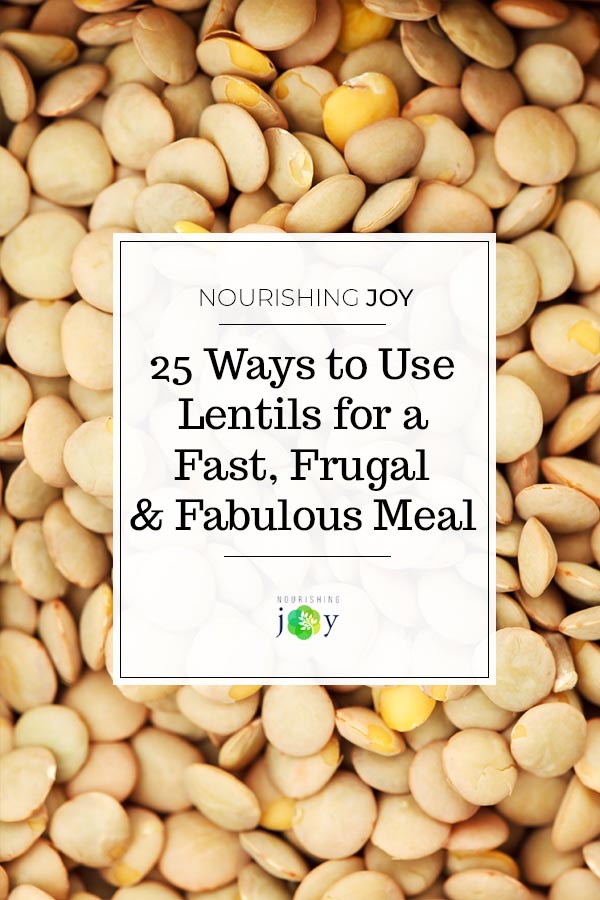 25 Ways to Use Lentils (and counting!)
Use lentils to make "cheater" refried beans. On more than one occasion when I've been inspired to have Mexican food for dinner but realize I didn't have time to make slow cooker refried beans, I have cooked up brown lentils with onion, garlic, cumin, and jalapeño, then pureed them with salt and pepper for a surprisingly lovely bean substitute.
Make Middle Eastern mujaddara. Simply layer cooked lentils over rice, top with caramelized onions, and add a dollop of plain yogurt or sour cream. It's just plain 'ol good comfort food.
Firm round lentils, such as the aforementioned French De Puy or black beluga, make an excellent accompaniment to seafood, such as scallops, grilled shrimp, or salmon. Try serving them instead of rice or quinoa beside your favorite seafood.
Lentils can replace ground beef in many recipes, such as taco filling, sloppy joes, and pasta sauce. I like to puree the pasta sauce once I've added the lentils, but that's merely preference.
Try using lentils instead of chickpeas when making hummus. We also use them as a substitute for the white beans in our Quinoa & White Bean "Hummus" that can be found in the free whole foods cookbook available to our newsletter subscribers. (Sign up now to get the recipe.)
And did you know that lentils can relieve morning sickness?
And try one of these recipes which showcase lentils' vast repertoire:
Lentil tacos – from Traditional Cooking School
Sprouted lentil salad – also from Traditional Cooking School
Or this sprouted lentil salad – from Real Food Eater
(Nourishing Minimalism has a tutorial of how to sprout lentils.)
Lentil stew – from Nourished Kitchen
Curried Lentil Soup with Coconut Milk – from Nourished Kitchen
Spiced Lentil Soup with Roasted Heirloom Tomatoes – from Nourished Kitchen
Egyptian Lentils – from Dimes2Vines
Lentil Potato and Red Pepper Cakes – from Zenfully Delicious
Sloppy Lentil Joes – from Passionate Homemaking
Lentil Dal – from Whole Foods Market (we make this regularly, as it's one of our favorites!)
Curried Pumpkin and Lentil Soup – from Neo-Homesteading
French Lentil Soup with Andouille – from Neo-Homesteading
Lentil Burgers – from 101Cookbooks
Turkish Eggplant Lentil Stew with Pomegranate Molasses – from Simply Recipes
Honey Baked Lentils – from Simply Serina
Greek Lentil Salad – from Girl Cooks World
Lentil Cakes with Pesto Wilted Greens – from Roost
Urad Dal Laddu (a delicious East Indian lentil sweet) – from Tasty Appetite
(see this reference for what urad dal lentils look like | see how to make homemade powdered sugar | see how to make ghee)
Crisp White Lentil Onion Fritters – from Canadian Lentils
Red Velvet Lentil Cupcakes with Maple Cream Cheese Frosting – from Nourishing Joy