This post may contain affiliate links, including those from Amazon.com, which means we earn a small commission off your purchases. And here's the thing: We only mention services and products that we think are truly worth your attention, whether they're free, paid, or otherwise. This site relies on YOUR trust, so if we don't stand behind a product 110%, it's not mentioned. Period.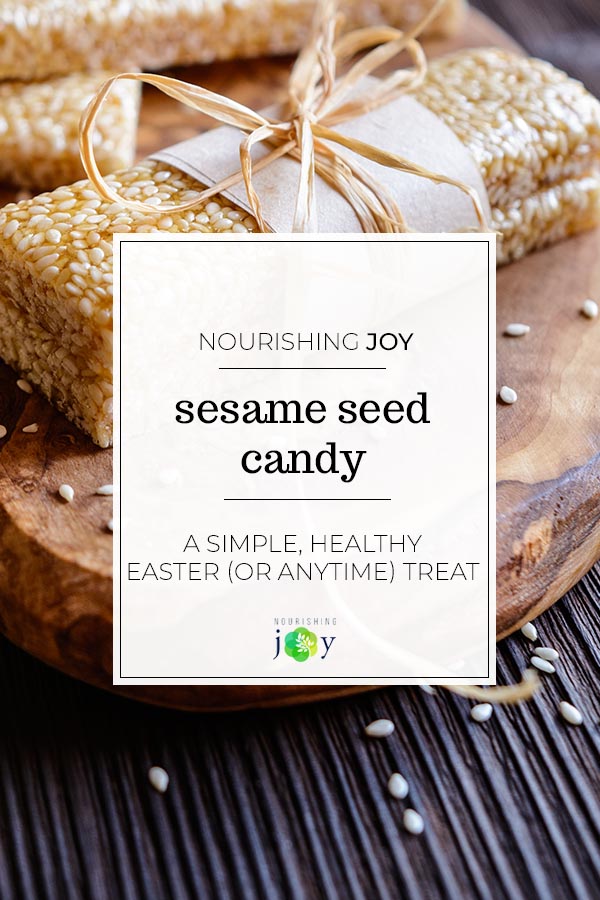 In our house, we affectionately call this candy "Concoction," because for years I kept tweaking the recipe and it didn't really have an identity. But it's a family favorite, and in my mind it's reminiscent of a Bumble Bar or the traditional Greek honey candy, pasteli, that's served as an Easter confection. Sesame seeds are a surprisingly good source of calcium and other minerals and they're great for keeping you "regular."
This can also be a fun project to do with older children—the candy sets quickly as it cools, so it's helpful to have lots of hands on-board to shape the treats.
Spiced Sesame Seed Candy
Ingredients
Seed mixture:
2 ½

cups

sesame seeds

½

cup

other seeds and/or nuts

,

flax, hemp, almonds, sunflower seeds, etc

1

teaspoon

cinnamon

¼

teaspoon

ground cardamom
Syrup mixture:
¾

cup

brown rice syrup

¼

cup

raw honey

½

teaspoon

unrefined sea salt

1

teaspoon

vanilla
Instructions
First, toast the sesame seeds by preheating a large sauté pan over medium heat, then adding the sesame seeds and tossing them every 30 seconds or so until they are flecked brown but not burned. (Toasting the seeds isn't crucial, but the flavor is significantly improved by doing so.)

Place the sesame seeds in a large bowl and add all the other "seed mixture" ingredients. Stir well and set aside.

Line a baking sheet with parchment paper and pour a few tablespoons of olive oil into a bowl to dip your hands in as you shape the candy later. Set aside.

Place brown rice syrup, honey, and sea salt in a large heavy-bottomed sauce pan with a candy thermometer. Heat over medium heat to 248 degrees Fahrenheit. Quickly stir in vanilla.

Note: If you don't have a candy thermometer, you can "eyeball" the right temperature. The syrup mixture should be at soft-ball stage: just slightly stiff and quite thick—think of a slow-to-pour caramel topping for an ice cream sundae.

Remove from the heat and immediately stir in the seed mixture. Stir until all seeds are coated. Quickly spread the mixture to a thickness of 1/2-inch on the prepared baking sheet and score into 1-inch squares with a large knife or the side of a spatula. Let cool just until it's cool enough to handle.

Rub your hands with olive oil and shape each square as you like: small logs, balls, thin sticks, or just broken into squares.

Store in an air-tight container for up 1 month, placing parchment paper in between each layer of candies to keep them from sticking.