Sourdough Black Forest Cake
This post may contain affiliate links, including those from Amazon.com, which means we earn a small commission off your purchases. And here's the thing: We only mention services and products that we think are truly worth your attention, whether they're free, paid, or otherwise. This site relies on YOUR trust, so if we don't stand behind a product 110%, it's not mentioned. Period.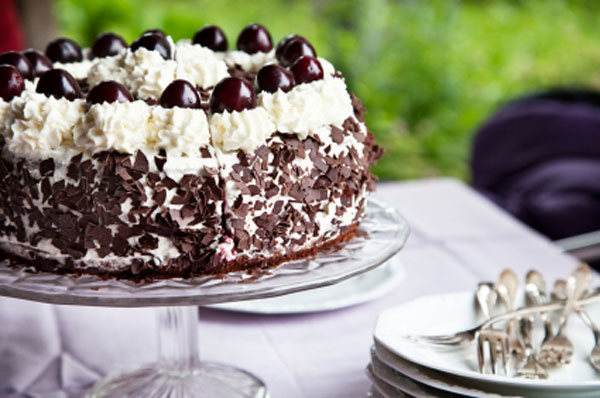 In our home, one of our favorite cakes for special occasions is Black Forest Cake, a scrumptious torte made from layers of dark chocolate cake, sour cherries, and cherry-flavored whipped cream. As we've sought to eat more nourishing and traditional foods, I've wondered how best to prepare the rare sweet treat like this one, but with a bit of experimentation and by consulting four of my favorite cake, sourdough, and real food sources, I've stumbled upon a cake we truly love and that I feel excited about serving, so I can't help but share it here.
Of course, even though this recipe uses alternative sweeteners and traditional fats, it's still a treat and should be eaten in moderation. (Don't moderate your enjoyment, however!)
N.B. If you don't have a friend from whom you can kype a bit of sourdough starter, Cultures for Health has several varieties from which to choose. When I purchased mine, it was ready to use in about five days.)
Sourdough Black Forest Cake
This recipe is based on recipes and tips from four of my favorite sources: The Cake Book
by Tish Boyle, my friend Tanja whose Chocolate-Banana Cake is out of this world, Nourished Kitchen, and the GNOWFGLINS blog.

I have given two options for chocolate, as well, as I can't decide which one I like the best. The melted chocolate increases the moisture content of the cake and makes it a bit denser, while the cocoa option gives the best crumb. Whichever way you choose, it's delicious!
For the Cake
1 cup sourdough starter, recently fed
1 cup of milk, preferably raw
1 3/4 cup whole wheat or spelt flour
1 cup unrefined cane sugar (rapadura) or sucanat OR 3/4 cup date syrup
1 cup unrefined, virgin coconut oil, melted and cooled but still liquid
2 tsp vanilla extract
2 large pastured eggs
1 tsp sea salt
1 1/2 tsp baking soda, preferably aluminum-free
100 grams unsweetened chocolate, melted and cooled OR 1 cup organic cocoa powder (not Dutch process), preferably fair trade
2 tsp finely ground coffee, preferably dark or espresso roast and preferably fair trade
For the Soaking Syrup
If you'd prefer not to add this amount of sugar to the final cake, skip the soaking syrup all together and add an extra tablespoon of kirsch to the cherry whipped cream. The syrup adds a fantastic layer of flavor and just the right amount of moisture, though, so it's well worth it, in my opinion!

1/3 cup water
1/4 cup unrefined cane sugar, coconut palm sugar, or raw honey (NO sucanat, as the molassas flavor is far too strong for this application)
3 tbls kirsch or other cherry-flavored liqueur
For the Cherry Whipped Cream
You may add an extra tablespoon of kirsch to the cream, but no more, as the alcohol will keep the cream from setting into firm peaks.
3 cups heavy cream, preferably raw
1/3 cup organic confectioners' sugar, preferably fair trade
2 tbls kirsch or other cherry-flavored liqueur
1 tsp vanilla extract
For Assembly
2 cups sour cherries, pitted plus 8-16 cherries for the final garnish
50-100 grams dark chocolate (at least 70% cacao), finely grated or curled
Method
Make the Cake
In a large mixing bowl, combine the sourdough starter, the milk, and the flour. Cover and allow to sit at room temperature for 8-24 hours.
Preheat the oven to 350 degrees Fahrenheit. Grease well two 8-inch round or 7-inch square cake pans.
Scrape the sourdough mixture into the bowl of an electric mixer (or grab your favorite wooden spoon to mix by hand). Add the cane sugar, coconut oil, and vanilla and mix on low speed. Increase the speed to medium-low and add the eggs one at a time.
Reduce speed to low and add sea salt, baking soda, chocolate or cocoa, and ground coffee. Mix just until homogeneous, scraping the sides of the bowl if needed. If the mixture is very thick, add a few tablespoons of milk to thin it.
Scrape the batter into the prepared pans and bake for 20-30 minutes or until a wooden skewer inserted in the middle comes out clean. Cool for at least 10 minutes in the pan before inverting onto a cooling rack.
Make the Soaking Syrup
In a small saucepan, combine the water and sugar and bring to a boil over medium-high heat, stirring occasionally to dissolve the sugar. Remove the pan from the heat and stir in the kirsch. Set aside to cool to room temperature.
Make the Cherry Whipped Cream
Chill the bowl of an electric mixer in the refrigerator or freezer or by filling it with ice water for a few minutes and then dry thoroughly.
Place all ingredients in the bowl and beat on high speed using the whisk attachment until medium-firm peaks appear.
Remove three-quarters of the mixture and reserve in the refrigerator to use as soon as possible. Beat the remaining cream to firm peaks (being careful not to overbeat, as it will turn to butter quickly!) Spoon into a piping bag and reserve in the refrigerator.
Assemble the Cake
Slice each cooled cake horizontally to create a total of four thin layers. Save one of the bottom layers to use as the top layer, since it is flat and smooth on one side.
Place one layer on a serving plate and brush it generously with a bit of the soaking syrup. Spoon on one or two large dollops of the whipped cream (approx. 1/2 cup) and spread evenly. Scatter one-third of the cherries across the cream. Place the next cake layer on top and press down gently. Repeat as with the previous layer with the soaking syrup, whipped cream, and cherries, then do it again with the third layer.
Place the final fourth cake layer on the top, making sure the flat side of the layer is face-up. Soak with the remaining syrup and spread the remaining whipped cream all over the top and sides of the cake. Scatter the grated or curled chocolate on the top and sides as you desire. As a final touch, if desired, pipe the firm cream into rosettes around the edge of the top of the cake and place a cherry on top of each rosette.
Serve immediately or refrigerate for up to three hours. Flavor-wise, the cake is even better the next day, but the whipped cream will droop within a few hours, so for the sake of presentation, serve within hours of assembling.
You can also see this recipe over at our guest post at Nourished Kitchen.