Pissota: An Old-World Olive Oil Cake
This post may contain affiliate links, including those from Amazon.com, which means we earn a small commission off your purchases. And here's the thing: We only mention services and products that we think are truly worth your attention, whether they're free, paid, or otherwise. This site relies on YOUR trust, so if we don't stand behind a product 110%, it's not mentioned. Period.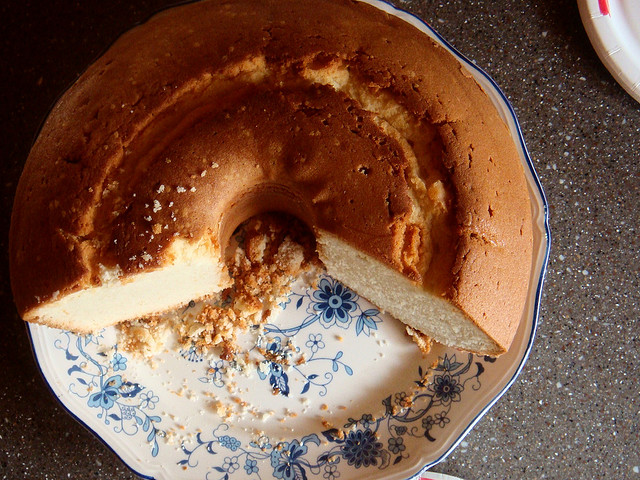 Photo Credit – Bethany Ann Khan
My sister lives in Spain. (I won't say I'm jealous or anything….) I'm always intrigued by her stories of modern day life in a country that embraces the ultra-modern but is defined by centuries of tradition. Heck, she's in the process of remodeling a 300-year-old house!
In the process of settling into this new country, she has made amazing connections with old-world artisans – incredible handcrafted shoes made a fourth-generation shoemaker, old-world cheeses, honey, and of course – olive oil.
And so it was that a few weeks ago she wrote me and said, "I've got all this olive oil in my kitchen! Do you still have that olive oil cake recipe?"
The olive oil cake to which she was referring was a cake that I used to make only sparingly for the holidays. It is dense and moist and fits my definition of a perfect cake – not too sweet, more appropriate for afternoon tea than as a dessert, and can be eaten without a fork.
But what I especially love about this cake is the tradition from which it comes. It's an old Italian recipe and focuses on simple, quality ingredients – eggs, olive oil, milk, flour, and citrus. It's also a bit of a twist on what we usually see here in modern day North America for cake-making technique – typically these days you mix your dry ingredients and your wet ingredients separately then incorporate them by adding them together in alternate additions. This old-style cake, however, gets its levity from the fact that you make a thick batter with the eggs and all of the flour first, then add in all of the liquids – the olive oil, the milk, etc. At first this seemed like a mistake to me, as it takes a looooooong time to beat in all of the oil by hand and is truly a labor of love, but then I realized it was intentional, as all of that beating adds lots and lots of air to the batter and you end up with a dense-but-silky texture that is hard to resist. If you go the easy way and use an electric mixer, be sure to mix the cake with the whisk attachment and drizzle in the olive oil slowly, as it makes all the difference.
I've adapted this recipe from La Cucina Italiana – the original recipe calls for the cake to be baked in a round cake pan with a tea cup inverted in the middle, but I've changed things slightly so that it can be baked in a modern bundt cake pan.
Oh, and as a total side note – my sister has been so impressed with the artisans she has met that she has set up an online shop specifically for residents of the US and Canada to be able to access these goods and as a way of supporting these old-world artists who more and more are getting pushed out of business. Visit Victualia.es for yummy organic foods and handcrafted shoes.
Pissota
Ingredients:
4 eggs, preferably pastured
1 cup unrefined sugar
3 cups unbleached, unbromated all-purpose flour
1 1/2 cups extra-virgin olive oil (use the best quality you can afford)
1/4 cup rum or Grand Marnier
1/4 cup milk, plus more if needed
zest from 1 lemon, grated (orange zest offers a lovely flavor too)
2 teaspoons aluminum-free baking powder
Method:
Preheat the oven to 375 degrees F.
Place the eggs in a bowl and beat in the sugar until light and creamy.
Add all of the flour and work it in – the batter will be very thick and stiff.
Whisk in the olive oil, liqueur, milk, citrus zest, and baking powder. If the batter is still too stiff to pour, add more milk by the tablespoon until the batter flows.
Pour into a greased, floured bundt pan and bake until golden-brown, about 35-45 minutes.
Let cool 5-10 minutes in the pan, then invert on a cooling rack. Cool to room temperature and serve as is or with whipped raw cream and berries.