This post may contain affiliate links, including those from Amazon.com, which means we earn a small commission off your purchases. And here's the thing: We only mention services and products that we think are truly worth your attention, whether they're free, paid, or otherwise. This site relies on YOUR trust, so if we don't stand behind a product 110%, it's not mentioned. Period.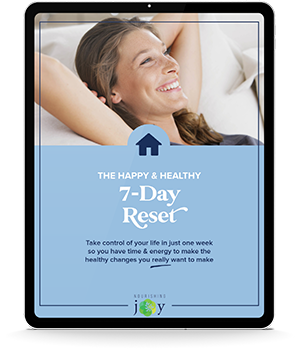 More calm, less chaos.
Use our step-by-step method to take charge of your life so you have time for what *really* matters.
Easter for me is a sure sign of spring.
After the dreary darkness of winter and the Lenten season, the longer days, the budding trees, and the exultant celebration of Christ's resurrection are all a welcome greeting into what I consider the "official" start of spring.
And thus, of course, I start craving the flavors of spring.
Eating seasonally certainly has its challenges, but the utter delight of new, fresh flavors as each new season arrives trumps any challenge that comes with the practice. In the case of spring, it's the fresh herbs, greens, and spring salmon that I crave and delight in most deeply.
Thus, this pizza was born out of that delight of fresh flavors. It's a little like a grown-up version of lox and bagels and it always disappears quickly in our house.