This post may contain affiliate links, including those from Amazon.com, which means we earn a small commission off your purchases. And here's the thing: We only mention services and products that we think are truly worth your attention, whether they're free, paid, or otherwise. This site relies on YOUR trust, so if we don't stand behind a product 110%, it's not mentioned. Period.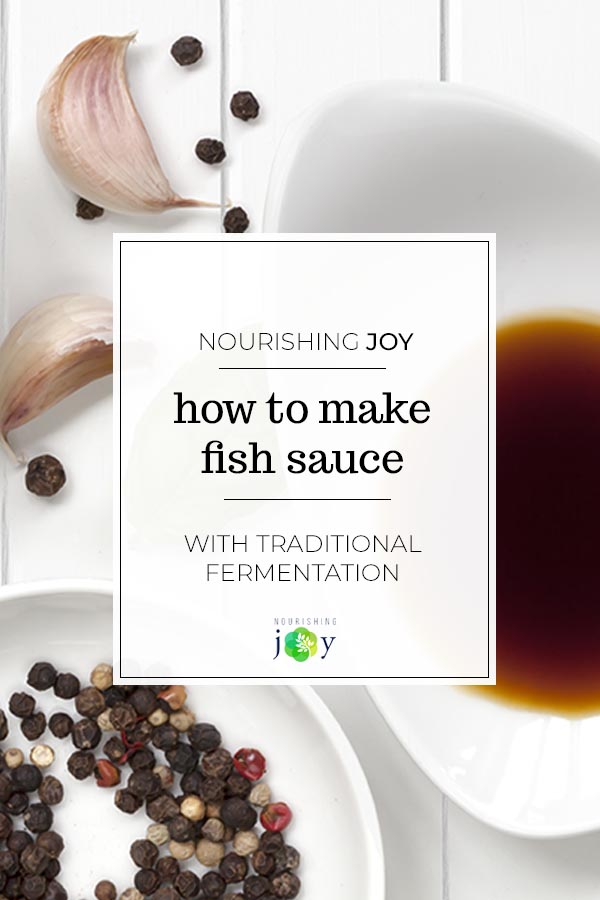 If you like this recipe, be sure to follow our
DIY Pantry
board on Pinterest!
In the wide, wonderful world of fermentation, homemade fish sauce was one of those foods I just couldn't fathom making at home.
Sauerkraut? Absolutely.
Ketchup? No problem.
Homemade fish sauce? No, thank you.
But for some reason, curiosity got the better of me after I saw a recipe for it in Nourishing Traditions and I started hunting down local sources of herring and smelt to secretly toss in a jar and hope my kids wouldn't ask why there was an eyeball looking at them from across the room.
What's worse is that I never really liked the store-bought stuff anyway. It lacked the umami it purportedly brought to any dish and just didn't satisfy, no matter how much I tried to like it. Despite my deep love of Thai cuisine and growing awareness of delicious Vietnamese soups, anytime I bought a bottle, it sat largely unused in the refrigerator until it was well past its expiration date and I didn't feel so guilty about throwing it out.
So when I set out to make my own homemade fish sauce, I considered myself a little crazy (let alone what my husband or anyone else thought!)
But fast forward a few weeks to when I opened that first jar of homemade fish sauce and took a brave little taste – and it was GOOD. Its flavor was complex but by no means overwhelming, it was barely fishy, and it was bursting with umami. I dare say, *ahem* it was good enough to lick the spoon.
So, today I offer my take on the classic homemade fish sauce. It's a recipe that will expand your culinary boundaries if you are a born-and-bred North American who is accustomed to European and American cuisine like I am AND it promises great nutritional bounty. Adventure and better health simultaneously! What are you waiting for? Your own homemade fish sauce and your favorite recipes await….
UPDATE – June 3, 2014:
Want more traditional fish sauce deliciousness? Today The Kitchn posted an absolutely FABULOUS article showing
how traditional fish sauce is currently made in Vietnam
. Absolutely take a few minutes to read it – it's informative, intriguing, and full of beautiful photos.
Homemade Fish Sauce
Ingredients
6

cloves

garlic

,

coarsely chopped

zest from 1 small lemon

,

optional

3

tablespoons

finely ground sea salt

6

bay leaves

2-3

teaspoons

whole black peppercorns

1 ½

pounds

small whole fish

,

smelt, herring, etc

1-2

cups

non-chlorinated water

,

as needed

2

tablespoons

sauerkraut brine OR 1 teaspoon additional sea salt
Instructions
In a medium bowl, muddle the garlic and the lemon zest together with the sea salt.

Rinse the fish, then cut them into 1/2-inch pieces. (If they're too big, you'll end up with lovely pickled fish, but not much sauce.)

Toss the fish pieces (including the heads and tails) in the muddled salt mixture to completely coat the fish. Add in the peppercorns and bay leaves, then lightly pack the mixture into a clean 1-quart mason jar, pressing down on the pieces as you go to release the juices.

Pour the sauerkraut brine or additional salt into the jar, then pour in as much water as needed to completely submerge the fish, but be sure to leave at least 1-inch of headspace at the top of the jar, as the mixture will expand as it ferments.

Cover tightly and leave at room temperature for 2-3 days, then move to the refrigerator and let sit for 4-6 weeks.

Double strain the mixture through a fine sieve or cheesecloth and discard the solids. Store in glass bottles in the refrigerator for 4-6 months.