Ethical, Green Black Friday Deals
This post may contain affiliate links, including those from Amazon.com, which means we earn a small commission off your purchases. And here's the thing: We only mention services and products that we think are truly worth your attention, whether they're free, paid, or otherwise. This site relies on YOUR trust, so if we don't stand behind a product 110%, it's not mentioned. Period.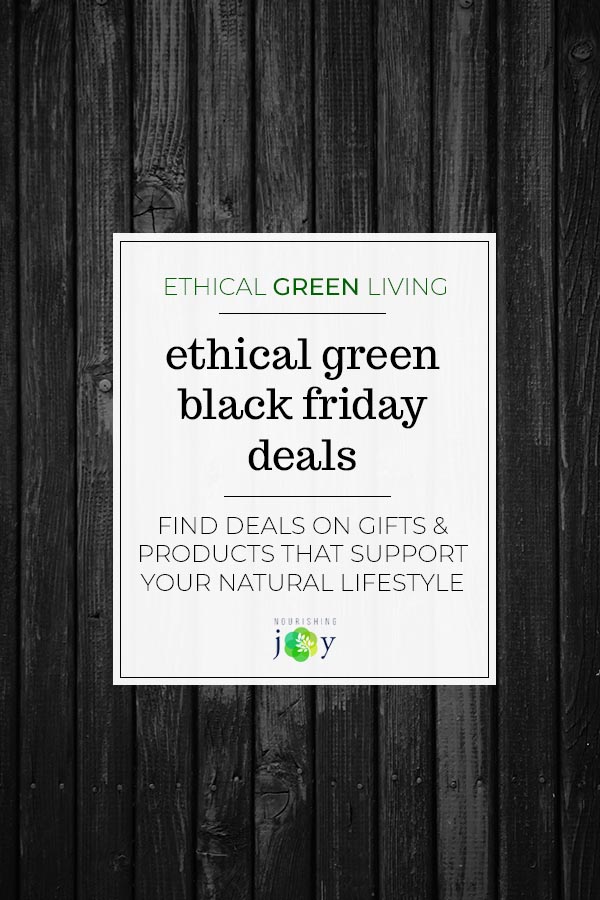 I'm not a huge fan of Black Friday madness – quite the opposite, in fact.
However, I AM a fan of good deals and being savvy with our family's money – and Black Friday weekend does offer some great deals on ethical, eco-friendly, and thoughtful products we're excited about.
So, if you're like me, read through this list with hot coffee in hand and discover some of this season's BEST deals – in the best sense of the word. 🙂
(And keep checking back – I'm updating this post as I get notifications of new deals in my inbox throughout the weekend and removing expired deals as they pass.)
LAST UPDATED: Monday, 5:30 p.m. (PDT)
50% off storewide in Nourishing Joy's shop of printables. First off, of course, we've got a deal running on our own products. Take 25% off all weekend through Monday. This includes our bestselling Essential Oil Safety Cards, as well as the Group & Professional License, which we have NEVER discounted before (reg. $100!). Visit the shop here and use code BLACKFRIDAY25.
Shopping on Amazon? See this first.
Snag a few Super (Natural) Black Friday Deals from Amazon by viewing our curated list here. In the midst of all the hubbub and frenzied shopping, use this opportunity to get the best deals of the year on items you would be purchasing anyway. My favorites this year are glass food storage containers, Beeswrap, non-toxic crib bedding, and a smokin' deal on Vitamix blenders.
Herbs & Essential Oils
Aromatics International is offering a serious steal of a deal with their essential oils and supplies! They're offering MULTIPLE deals through the weekend. Saturday and Sunday take 25% off all Holiday Sets, DIY Kits, Blends, and their new ready made products with code GIFT25.
Non-Toxic Kitchenware
Xtrema, an ethically-produced, eco-friendly line of gorgeous ceramic cookware and bakeware, has put every. single. thing. on their site on-sale, with several items being 75% off! This is SERIOUSLY a great time to shop Xtrema (aka Ceramcor) and fill your kitchen with non-toxic, sustainably-produced cookware.
VitaClay non-toxic slow cookers
. Gobble up 15% savings on any slow cooker in the store. If you're wanting to find a slow cooker free of lead and other heavy metals, these clay slow cookers are the way to go – AND they offer a seriously "cool" factor. Good through Monday.
Baby & Mama
Get 50% off your first month's diapers + wipes bundle from The Honest Company. Not only are their diapers SUPER-cute with ever-changing designs through the year, but they are very transparent about where each part of the diaper is harvested or constructed and the quality is definitely top-notch. Subscriptions are competitively priced and super-convenient.
You can also get 25% off Baby essentials & Beauty essentials at The Honest Company with code MERRY25.
Mama Natural Birth Course. This course is the perfect gift for yourself or for ANYONE who's pregnant (or who wants to be) and at 25% off, it's definitely the best price you'll find all year. Good through Monday.
For Kids
KiwiCo is offering 60% off a first month's subscription on their superb kids' activity boxes – and no coupon necessary! The deal will be automatically applied in the cart. These super-creative boxes are offered at multiple age levels, so you can choose amazing projects for ALL your kids!
Kids Cook Real Food. Black Friday is here! Kids Cook Real Food online cooking class is finally open for enrollment but just for a limited time – and it's an incredible value with over $400 worth of content for only $149.95, lifetime access! 😮 What a great quality time gift idea that won't clutter up your house.
Traditional & Sustainable Foods
ButcherBox has run out of their Black Friday offer of free steak in your first box, BUT in its place, they're offering free bacon in every box. Think of that – every month when you order your regular ground beef and chicken thighs, they'll send you bacon too. Oh, yes please!
At Cultures for Health, get 30% off sitewide through Monday. Oh, my goodness – yes, yes, and yes!
For Bloggers & Business Growth
BlueHost blog hosting (seriously – I'm not kidding). If you have ever wanted to start a blog, TODAY is the day to grab your domain and hosting, even if your idea is still in its early stages because – I promise you – you will regret it later when you have to shell out a whole lot more (ask me how I know).
I wouldn't call BlueHost an ethical provider, but it's by FAR the most affordable way to get started – and even MORE SO with today's deal – so it's a super-savvy way to start your online blog and business.
Today's deal gives you 60% off hosting (that's only $2.65/month!), plus a free domain – it's the best deal they offer all year. You will have to pay for three years up front, which totals out to $95.40, but that equals a savings of nearly $200. If you don't want to pay for three years, you can pay for less and still get a deal (for example, $5.95/month if you prepay ONE year) – the savings are just less. Get the deal here.
Family & Personal Growth
SaveSave
SaveSave
SaveSave
SaveSave
SaveSave
SaveSave