DIY Homemade Cling Wrap: A Natural Plastic Wrap Alternative
This post may contain affiliate links, including those from Amazon.com, which means we earn a small commission off your purchases. And here's the thing: We only mention services and products that we think are truly worth your attention, whether they're free, paid, or otherwise. This site relies on YOUR trust, so if we don't stand behind a product 110%, it's not mentioned. Period.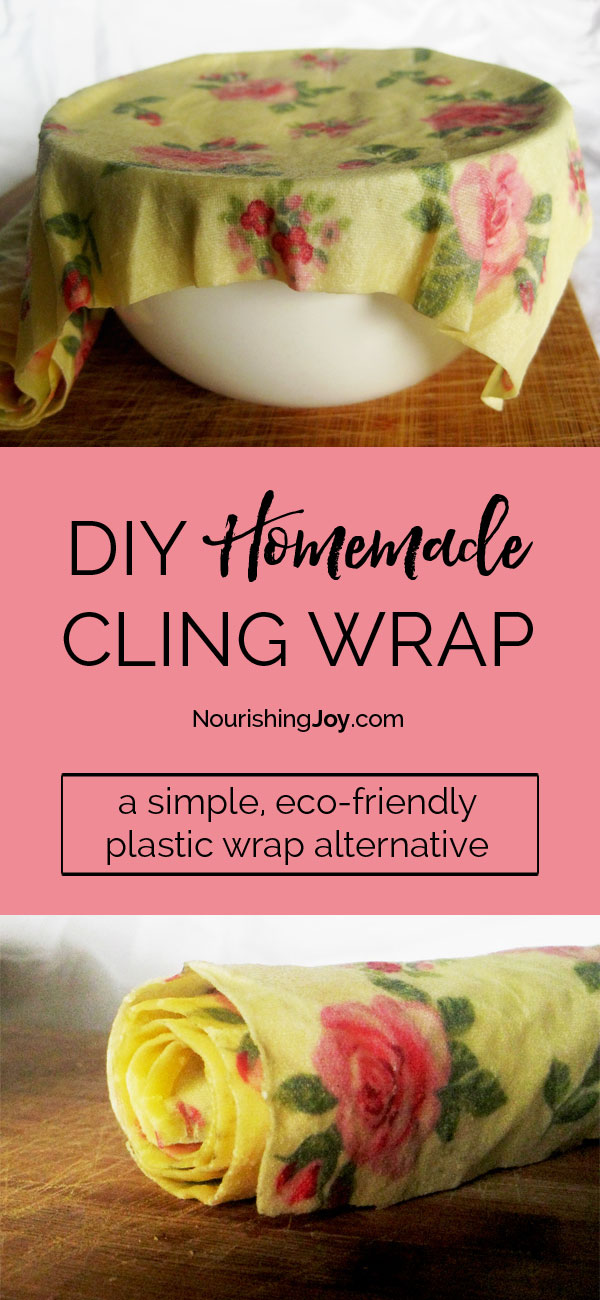 In celebration of the launch of my new book, The DIY Pantry, it's "DIY Month" here at Nourishing Joy. Today's featured DIY item is homemade cling wrap – aka the natural replacement for plastic cling wrap!
While the wax-on-cloth idea really isn't anything new (is there really anything new under the sun?), it certainly has become both chic and oh-so-moderne in the last few years.
Ever since I had seen a gorgeous commercial version that looked so fun and elegant that it made you just want to go make a snack merely so you could wrap it up, I had been wanting to try my hand at making cling wrap at home. In the commercial version, there were only three ingredients, so I figured it would be easy – little did I realize just how easy it would be.
Now, I should point out that in the commercial version I had seen, the sheets are entirely smooth and square. This homemade version creates an even finish, for sure, but it certainly isn't as crisp as the commercial version, so don't be surprised.
Also, this homemade cling wrap doesn't work for everything, which is the nature of being reusable rather than disposable.
For example, you don't want to use it for raw meats, as you won't be able to wash it well enough before reusing it again. However, in our house it has been brilliant for basic day-to-day stuff, such as covering the bread bowl as dough rises, sealing up leftovers, and wrapping sandwiches.
So, while it doesn't replace plastic wrap in every single usage, it certainly does a mighty fine job at reducing the amount of plastic wrap that gets used. (And of course, you can always use glass storage containers and fabric snack bags for an eco-friendly storage option, too!)
So, with all of that, let's make some DIY homemade cling wrap!
DIY Homemade Cling Wrap / Food Wrap / Plastic Wrap Alternative – whatever name floats your boat….
Step 1: Gather supplies
I mentioned above that the commercial version uses three ingredients (beeswax, jojoba oil, and tree resin), but I have found that using just plain beeswax is about the easiest for the homemade version.
To make homemade cling wrap, you'll need:
A note about fabric: the secret to smooth, non-flaking, long-lasting, homemade cling wrap is not in the amount or type of wax you use, but the type of fabric. I haven't tried every kind of fabric out there by any means, but one rule applies: use the thinnest, tightest-weave you can.
Here's an example: The first time I made homemade cling wrap, I used an old tea towel. I tend to like thick, hefty tea towels (such as Damask and Jacquard weaves), and this was an inexpensive one I had found at IKEA. It had a nice, tight weave, but ultimately, the thickness made it difficult to keep its seal on some bowls because it wasn't quite flexible enough to hold its shape once the wax hardened in the refrigerator.
So I tried again adding jojoba oil to the mix, thinking that perhaps the beeswax was a bit too firm once chilled. However, even in small quantities, that made the resulting cling wrap sticky when it softened.
So then, I thought perhaps I'd play around with various fabrics. Since the commercial version mentions it's made of muslin, I tried some butter muslin I had laying around. Big mistake. Muslin comes in multiple weaves and butter muslin is a very loose weave since it's designed to be able to drain the liquid off of cheese, butter, yogurt, etc. Thus, while the seal on the bowls was lovely, the cling wrap only lasted a couple of days before the wax started flaking off due to its very loose weave. Very tightly woven muslin, on the other hand, would work brilliantly.
So, in my experience, the best options for fabric are something about the thickness of a bedsheet with a very tight weave. Beyond that, the sky is the limit!
UPDATE: Some of the commercial varieties are now being made out of gorgeous fabrics (not just the original plain beige). This beautiful purple wrap and stripy teal provide some serious inspiration – I sense some lovely thrift store treasure hunts coming on!
Step 2: Melt the beeswax and cover the fabric
Place enough grated beeswax or beeswax pastilles in the bread pan (or other container) so that, once melted, there will be about 1/2-inch of melted wax in the pan.
Place the pan over very low heat on the stovetop to let it melt slowly.
When the wax is completely melted, place one piece of fabric in the wax (careful – it's extremely hot!), making sure every single portion of the fabric is coated with wax. Lift it out and let the liquid wax drip off until the wax has cooled – usually 1-2 minutes at the most.
I rigged up a system where I used clothespins with magnets on the backside to hang the dripping cling wrap from the hood on my stovetop (see an example). This worked fairly well, but honestly, the beeswax hardens quickly enough that it's almost just easier to hold it while it drips.
One the wax has hardened, set aside to cool completely, then redip the edges or any spots that were missed, if necessary. Scrape off any wax bumps, if it matters to you.
UPDATE: Since publishing this article, I've realized some of my lovely colleagues have come up with other ingenious ways to get the wax onto the fabric. Betsy over at DIY Natural uses an iron to melt the beeswax on (see it here) and Heather over at Mommypotamus pops hers in the oven – and adds cute little buttons to make tidy snack bags (see it here). Brilliant!
Step 3: Use and store your homemade cling wrap!
To use your homemade cling wrap, just wrap or cover the item, then use the warmth of your hands to slightly soften the beeswax, then press and seal the cling wrap into place.
To wash it, just rinse it with cold water (yes, cold – hot water will melt the wax, remember?) and use a tiny amount of dish detergent if absolutely necessary. Let dry.
To store homemade cling wrap, you can either roll it up as in the photo below or fold it up so that it fits neatly on a shelf or in a drawer.
Have you made homemade cling wrap before? If so, what has been your experience?