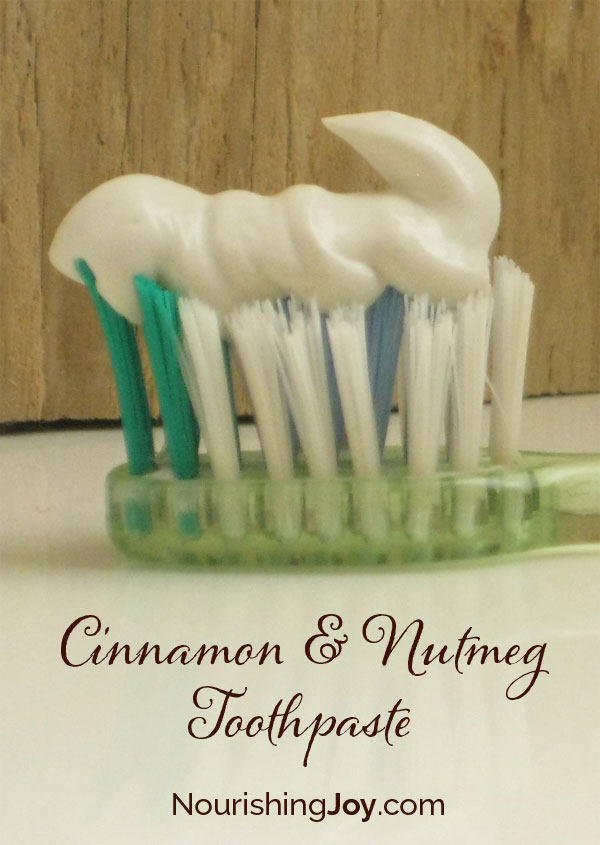 Okay, okay… so making your own toothpaste may not be at the top of your "To Do" list, but I assure you, it's totally worth it.
Conventional toothpaste – like so many other things in our modern world – is full of questionable ingredients, especially considering that one of the fastest ways to absorb pretty much anything is through the mouth.
Sodium laurel sulfate, sodium laureth sulfate, flouride, and artificial sweeteners top the list most certainly. Even "natural" brands aren't necessarily non-toxic.
Is It Even Possible to Make Your Own Safe and Effective Toothpaste?
Well, let's take a look at the marks of a good toothpaste. A good toothpaste must:
scrub off plaque and food residue without scratching the tooth's enamel
make the mouth an inhospitable place for bacteria
invigorate and stimulate healthy gums (for an enlightening look at gum health, read "The Secret" by Dr. Ray Behm Jr., DDS)
avoid toxic ingredients
Optimally, a toothpaste will also:
whiten and polish the teeth (again, without damaging the enamel)
strengthen the tooth itself and assist in remineralizing the tooth and thus fill in cavities and abcesses (read more about remineralization)
Homemade toothpastes can absolutely do all these things, and we'll go into the role of each ingredient further a bit later.
With the exception of the contentious ingredient xylitol, all the ingredients here are not only safe to swallow, but actually nourishing if you happen to do so (as well as being safe for young children and those with sensitive teeth), and all of them actively promote a healthy mouth, gums and teeth alike.
It should also be mentioned that eating nutrient-dense food, especially those rich in calcium, is the first and most fundamental part of having healthy teeth, as that provides the body everything it needs to build and maintain strong teeth.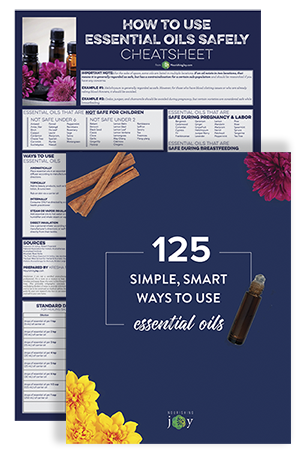 Make using essential oils EASY with our at-a-glance cheatsheets.
Be confident in using essential oils safely AND effectively! Simply click the button to download these two popular cheatsheets and see just how easy using essential oils SAFELY can be.
Calcium, for example, is used for muscle contraction, nerve communication, and cell formation. If we don't take in what we need through our diet, our bodies have no problem pulling what they need from our teeth and bones, which then cause the teeth to quickly erode in the presence of acids and sugars.
So, making your own toothpaste is an easy, (mostly) frugal way to provide a non-toxic brushing option. And the best part? Making it whatever flavor you so desire! (Scroll down to the end of this post for several of our favorites.)
Cinnamon Nutmeg Toothpaste
As you can see, there are two versions of this recipe. There's no great difference in their performance or in their taste, but the textures differ: the calcium carbonate base feels and acts more like "regular" toothpaste, while the clay base is much smoother.
The ease of finding ingredients may vary from location to location as well, so go with whatever's easy. I found all these ingredients at my local health food store, but Amazon.com and Mountain Rose Herbs are good resources as well.
Cinnamon and nutmeg oils not only make you think of yummy pumpkin pie while you're brushing, but they're both strong antibacterials and offer pain relief when applied topically, so can help if you have sensitive teeth. Adjust the amounts to your own preferences, if desired.
Each recipe makes about two days worth of toothpaste for our family of six (well, #6 just got his first teeth last week, so he doesn't count).
Cinnamon Nutmeg Toothpaste – Calcium Carbonate Base
2 tablespoons calcium carbonate (make your own by following this tutorial from Mama Natural)
1 teaspoon baking soda
1/4 teaspoon xanthan gum (optional)
1/2 teaspoon xylitol
2 tablespoons extra-virgin coconut oil
1-2 teaspoons water (hydration rates may vary greatly according to region and personal preference – start with 1 and go from there)
2-3 drops cinnamon leaf essential oil OR 1/2 teaspoon ground cinnamon (cinnamon bark essential oil is too "hot" for this use – use only cinnamon leaf)
1-2 drops nutmeg essential oil OR 1/2 teaspoon ground nutmeg (please see note about nutmeg essential oil below)
Whisk together the dry ingredients: the calcium powder, baking soda, xanthan gum, and xylitol. Using a fork, blend in the coconut oil until uniform. Add the water and the essential oils and use a whisk to stir it very briskly. Make it as smooth as possible and add more water or calcium a bit at a time, if necessary. Spoon into a small pastry bag fitted with a screw-on cap, a small sandwich baggie with the corner cut off, or other squeezable container. You may also thin it with an extra teaspoon of water and place it in a pump bottle.
Cinnamon & Nutmeg Toothpaste – Clay Base
(This is my homemade version of Earthpaste – definitely check it out if you've never tried it!)
4 tablespoons bentonite clay
1 teaspoon xylitol, more to taste
1/4 teaspoon fine sea salt
2 tablespoons hot water
2-3 drops cinnamon leaf essential oil OR 1/2 teaspoon ground cinnamon (cinnamon bark essential oil is too "hot" for this use – use only cinnamon leaf)
1-2 drops nutmeg essential oil OR 1/2 teaspoon ground nutmeg (please see note about nutmeg essential oil below)
Whisk together the clay, xylitol, and sea salt. Add the water and essential oils and whisk vigorously until a thick, uniform paste forms. Spoon into a small pastry bag fitted with a screw-on cap, a small sandwich baggie with the corner cut off, or other squeezable container. I've seen others use small mason jars, but I personally prefer something squeezeable. Be aware that the clay will thicken over the course of a few days.
The Ingredients
Calcium is an essential mineral for proper and healthy body function, as I mentioned above. By ingesting it, we ensure adequate amounts are available for proper body function. By using it in toothpaste, it is a mild-but-effective abrasive and it creates a lovely creamy base.
Bentonite clay is an edible clay that is not only chock full of essential minerals our bodies crave, but it helps rid our bodies of toxins. In toothpaste, it also functions as a gentle abrasive. (Read 10 Reasons Clay Should Be in Every Mama's Cupboard)
Unrefined sea salt & baking soda are both gentle abrasives. (If you're worried they might be too abrasive, check out their RDA values here.) More than that, however, they are crucial for neutralizing the acids around your teeth. As bacteria grow through the day by feeding on the sugars of food debris in your mouth, their wastes create an acidic environment, which eats away at tooth enamel, creates halitosis, and can enflame gums. The salt and baking soda do the very important job of neutralizing those acids.
Coconut oil gives a nice "mouthfeel" to the toothpaste and provides a good consistency to the mixture, but more importantly, unrefined coconut oil has strong antibacterial and antiviral properties that help keep the bacteria at bay.
Xylitol is included as a sweetener to make the toothpaste more palatable. Typically sweetener in a toothpaste would be a big no-no, as we're specifically trying to reduce the sugars on the teeth, but xylitol is a bit unique and I've seen a number of holistic dentists recommend it specifically to prevent tooth decay.
Xylitol is a slightly contentious ingredient, however, for how it is metabolized by the body when ingested and because it is very highly processed. I am NOT comfortable using xylitol in any instance where its intention is to be ingested, but I am comfortable using it in this recipe, as it's intended to be applied topically and the research showing its topical effectiveness convinces me of its value. It's definitely a grey area though…..
Also, as many have mentioned in the comments, xylitol is fatal to dogs if swallowed, so any product using it should be treated as any medication around small children: out of reach and extremely difficult to open.
If you prefer to avoid xylitol, you may use stevia, either the liquid homemade kind or the green powdered variety. The store-bought liquid versions and the white powdered versions are highly processed and are about as far from "natural" as you can get, so they're not recommended.
If you only have access to a liquid commercial kind, however, also be sure to check the stevia's ingredient list for glycerin, as glycerin is highly undesirable in toothpaste. Glycerin coats the teeth to prevent stains, but it simultaneously prevents teeth from repairing themselves. It takes up to 30 times longer to brush off, as well.
Now, given all that information, maybe we should just skip a sweetener all together!
Xanthan gum makes the paste more "gummy" and more like conventional toothpaste. It is optional and is included just for texture.
Essential oils are included not just for flavor, but for their antibacterial and healing properties as well.
Our very important caveat and disclaimer
Since essential oils in this application are used in a medical capacity, be sure to source oils that are distilled properly using organic materials and that haven't been "cut" or diluted with other oils. Also avoid fragrance oils that are more appropriate for cosmetics, such as making soap.
Since we're not ingesting the toothpaste in large quantities and only use a small amount of this recipe at a time, the amounts we call for here are designed to be safe even for young children, but keep in mind to use essential oils incredibly sparingly and carefully.
Pure essential oils are extremely potent and can have serious side effects if ingested in large amounts ("large amount" can even be a half-teaspoon or so, considering their potency). For example, nutmeg oil is on par with certain heavy drugs and can cause delirium and hallucinations when taken in large doses. This does NOT apply to nutmeg eaten as spice, since it is nowhere near the same concentration, while still providing plenty of flavor.
For this reason, if you have children who may swallow the toothpaste, you may want to leave out the essential oils altogether until they're a bit older and use the spice instead.
If you have any questions about your personal health, the efficacy of using pure essential oils, or are pregnant, contact a certified aromatherapist or other knowledgeable professional to help you decide which to use.
All the Flavors of the Rainbow
I've had a lot of fun playing with flavors as I've tested and tweaked and used these toothpastes over the last few months. Here are several I found especially invigorating… or at least interesting!

Remember to use pure essential oils with any of these formulations, and please adjust amounts to your family's preference. Just be sure to keep our Essential Oil Safety Cards on hand and consult them before adding or changing the types of essential oils in these recipes, to be sure you're not using an oil that may be unsafe for you or a family member.
Vanilla Mint – 6-8 drops spearmint essential oil + 4-5 drops vanilla absolute (alternatively, pure vanilla extract may be substituted for the water in the recipe, but considering vanilla is extracted in alcohol, which can dry out gums and kill beneficial bacteria, be sure to rinse well afterward and don't use every time you brush)
Sweet Orange & Cocoa – 8-10 drops each of sweet orange essential oil and cocoa absolute
Juniper & Tea Tree Oil – 8-10 drops of juniper berry essential oil + 8-10 drops of tea tree oil
What is your favorite toothpaste tip?
Do you have tips for teaching your children to brush well?
Do you have a favorite toothpaste recipe? What has worked well for you (or NOT so well)?
What's the craziest flavor you've ever seen in a commercial toothpaste?
Please share in the comments!
[social_warfare]