5 Easy Tips for Babywearing in Winter
This post may contain affiliate links, including those from Amazon.com, which means we earn a small commission off your purchases. And here's the thing: We only mention services and products that we think are truly worth your attention, whether they're free, paid, or otherwise. This site relies on YOUR trust, so if we don't stand behind a product 110%, it's not mentioned. Period.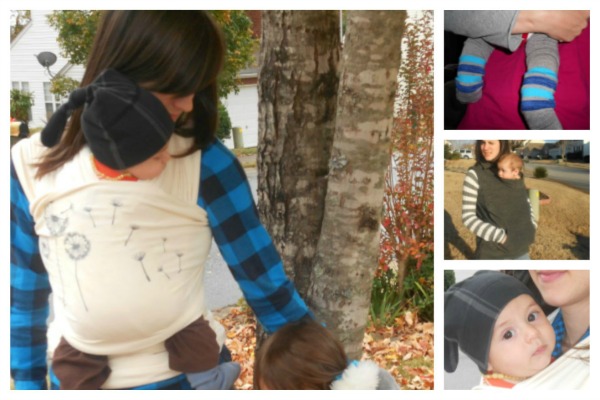 Note from Kresha: Today's post is from Julia from A Little Bit of All of It. Her site has a cornucopia of good information about babywearing and natural living, so I'm so happy to have her sharing a bit of her babywearing wisdom with us too! Thanks, Julia!
I love babywearing!
It's a beautiful thing when you can combine snuggling close to your baby with being hands free and getting things accomplished! Wearing your baby is great for around the house and for enjoying the outdoors.
Now that the temps are starting to drop you might be feeling discouraged from wearing your baby out in the cold winter weather but don't let that stop you! Below you'll find my five tips for babywearing in the winter to keep you and baby toasty warm while participating in all of the winter wonderland fun.
1. Layers
This is fairly obvious but I thought I'd mention it all the same.
You probably already are going to be dressing your baby in layers if the weather is cold regardless if you plan to babywear or not. I bring it up particularly though because while babywearing, your baby will be up close next to you getting your body warmth. That's why layers are a good idea.
You can always just strip a layer off if your baby starts to get hot and then add it back on if you take him or her out of the carrier where they might be more chilly. This also works great if you are going to be going from outside to inside.
2. Coats, Vest, Ponchos, Fleece Covers, etc.
Several babywearing companies make gear specifically for the icy temps.
Ergobaby used to make two great babywearing coats but sadly they stop producing them. Never fear though, a brief search on Etsy reveals several styles and types of babywearing coats, ponchos and fleeces. You're sure to find the right level of warmth for your climate if you do a little searching.
I'm a big fan of the Boba Vest personally, especially this time of year when it's still fall and not freezing cold quite yet, at least in the South where I live. If you don't want to buy something, there are lots of tutorials online instructing you in the art of making your own warm creation. And, of course you can just buy a coat in a size or two larger that will fit over your baby while wearing.
3. Baby Leggings
I love baby leggings not just for their total cuteness factor. They are my favorite way to keep my little guy warm. I actually put them underneath his pants. There are lots of benefits to this.
First, it's an extra layer of warmth obviously (that can easily be pulled off if he starts getting hot).
Second, if I need to change him and we are outside or the temperature inside is brisk, I can easily change him without his legs exposed to the cold by taking off his pants and leaving the leggings on.
Third, and this is the one that applies to babywearing, when his pant legs hike up when I put him in a carrier or wrap him in a wrap, the baby leggings stay put! That means his little leg on the bottom is not exposed to the cold air but wrapped in warm and super cute leggings.
The maker of my favorite baby leggings, Anktangle Creations, is currently on maternity leave (boo!), so instead, try these bamboo baby leggings that are both super-soft AND adorable!
4. Wraps
If you have been mainly just using a soft structured carrier, you may want to try a wrap for the winter months.
Of course, you can still easily and warmly wear your baby in a soft structured carrier using the tips above but a wrap is a great way to keep baby nice and warm that you may not have tried. For smaller, younger babies a stretchy wrap like a Moby Wrap is a nice warm soft blanket that is cozy warm. For bigger, older babies you can try a woven wrap in a material like wool that is warmer.
Depending on the carry, a wrap can have more than one layer of fabric passed around your baby adding layers of warmth and comfort.
5. Hats
I'll finish off my list with an obvious one: hats! I love all of the fun hats for babies.
I think the ones with fleece lined insides are great for the extra cold months and you may want to consider a style that ties underneath the chin. I know my little guy loves to pull off his hats! Also try to find a hat that will cover your child's ears to keep them comfy, too. I know I personally hate cold ears!
Alright, now that you know how to keep your baby cozy next to you this winter, let it snow!
How do you keep your child warm while babywearing? Do you have any additional tips?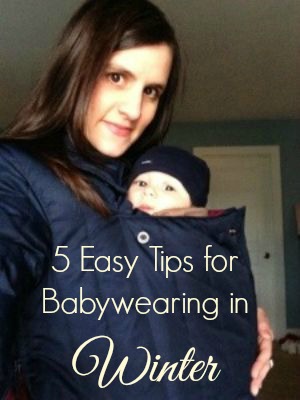 Julia from A Little Bit of All of It • Find her on Facebook and Twitter