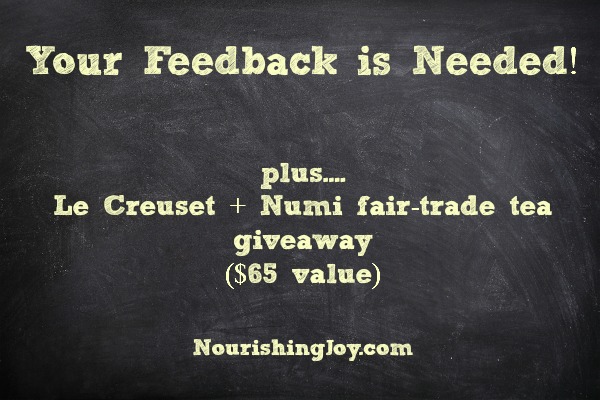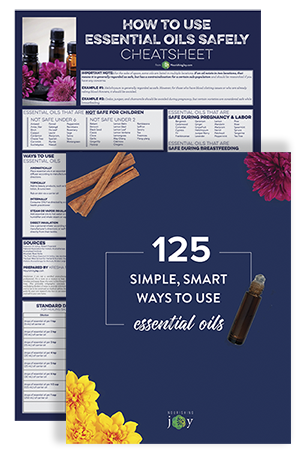 Make using essential oils EASY with our at-a-glance cheatsheets.
Be confident in using essential oils safely AND effectively! Simply click the button to download these two popular cheatsheets and see just how easy using essential oils SAFELY can be.
Thank you, everyone, for your wonderful and *incredibly* helpful feedback last week as part of our Annual Reader Survey. (You're still welcome to leave your feedback, but just know the giveaway is closed.)
I'm still working my way through all of your comments, but let me tell you – I am EXCITED about the upcoming year! You all have made some really insightful and helpful critiques as well as suggested a number of really fabulous ideas. There are wonderful things in store for us in 2014!
But as a "thank you" and a token of my appreciation to you, my beloved readers, I promised a giveaway. Specifically, a tea-for-two giveaway worth $65 including:
*a Le Creuset 22-ounce tea pot (this one, specifically)
*fair trade Earl Grey from Numi Tea (a 3-pack, see the specifics)
*a ladybug drip catcher (see it here)
*a copy of the new e-book, "Steeped," with real food tea-time treats.
So, after placing all the 455 entries into a virtual "hat" at random.org, I drew Entry #208 – Jasna M. (jasna_…@yahoo…)
Jasna, please contact me by this Thursday, Nov. 28, to claim your prize. (If you are outside of the United States, I'll be sending you an Amazon.com gift card plus the e-book.)
Thank you, everyone, and have a very blessed week!
[social_warfare]