The Real Food Summit Begins Today! (and it's FREE!)
This post may contain affiliate links, including those from Amazon.com, which means we earn a small commission off your purchases. And here's the thing: We only mention services and products that we think are truly worth your attention, whether they're free, paid, or otherwise. This site relies on YOUR trust, so if we don't stand behind a product 110%, it's not mentioned. Period.
I can't believe I didn't know about this before, but I am so excited to have found out about this online event just as it's about to begin! And of course, since it's about real food, I have to share it with all of you…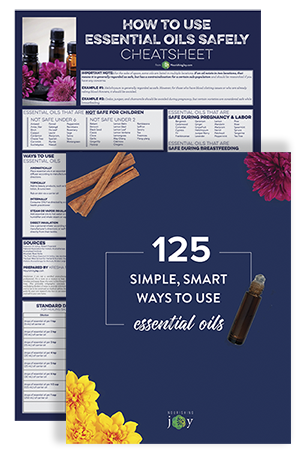 Make using essential oils EASY with our at-a-glance cheatsheets.
Be confident in using essential oils safely AND effectively! Simply click the button to download these two popular cheatsheets and see just how easy using essential oils SAFELY can be.
The Real Food Summit is a FREE online event with 29 farmers, naturopaths, nutritionists, authors, and bloggers discussing how eating Real Food is vital for our health, the role Real Food plays in healing our bodies and our food systems, and how choosing Real Food affects the health and sustainability of all of the inter-related food systems: the soil, the plants, the animals, etc. It's incredibly exciting!
The best part is that Joel Salatin of Polyface Farms kicks the event off, and his "Real Food Defined" video that welcomes everyone to the event – which is 50 minutes long (!) – alone is worth signing up for.  My husband and I just listened to it while he was folding laundry and I was making a cake, and it is hands-down the absolute best description and discussion I've heard of Real Food, the importance of soil, and how to fix our broken food systems. But then, again, it's Joel Salatin. What else would I expect? 🙂 Even if you don't watch a single other video for the rest of the conference, that video alone makes it worth registering.
The Real Food Summit works like an online conference:
Each day of the summit, three video slideshow presentations will be posted in separate presentation "rooms" on the Real Food Summit website. The presentations will be available for viewing for 24 hours – from midnight to midnight Pacific Time.
At the end of the 24-hour FREE viewing period, that day's presentations will be taken down and will be replaced by the next day's presentations. This midnight-to-midnight rhythm will go on for the 9-day duration of the summit.
To participate and watch the presentations, all you have to do is sign up! (I just registered tonight and in the "welcome" e-mail there was also the promise of free goodies offered throughout the event, so I'll definitely be staying tuned for those….)
There will also be a live question-and-answer period on Underground Wellness Radio each evening which features three of the Real Food Summit speakers. When you sign up, you will get regular emails with updates about how to interact with the speakers.
You can see the entire schedule and list of speakers on the Schedule page, but some of the speakers I'm especially excited about are:
Chris Kessler on The Role of Fish and Seafood in the Real Food Diet
Pam Schoenfield, RD, on How to Feed Your Children So They Don't Become Victims of Our Modern Food Culture
Jenny McGruther of Nourished Kitchen on How and Why Fermented Foods Heal
Donielle Baker of Naturally Knocked Up on Real Food for Fertility
Jeffrey Smith, author of Seeds of Deception on Genetically Modified Foods
Mark McAfee, owner of Organic Pastures Dairy (the largest raw milk farm in North America) on how raw milk heals
Cate Shanahan, MD, on how to evaluate diets ("Hype or Healthy?")
Rami Nagel, author of Cure Tooth Decay on How to Remineralize Cavities and Repair Your Teeth Naturally
The idea of bringing together the expertise of several well-known voices in the Real Food movement is brilliant, and I give kudos to Sean Croxton of Underground Wellness for putting the event together.
I hope I'll "see" you there!
This post was shared at Fat Tuesday.