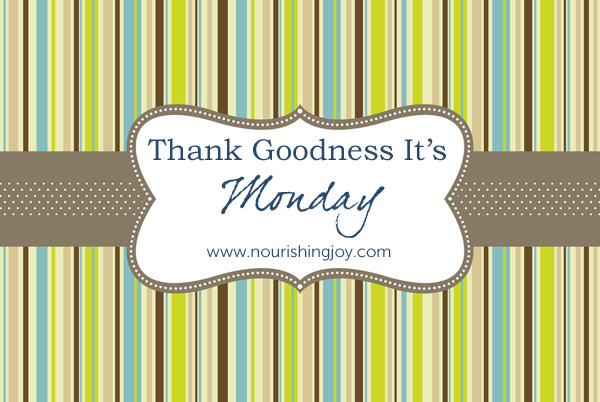 Welcome to Thank Goodness It's Monday, a weekly blog carnival celebrating natural, joyful living. The TGIM link carnival happens every Monday here at Nourishing Joy and it's where we share stories of gratitude and joy and link up recipes, tips, and tricks for living natural, intentional, nourished lives.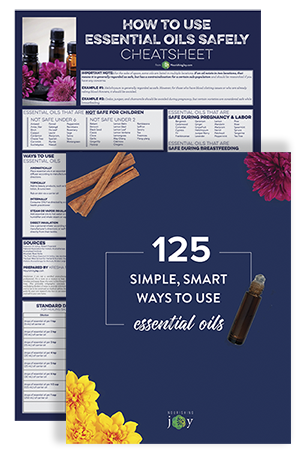 Make using essential oils EASY with our at-a-glance cheatsheets.
Be confident in using essential oils safely AND effectively! Simply click the button to download these two popular cheatsheets and see just how easy using essential oils SAFELY can be.
You'll find posts here on so many topics: cooking from scratch, natural housekeeping, gardening and animal husbandry, frugal tips and tricks, stories of joy and gratitude, answers to prayer, homeschooling, herbal remedies, meal planning, thoughtful parenting… what do you have to share?
A Few Highlights from the Summer
Typically I share the top three most popular posts from the previous week. Thanks for visiting each other's blogs! Please continue to encourage and support each other in this wonderful way.
However, we've been on hiatus through the summer to spend time with family and get caught up on other projects, so this week I'm sharing a handful of posts I've enjoyed through the summer as a huge toast to all of you and the amazing articles, recipes, and tips you share every week!
Here, in no particular order, are some of my favorite posts from the summer (there seem to have been an inordinate number of recipes submitted this summer!):
Summer Snowpea Chopped Salad from Reviews, Chews, and How-To's
Butter Chicken in the Crock Pot from Once Upon a Time in a Bed of Wildflowers
Easy summer bruschetta salad from French Pemberley
Sleeping Christians from This Woman Writes
Raw Blender BBQ Sauce from Raia's Recipes
Garden Gazpacho from Richly Rooted
Let Go of Guilt and Anxiety: Avoid Defining Your Child by Their Disease from Kids Love Acupuncture
Seedless Elderberry Apple Jam from One Acre Farm
The Gift of Rest from From This Kitchen Table
How to Add Milk to Soap from The Simple Life Mom
How to Share
Choose a post from your own blog that you want to share. If you don't have a blog, feel free to share your story or tip in the comments.
Click "Click Here to Enter" at the bottom of the list. Enter your blog post's title, URL, and all other pertinent info. Once you've chosen and cropped your photo, your link will appear on the list!
Return to the blog post you just linked up and place some sort of text attribution somewhere to Nourishing Joy and include a link back to NourishingJoy.com. If you don't know what to say, feel free to copy and paste this sentence:
This post has been shared at Thank Goodness It's Monday at Nourishing Joy.
If you want (and it's totally optional), leave a comment telling us what you shared and why you shared it.
That's it! Thank you for joining us! I'm so excited you're here! (Can you tell?!?)
How to Play Nice
(aka Carnival Common Courtesies)
So, just a few guidelines so we can all have fun and learn from each other.
1. Pretty much anything goes as long as it fits within the natural / sustainable / real food / nourished living type of category. We're here to inspire each other, learn from each other, and share with each other, so link up!
2. If you're submitting a recipe, please remember: real food recipes are welcome, recipes using processed or boxed ingredients are not. "Real food" can mean a lot of different things, but basically, if it's made from scratch, it's probably okay. If it uses something from a can or a box, it's probably not.
3. Please link your post back to Nourishing Joy. This is a common blog carnival courtesy and helps this community grow so that we can benefit from each other more and more.
4. At this time, giveaways are allowed but advertising is only allowed for products you yourself created or have been involved in (e.g. e-books, classes, fine woodworking, a sale at your brick-and-mortar natural goods store, etc). I may revamp this as time goes by according to how these guidelines are used.
5. I'm really rather a nice person, but please know, I have a delete button and I'm not afraid to use it. This blog carnival is to encourage each other to live joyful lives in natural, sustainable ways, so if your submission doesn't further that goal, I will quietly delete your post.
6. And lastly, please encourage each other by visiting each other's sites! I include the names of the most popular posts from the previous week at the top of each week's list, we have a shared Pinterest board, and I mention especially creative or intriguing posts on our Facebook page as I am able. I encourage you to do the same with posts you find intriguing.



[social_warfare]