I'm not a fan of the whole "Black Friday" tradition, so here at Nourishing Joy we'll be publishing our own holiday gift guide once December arrives. 🙂
However, there is one deal I'd like to point out for this shopping weekend: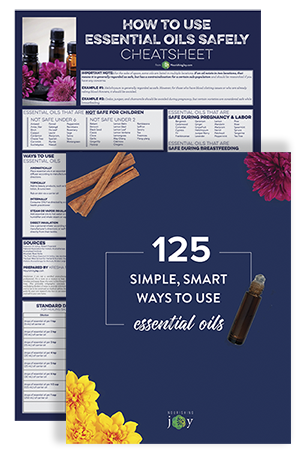 Make using essential oils EASY with our at-a-glance cheatsheets.
Be confident in using essential oils safely AND effectively! Simply click the button to download these two popular cheatsheets and see just how easy using essential oils SAFELY can be.
Several real food bloggers at Real Food Media have teamed up during the Black Friday/Cyber Monday weekend to offer 40% off their real food cooking classes, meal plans, e-books, and other fantastic resources for eating, preparing, and understanding traditional foods.
If you've been even the slightest bit interested in any of these materials and resources in the last year, I highly recommend checking them out now, as these are definitely the best prices on these products we'll see for awhile, I'm sure. The sale ends Sunday night at midnight Pacific time, so don't delay!
Jenny at Nourished Kitchen has put together a lovely, easily readable summary of all the classes and products, so while I'll list them all here, feel free to jump over to her site to see more detail.
To get the deal, click through and enter the coupon code BLACK40 at check out which will take 40% off your purchase through the entire weekend. And remember, the sale ends Sunday, Nov. 27, at midnight PST, so don't delay!
Real Food Nutrition & Health E-book

E-book: Real Food Nutrition & Health

Finally there's a nutrition text that gets it right! Real Food Nutrition & Health has two versions – one for teenagers and preteens and another that teaches real food nutrition basic to kids aged 6 to 11. Both are must-reads for any family who truly wants their children to understand the value of good, real food.
Regular Price: $19.95
Black Friday Price: $11.97 with coupon code BLACK40
Offered by FoodRenegade.com
Real Food Nutrition & Health Online Class + E-book

Class + e-Book: Real Food Nutrition & Health

This twelve-week online class guides teens and adults through a back-to-basics approach to real food and nutrition. The multimedia course features video excerpts of Michael Pollan, Sally Fallon and others.
Regular Price: $100 – $115
Black Friday Price: $60 – $69.50 with coupon code BLACK40
Offered by FoodRenegade.com
Get Cultured! How to Ferment Anything

Online Class: Get Cultured! How to Ferment Anything

Learn how to prepare enzyme-rich fermented foods, yogurts, condiments, salsas and chutneys in your kitchen with over 50 video tutorials, 100 recipes and 60 tutorials, plus the free 36-pg e-book Get Cultured: Probiotic Recipes from the Nourished Kitchen. 6% of proceeds go to the Weston A Price Foundation and Farm-to-consumer Legal Defense Fund.
Regular Price: $199
Black Friday Price: $119.40 with coupon code BLACK40
Offered by NourishedKitchen.com
Simple Dinners

Meal Plans: Simple Dinners: Healthy, Real Food Meal Plans

Each week you'll receive a simple, healthy and nutrient-dense menu. Meals come together in about 40 minutes, feature seasonal ingredients, and you'll enjoy cooking tips, make ahead lists, and a shopping list that makes cooking traditional foods easy. 6% of proceeds go to the Weston A Price Foundation and Farm-to-consumer Legal Defense Fund.
Regular Price: $85/year or $10/month
Black Friday Price: $51/year to $6/month with coupon code BLACK40
Offered by NourishedKitchen.com
Happy & Healthy Holidays

Online Cooking Class: Happy & Healthy Holidays

Online cooking class devoted to transforming your holidays! You don't have to give up pumpkin pies, fudge or eggnog – just learn to make them better with over 30 instructional videos, 200 real food holiday recipes and over 30 holiday meal plans that make shopping for and preparing real food this holiday season a breeze.
Regular Price: $129
Black Friday Price: $77.40 with coupon code BLACK40
Offered by NourishedKitchen.com

The Real Food Party Planning Guide

E-book: Real Food Party Planning Guide

This guide gives you the steps you need to make planning parties a breeze – including ideas for make-ahead dishes, shopping, preparing and finalizing a real food menu, plus what to do before and after the party.
Regular Price: $12.00
Black Friday Price: $7.20 with coupon code BLACK40
Offered by Kellythekitchenkop.com
A Whole Food Holiday

E-book: A Whole Food Holiday

A holiday e-book featuring GAPS-/SCD-compliant recipes like butternut squash chips, slowcooker hot wings, poppy seed dressing, cranberry sauce and slowcooker honey ham.
Regular Price: $21.95
Black Friday Price: $13.17 with coupon code BLACK40
Offered by WellfedHomestead.com
GAPS-/SCD-legal Thanksgiving Leftover Recipes

E-book: Gaps-/SCD-legal Thanksgiving Leftover Recipes

Not sure what to do with your Thanksgiving leftovers? GAPS and SCD legal recipes for soups, sandwiches and salads. Use these recipes for your Thanksgiving leftovers, or for any other time of the year!
Regular Price: $8.95
Black Friday Price: $5.37 with coupon code BLACK40
Offered by WellfedHomestead.com
Reversing Food Allergies

Online Class: Reversing Food Allergies

Interested in the GAPS diet but not sure where to start? In Reversing Food Allergies, you'll learn how to detox, heal and seal your gut and nourish your body using the dietary principles behind the GAPS and SCD diets.
Regular Price: $199
Black Friday Price: $119.40 with coupon code BLACK40
Offered by Cheeseslave.com
30 days on the GAPS Intro

E-book: What can I eat now? 30 Days on the GAPS Intro

This comprehensive e-book provides a clear, step-by-step guide to surviving the individual stages of the GAPS introduction. From information on what to pick up before starting the introduction (like good quality knives and grass-fed beef) to recipes organized by stage, the e-book offers a comprehensive and practical look at GAPS. 57 pages.
Regular Price: $20
Black Friday Price: $12 with coupon code BLACK40
Offered by HealthHomeHappy.com
Grain-free Meal Plans

Meal Plans: Grain-free Meal Plans

Menu plans for 3 meals a day, 7 days a week, plus snacks and sweets
Kid-tested recipes
Complete shopping lists

Suitable for gluten-free, grain-free, GAPS and SCD diets.
Regular Price: $130/year or $16/month
Black Friday Price: $78/year or $9.60/month with coupon code BLACK40
Offered by HealthHomeHappy.com
GAPS-legal Meal Plans

Meal Plans: GAPS-legal Meal Plans
Meal Plan featuring six GAPS-legal dinner menus, shopping list, make-ahead list, recipe notes. Suitable for gluten-free, grain-free, GAPS and SCD diets.
Regular Price: $21 to $71.40
Black Friday Price: $12.40 to $28.56 with coupon code BLACK40
Offered by Wellfedhomestead.com
Real Food for Rookies

Online Class: Real Food for Rookies

Are you overwhelmed with all you've heard from the "experts" about what you should be eating? Learn the basics in this 12-week online class, including how to fit Real Food into your busy schedule and into your budget. Go with Kelly into the kitchen, to the farm, and to the store where she'll teach you what it took her years to learn!
Regular Price: $190
Black Friday Price: $114 with coupon code BLACK40
Offered by KellytheKitchenKop.com
Real Food Ingredient Guide

Meal Plans: Real Food Ingredient Guide

Not sure how to navigate the grocery store? This real food ingredient guide provides the information you need about which foods to choose, and which to skip including recommended brands, deciphering labels and more.
Regular Price: $10.00
Black Friday Price: $6.00 with coupon code BLACK40
Offered by KellytheKitchenKop.com
Get Real with Food Starter Kit

CDs + e-Book: Get Real with Food Starter Kit

Overwhelmed by the idea of feeding your family REAL food every day? Don't know where to start? Our get REAL with Food Starter Kit will give you everything you need to feed your family REAL food at least 80% of the time…starting today! 6 CD Set, 19 eCookbooks and the Adventurous Eater Guide!
Regular Price: $197
Black Friday Price: $118.20 with coupon code BLACK40
Offered by NourishMd.com
[social_warfare]