Nourishing Joy's "Wit and Wisdom"
This post may contain affiliate links, including those from Amazon.com, which means we earn a small commission off your purchases. And here's the thing: We only mention services and products that we think are truly worth your attention, whether they're free, paid, or otherwise. This site relies on YOUR trust, so if we don't stand behind a product 110%, it's not mentioned. Period.
"Wit and Wisdom" is offered as a wee way to inspire and nourish greater joy
in our homes, our work, and our daily lives.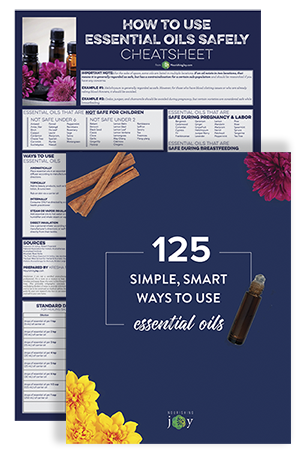 Make using essential oils EASY with our at-a-glance cheatsheets.
Be confident in using essential oils safely AND effectively! Simply click the button to download these two popular cheatsheets and see just how easy using essential oils SAFELY can be.
It seems many people are talking about birth control these days, and I ran across a particularly thought-provoking quote the other day on Challies.com, which examined the ethics of birth control within a Christian worldview. To read the full article, click here.
From Tim Challies at Challies.com:
"…If it is true that the Bible neither forbids nor explicitly commands birth control, this places it within the realm of Christian freedom. This is not to say we are just free to do whatever we want. Rather, we are use the resources God gives us in Scripture, in conscience, in wisdom, in Christian community, and come to what we then trust is a God-honoring conclusion. As we do this we must acknowledge that other Christians may come to different conclusions and we must be prepared not to attack them or do battle with them.
"If birth control does fall into the area of Christian freedom, it means that even while the Bible states that children are a blessing and while it tells us to be fruitful and multiply, it does not demand that we are all to be exactly as fruitful as we possibly could be or that we are to all have as many children as we can possibly have. There are good reasons and bad reasons both to limit the size of your family and to choose not to. Both extremes can be a means to pursue idolatries or to give in to those who would overstep their boundaries and bind another person's conscience. If you do not want children because you just plain don't like children or because you are a selfish person who wants to pursue your own dreams of a life of ease, you ought to examine your heart and repent and consider that children are a blessing of the Lord. If you want to have twenty children because that is just what people do in your community or because you have made family size into a kind of idol, you also need to examine your heart and repent. The human heart truly is tricky and deceptive and wicked and it will often latch on to good things and raise them into ultimate things."