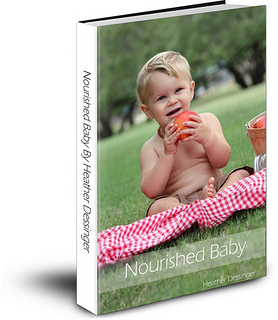 So, I promised last week that there were more very exciting giveaways just around the corner, and as promised, our newest giveaway starts now! I am absolutely thrilled – truly and honestly – to be able to offer TWO copies of a delightful and incredibly informative book, Nourished Baby.
Did you know that the actual birth process can affect a child's cravings for what they eat as a toddler AND as an adult?
And did you know that feeding your child a variety of nutrient-dense foods when they're young can prevent the need for braces and eyeglasses later on?
These ideas certainly challenge the status quo of what we're taught about infantile nutrition, but they're ideas very well worth considering.
Heather Dessinger (aka The Mommypotamus) has been one of my favorite bloggers for a number of years and she has now written an absolutely intriguing e-book, written in her usual witty, sassy style.
I recommend it as ESSENTIAL reading for any mother-to-be, parents of young children, caregivers, and grandparents who want to be involved in the nourishing of their young grandchildren. I treasure my own copy and refer to it regularly as I'm currently introducing my youngest babe to solid food.
Heather has now offered TWO free copies to Nourishing Joy readers and is also offering a sale for 20% off if you'd prefer to get a copy right away! (Just use coupon code SUPERMAMA.)
You can also download a FREE 18-page preview so you can see for yourself.
I swear – I am the most blessed blogger on the planet by getting to review and share such wonderful giveaways! Truly, I am blessed. 🙂
What "Nourished Baby" Offers
A refresher on how various bacteria work in our bodies and how the bacteria we have when we're pregnant affect our babies – both in utero and after birth
How the ACTUAL BIRTH EXPERIENCE can affect a child's cravings for life
How to decode your cravings while nursing
Why you should skip rice cereal as a first food and what to feed your baby instead
What the latest research says on introducing peanuts, eggs and other "allergenic" foods
When children's "picky" eating habits can actually indicate a serious problem – and how to correct it
Tips for raising an adventurous eater
There are also more than 30 baby-friendly recipes that your whole family will love, which includes tips for when and how to introduce them. My favorites include Sweet Marrow Custard With Vanilla Bean, Blackened Salmon With Pineapple Mango Salsa, and Avocado Chutney. And remember, these are baby-friendly recipes, not baby recipes, meaning you can make them for dinner for the whole family and feed them to Baby too – no extra work, yay!
Read more at the "Nourished Baby" information page, get your FREE 18-page preview, or buy your own copy now (there are also Kindle and other electronic versions available).
Why I'm Impressed
I've been cooking natural, whole foods and preparing nutrient-dense foods in traditional methods for several years now and I've immersed myself in research during much of that time. So, what amazes me about "Nourished Baby" is that Heather takes what I already know and makes it make sense in a new way, deepening my understanding and inspiring me anew.
The book is also highly approachable and easily readable – I read it from cover to cover in one sitting and laughed out loud through every chapter. It's extremely well-researched and Heather balances the onslaught of facts with wisdom from across the ages and just plain common sense.
At the bottom line, Heather has written the most thought-provoking guide to proper nourishment for babies and mothers-to-be I know of. (Yes, even though there are many others I have on my shelves and love – this is the one that point-blank shows me how I can best nurture and nourish my little ones.)
The Giveaway!
As always, here's the fine print:
This giveaway is for two (2) PDF versions of "Nourished Baby" by Heather Dessinger, awarded to two different winners.
Contest is open to anyone worldwide.
All entries will be verified before the winners are announced.
If you are chosen as the winner, you must contact me within 48 hours of the "winner announcement" I will post here on the blog. (I will post information on how to do so.)
Contest closes Monday night, August 6 (to be more precise: 12:01 a.m. EST Tuesday, August 7)