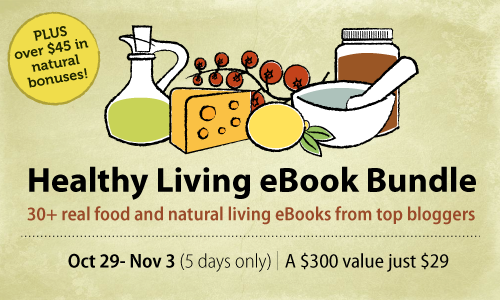 I have been holding my breath waiting to tell you all about this – and it's finally time! I am so ridiculously excited!
For 5 days only, 27 prominent Healthy Living authors (including yours truly) have joined together to bundle 34 of their most popular eBooks, valued at just over $300, for the incredibly low price of $29.
That's only $0.87 per book to gain inspiration, encouragement, and the practical resources you need for your own healthy lifestyle. Plus, you'll receive $49 of additional FREE Bonuses, and be entered to win one of 3 great prizes.
I'm excited because for one, my book "Restocking the Pantry" was created specifically for this collection and this is its official unveiling. Yay!  "Restocking the Pantry" is an abbreviated version of our as-yet-unfinished tome of from-scratch versions of pretty much anything in your pantry. And yes, for those of you who have been following this blog for a long time, the full version has been in the works for eons, but don't worry, you'll definitely be notified when it's done!
And for two, this collection is a FANTASTIC deal and I'm so excited to be able to share with all of you! I know most of the bloggers on this list and their work is inspiring, informative, and worth every penny – even if the books were sold a la carte. But instead, this collection is a …. well, a collection… and it's a rare day when you see a better deal than this one.
What's Included in the Sale?
When you purchase the Healthy Living eBook collection, you will get:
Instant access to each of the 34 eBooks listed below
Each Healthy Living eBook Bundle comes with $49 of FREE Bonuses from several of our favorite healthy living companies. Offers include a variety package from Redmond Trading ($21 Value), a FREE 3-Month subscription to Plan to Eat ($15 Value), and a FREE Sourdough Starter or Traditional Buttermilk Starter from Cultures for Health ($13 Value). Click here for more details.
PLUS you'll be entered to win one of 3 Great Prizes
SID=U" target="_blank">