GET CONNECTED!
Our deepest desire is that you will leave this website feeling encouraged, inspired, and informed. The best way to do that is to get connected with the Nourishing Joy team and other Nourishing Joy readers. Thankfully, there are MYRIAD ways to stay in touch with Nourishing Joy and be the first to know what we're up to.
Sign up for our weekly(ish) Insider's Letter
We dish it out in the Insider's Letter we send periodically.
Sometimes it's just a list of recent posts that you'll definitely want to read, sometimes it's a list of recommended products we've been really impressed with, and sometimes we talk about stuff in the newsletter we don't talk about anywhere else. It's the kind of stuff we'd talk about if we were sitting and lingering over coffee together.
Sign up today and get inspiration delivered straight to your inbox (you'll also access to our small library of freebies!)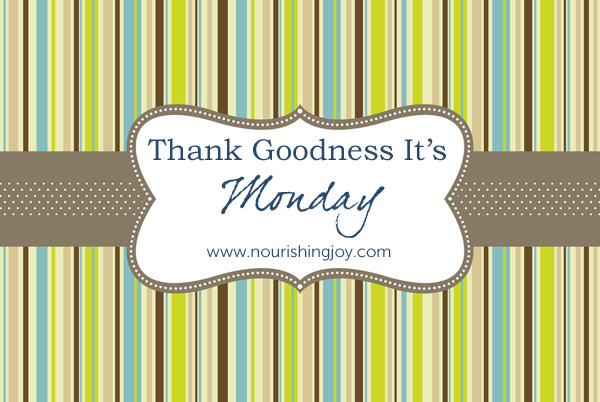 If you're always seem to be looking for inspiration for a new recipe, or a new trick for keeping your kitchen clean without toxic chemicals, or just a way to get your kids to bed with less whining, fussing, and yelling, then check out our fresh collection of links each week provided by other natural living and real food bloggers at Thank Goodness It's Monday.
Every week is different and every week is new!
Click here to see what's new this week.
Leave a Comment or Share a Post
When you leave a thoughtful comment on a post, you are contributing in a wonderful way to the whole community. Others can respond, everyone can be edified, and everyone wins.
Likewise when you share a post via social media, you help others discover the post so they can in turn comment or contribute to the conversation. As we state in our comment policy, the purpose of comments is to foster intelligent discussion, and everyone is welcome to state their comments and questions.