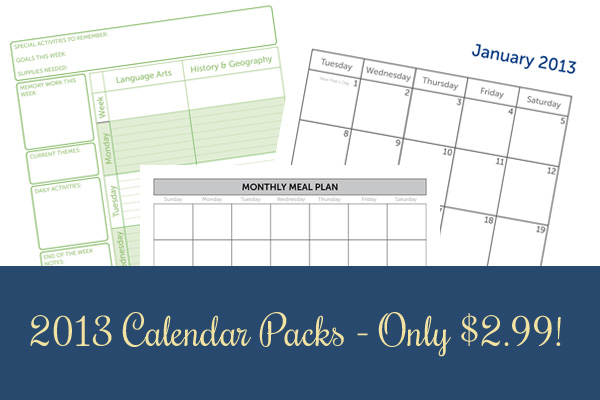 Staying organized can be a challenge – even for the most on-top-of-it mom (which I'm not, by the way – you know that, right?). But having the right tools for the job makes all the difference.
To that end, we've put together our favorite basic tools for keeping our home running (somewhat) smoothly and we want to share them with you.
[wp_eStore_add_to_cart id=3]
So what tools do we use?
Take a look!
Here's what's included in the 2013 Calendar Pack:
There are 54 pages of calendars and organizers, including bonuses, in this pack.
For $2.99, that's a steal of a deal!
(2) 12-month monthly calendars (offered in a 2-page spread and a 1-page spread) – It often annoys me on traditional calendars that there's no room to make notes for things that don't fit on any particular date but are still important to remember. So, in our monthly calendars, there's room for both monthly and weekly notes in addition to the typical monthly calendar layout.
(3) meal planning calendars + meal planning tips – Everyone likes to organize differently, so I've included three different meal planning calendars. There's the typical monthly calendar to sketch out general meal plans, a weekly calendar with room to plan snacks and a grocery list, and a flexi-planner that allows you to plan each week's meals without assigning the meals to a specific day.
I often use the flexi-planner when I've got lots of freezer packs or leftovers to use up or when I'm unsure of a week's activities. I plan what the meals will be and list them out so that each afternoon I can just scan the list to figure out from the planned options which would work best for that evening.
Bonus Organizers!
I'm including two freebie bonuses in this Calendar Pack as well.
For you homeschooling parents, I'm including five versions of the homeschool weekly planner I designed for our homeschool. They're all versions of my personal weekly planner, so they don't vary greatly, but I wanted to give options for you to fill in your own subjects according to your number of children, etc etc etc. Also, while I've designed it as a weekly calendar, the "blank" version of the calendar can be useful as a daily planner if you've got several children.
As a second bonus, I'm including our popular Vaccine Evaluation Worksheet available in our Common Sense Guide to Vaccines. This is a comprehensive tool to evaluate which vaccines are right for each of your children, so that you can weigh the medical, social, emotional, legal, and ethical issues surrounding vaccination intentionally and thoughtfully. I'm including it here merely because it's a helpful organizational tool – if it's not right for you, then absolutely feel free not to use it.
May the joy in YOUR home be nourished in 2013 and may it be your most organized year yet!
[wp_eStore_add_to_cart id=3]
 This post has been shared at The Mommy Club.