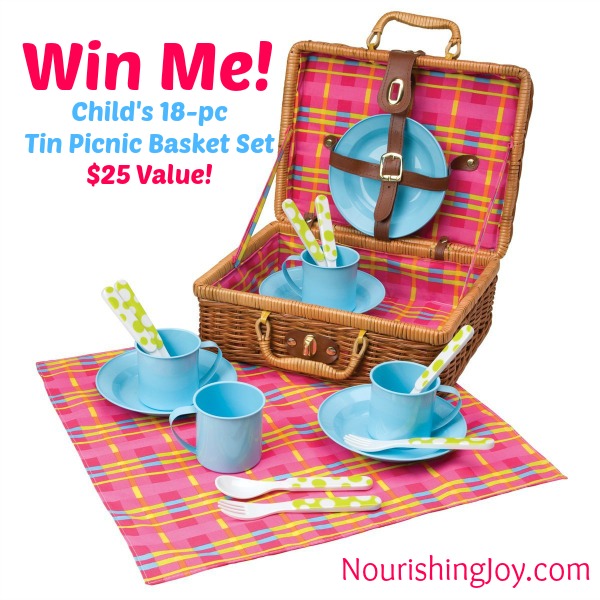 I SO appreciate each and every one of you! Writing this blog is a work of heart and without your comments, questions, critiques, and encouragements, it wouldn't be possible (and really, beside the point).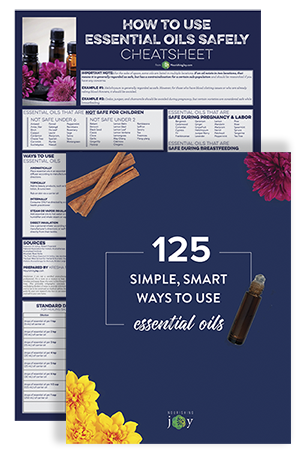 Make using essential oils EASY with our at-a-glance cheatsheets.
Be confident in using essential oils safely AND effectively! Simply click the button to download these two popular cheatsheets and see just how easy using essential oils SAFELY can be.
So, as a "thank you," I'm hosting monthly giveaways as a small token of my appreciation. This month, I'm giving away a child's tin picnic basket set, which I chose based on your Facebook votes. Join us if you want to vote on future giveaways!
How to Enter

Click this link: Child's 18-piece Tin Picnic Basket Set

If you haven't already, sign up for the Nourishing Joy email newsletter using the form below. I hate spam (maybe even more than you do), so you'll only ever receive e-mails you've actually signed up for!
The emails you'll receive will include:
Real Food Recipes
Practical Tips for Natural Health & Beauty
Natural Babycare
Ways to Nourish Joy in YOUR Home
You may unsubscribe at any time. However, YOU MUST be signed up for the newsletter at the time the winner is announced in order to be eligible to win. (Contest closes July 31, 11:59 p.m. PDT)

Just enter your email address below and hit SUBSCRIBE.

Verify your entries with the Giveaway Tools form below. You can also earn more entries in this giveaway through various options in the Giveaway Tools box, such as following us on Facebook and Pinterest – just click through to see the options.
And if you don't want to bother with all the social media rigamarole, just sign-in to the Giveaway Tools box below and leave your e-mail address in the first option. Nothing more is required and you'll be entered!
[social_warfare]