Make Your Favorite Condiments at Home (Without Sacrificing The Store-Bought Flavor You Love)
♥ Save Money
♥ Avoid High Fructose Corn Syrup, Preservatives, and Food Additives
♥ Have Fun
♥ Impress Your Friends
♥ Easily Teach Your Children How to Cook (These Recipes Are All Easy to Make & Kid-Approved!)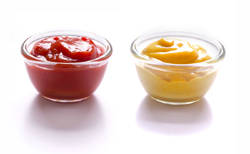 Making your own condiments isn't difficult. With nearly 75 pages of recipes and tips, we'll show you exactly how easy it is – not to mention frugal and healthy – to make your own favorites at home.
From the Introduction:
"I don't know about you, but when I feed my children good food, it's not just in order to avoid the "bad" stuff, but it's to be  proactively nourishing them so that they're filled with the "good" stuff.
"I've worked and reworked these recipes (and here's my huge shout out to the 114 recipe testers who gave me amazingly helpful feedback through the process!) to make them taste as close to the store-bought originals as possible. Store-bought yellow mustard has that certain – je ne c'est quoi - perky tangy zing, and I wanted to make sure these homemade versions captured as much of those unmistakable flavors as possible."
What You Get
In these nearly 75 pages packed with practical tips and more than 55 recipes, you'll learn to make simple, delicious versions of common pantry staples, such as:
ketchup
mustard
mayonnaise
barbecue sauce
Worcestershire sauce
jellied cranberry sauce
classic salsa
hot sauce
steak sauce
teriyaki sauce
popular salad dressings
pickles
Plus SO much more!

BONUS – Buy Now and Get $10 Off Your Next Purchase (That's Essentially Getting This Book for Free)
"Restocking the Pantry" Is Only Part 1!
There's a second cookbook in the works to show you how to make pretty much anything in your pantry from scratch.
On your payment receipt for "Restocking the Pantry," you'll get a coupon code for $10 off of the full tome, The Natural Pantry, due out Fall 2013. That means you get "Restocking the Pantry" absolutely free!
Sign up to receive updates so you'll know the minute The Natural Pantry becomes available!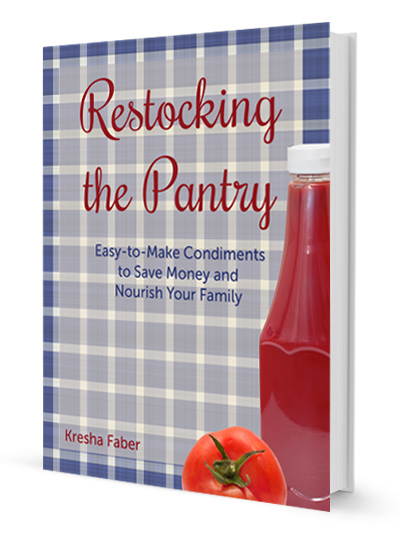 $9.99
P.S. With more than 75 pages of recipes and tips to make your favorite condiments at home, we're sure you'll make good use of this mini-volume. If, however, you are not satisfied for any reason, contact us with 48 hours of your purchase and we will happily refund your money, no questions asked.

P.P.S. Don't forget to store your coupon code for $10 off The Natural Pantry in a safe place! When you purchase the full tome, you'll be getting "Restocking the Pantry" for FREE!