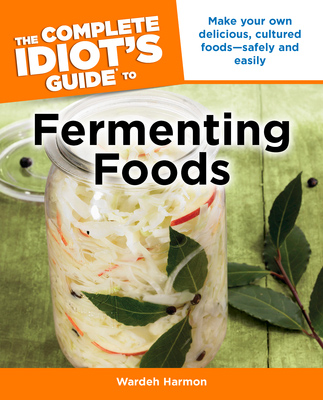 The GNOWFGLINS website (Enjoying "God's Natural, Organic, Whole Foods, Grown Locally, In Season") has long been one of my favorites. Thus, when its author and my Nourished Living Network colleague, Wardeh Harmon, wrote and published a guide to fermented foods as part of the "Complete Idiot's" series put out by Penguin books, I was thrilled over the moon and I couldn't wait to get my hands on a copy of my own.
And now, The Penguin Group has offered to do a giveaway for Nourishing Joy readers!
So, read on for my review of the book (or read it at Amazon
), then enter for your chance to win your own copy of The Complete Idiot's Guide to Fermenting Foods!
My Review
First, let's look at what this book offers:
The Complete Idiot's Guide to Fermenting Foods
covers just about everything. It starts with the author's own journey, then walks concisely step-by-step through the history of fermentation, how fermentation benefits us, the science of fermentation, the types of fermentation, and the tools you'll need to ferment food efficiently and safely in your own kitchen.
It then has several chapters of recipes, which showcase techniques and flavors to ferment nearly every type of food. Vegetables, fruit, dairy, meats, fish, beans, grains, and beverages (both alcoholic and non-) are all featured with hundreds of recipes to illustrate various techniques and tantalize the taste buds.
At the end, there are helpful references and resources.
What the book does not offer:
There are a few black-and-white photos through the book, but there are no step-by-step photos showing the techniques. If this is important to you, it is a slight drawback.
The verdict:
This is now my go-to book on fermenting and I recommend it very highly.
Harmon has written clearly and in a very approachable manner, making me want to go ferment something, anything, right now, just to try a new delicious recipe or technique as I care for my family.
I appreciate the breadth of information available in this book. It's not a huge tome, and yet every time I've needed to look something up, I've been able to find the information I've been looking for. It's amazingly comprehensive for its size.
The recipes are easy to read and easy to understand – and if you do have trouble, there are troubleshooting hints and tips scattered throughout the book.
What I appreciate most of all, however, is the spirit of the author. You can tell she loves this subject and she infuses the entire book with that wide-eyed amazement at the simple-yet-profound act of taking a good food and turning it into something even greater. In the introduction as she tells the story of her journey to whole foods, I couldn't help but saying, "Yes! Yes!" several times as I read – I relate intimately and deeply to much of her experience.
And despite her extensive knowledge on the subject of fermenting, she writes humbly, authoritatively, and without pandering to any of the dominant voices in today's heated debates within the traditional foods culture (no pun intended!). I for one am deeply grateful.
The only drawback to the book is the lightweight paper on which it's printed. I'm curious to see how it will withstand years of use. I tend to write notes in my books and in this one, my notes bleed through slightly.
The Complete Idiot's Guide to Fermenting Foods
should be on every real food cook's shelf and given as a gift to those new to traditional methods of food preparation.
A Little Taste…
Here are just two snippets from the book to whet your appetite…. (Can't you just picture yourself in Harmon's kitchen as you read?)
From the Spicy Salsa recipe:
"Salsas, relishes, and krauts can get quite bubbly. If using a canning jar, burp your jars once a day by opening the jar band enough to release the pent-up gases. When it comes time to open the jars fully, do it in a sink or with a towel underneath. Happy ferments have a habit of bubbling out all over the place."
From the Introduction:
"We may never know all the differences fermented foods make in our bodies (but I share known health benefits in Chapter 2). Some changes are imperceptible or could be attributed to many factors, and some things we just can't know this side of Heaven. But what we do know is so very encouraging. I feel privileged to be able to share the skills of fermenting foods with you."
The Giveaway
Here's the fine print:
Contest is open to residents of the US and Canada.
All entries will be verified before a winner is announced.
Contest closes Monday night, July 23 (to be more precise: 12:01 a.m. EST Tuesday, July 24)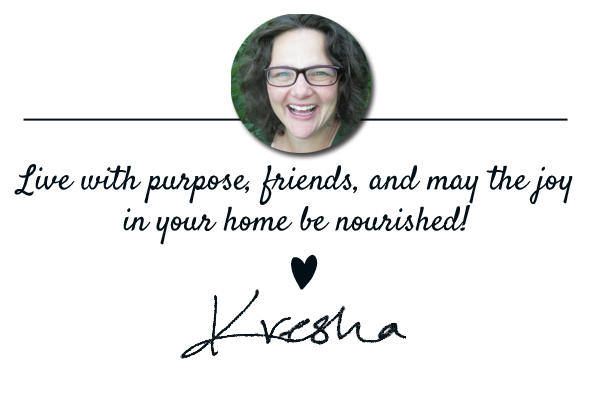 This post may contain affiliate links, including those from Amazon.com, which means we earn a small commission off your purchases. And here's the thing: We only mention services and products that we think are truly worth your attention, whether they're free, paid, or otherwise. This site relies on YOUR trust, so if we don't stand behind a product 110%, it's not mentioned. Period.