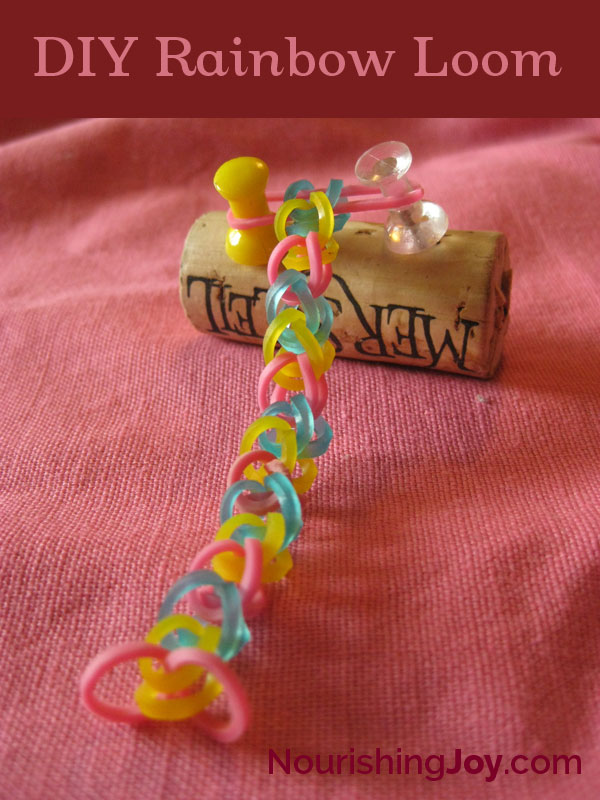 Today's (very brief) post comes to you courtesy of my almost-eight-year-old daughter, who has been recently introduced to the current rainbow loom phenomenon.
At least, I assume it's a phenomenon, since every girl between the ages of 4 and 12 who has come to our home in the last few weeks has arrived with colored elastics and loom in hand.
At first, everyone argued over taking a turn with the loom. Then they learned how to weave on their fingers, which was great until they wanted to set the project down and do something else.
So this weekend, my daughter felt so proud to show me something she had learned from my sister-in-law. If you take a wine cork and stick two pushpins in it, it's like using your fingers to hold and weave the elastics, except you can set it down and come back to your project later. In her world, this was a total score.
You can guess what she did for most of Saturday, can't you?
I hope this little tip from a seven-year-old will bring as much joy to your home as it has to ours!
For more ideas, be sure to follow our Kids and Babies board on Pinterest!

This post may contain affiliate links, including those from Amazon.com, which means we earn a small commission off your purchases. These links keep the lights on around here, so thank you for your support! And here's the thing: We only mention services and products that we think are truly exceptional, whether they're free, paid, or otherwise. These are products that I truly believe make your life better or easier and I ONLY allow our team to mention products that are absolutely WORTH the time, money, and attention of our readers. If we don't stand behind the product 110%, they're not mentioned. Period.