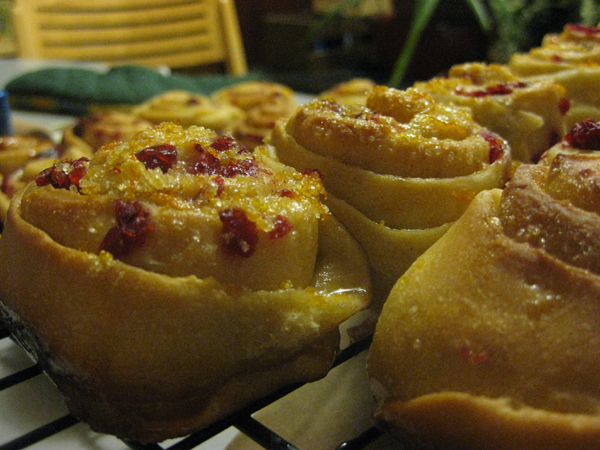 I've mentioned at least once previously how much the combination of cranberry and orange makes me swoon – it is one of the seasonal flavors that I await with the most eager anticipation as we enter autumn. (Orange-Cranberry Sourdough Muffins or Maple Glazed Yams with Cranberries and Orange, anyone?)
Thus I am ecstatic that I finally figured out a recipe that is satisfactorily melt-in-your-mouth and (mostly) uses ingredients that are nourishing and easy for your body to assimilate. It doesn't fit the "local" criteria, as cranberries (which need cool, foggy bogs) and oranges (which flourish in hot, tropical climes) usually don't grow anywhere near where wheat grows well, but it is one of the exceptions that I make – I'm willing to bend the "buy local" rule when I'm dealing with foods that can't grow where I live.
It should also be noted that this recipe uses a fair bit of sugar in the filling (and no, not sucanat or honey or maple syrup), but as long as sugar is an occasional part of your diet rather than a mainstay, you can eat these and enjoy them thoroughly. If you want the most nourishing version possible, either use sprouted wheat flour or follow the directions for the "soaked" version.
I hope these rolls will give your family much satisfaction on holiday mornings and through the autumnal season.
Cranberry Orange Cinnamon Rolls
makes approximately 18-20 rolls
For the rolls:
2 1/4 tsp. (1 pkg) active dry yeast, dissolved in 1/2 cup lukewarm water
1 cup HOT water (WARM if using the soaking method)
3 Tbls. butter
1/2 cup raw sugar or honey
1 1/2 tsp. sea salt
2 Tbls. orange juice or lemon juice
5 cups whole wheat or sprouted wheat flour (may need more if the dough is sticky)
2 eggs
For the fillings:
6 Tbls. unsalted butter, melted
1 Tbls. cinnamon
2 cups fresh or frozen cranberries, thawed
1/2 cup raw sugar
2 handfuls dried cranberries (optional)
zest of 2 large oranges
1/2 cup raw sugar (optional)
For the orange-sugar topping:
1/2 cup raw sugar
zest of 1 large orange
Method:
Sprinkle yeast over lukewarm water and let stand 5-10 minutes until foamy.
In the bowl of a stand mixer using the paddle attachment, add butter, sugar, and salt to the hot water and beat until sugar is dissolved and butter is melted, approximately 1 minute. Let cool to room temperature if necessary. Add yeast mixture and stir on low until well combined. Stir in the orange juice and 2 cups of flour and mix until smooth. Increase speed to medium and mix in the eggs one at a time until fully incorporated. Add 1 more cup of flour and continue mixing on medium for two more minutes.
Using the dough hook, gradually stir in the remaining flour and mix for 3-5 minutes, adding more flour if needed. Knead until the dough is smooth and pulls away from the side of the bowl but is still slightly sticky to the touch.
Place the dough in a greased bowl and cover with a damp tea towel. Let rise for 30-45 minutes or until dough doubles in size.
While the dough is rising, prepare the fillings. For the cranberry filling, place the fresh cranberries and 1/2 cup sugar in a food processor. Pulse until finely chopped but do not puree. Transfer to a sieve and let drain. For the orange filling, rub the zest and 1/2 cup of sugar together in a small bowl until blended; set aside. (If you'd like to reduce the amount of sugar in these rolls, either reduce or remove the sugar from this step.)
Remove dough from the bowl and place on a lightly floured surface. With a rolling pin, roll into a long rectangular shape that's about 1/2″ thick. Pour melted butter onto the surface and brush all over the dough, leaving a 1″ border on one of the long sides to allow the dough to stay coiled once rolled. Sprinkle on the cranberry mixture, the orange-sugar mixture, the cinnamon, and the dried cranberries (if desired).
Gently roll up the dough into one long roll as tightly as you can, pulling slightly on the dough as you roll. Cut the rolls about 1 1/2 – 2″ thick. Rub the zest of 1 orange and the remaining 1/2 cup sugar together in a small bowl. Dip and twist the rolls into the orange-sugar mixture, then place the rolls sugar side up on a greased baking sheet or 9×13 baking pan.
Place the rolls in a warm spot and cover with a towel. Let rolls rise until doubled in bulk, about 1 hour. Bake rolls at 350 degrees F for 18-20 minutes or until golden brown. Watch carefully so they don't burn on the bottom. Remove from oven, let cool 1 minute in the pan, then transfer the rolls to wire racks.
The rolls are best served warm, so either eat immediately or reheat for 5-7 minutes in a 300 degrees F oven.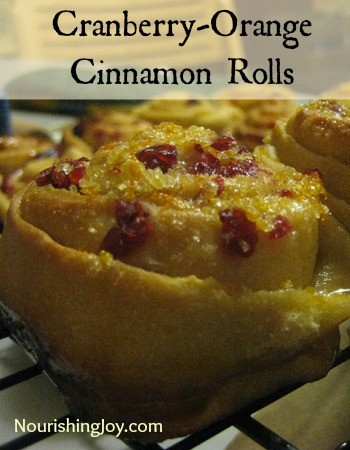 Soaked Method
Grains include phytic acid, which is what inhibits the grain "seed" from germinating until it is planted. Thus, it also inhibits the nutrients from being bio-available. Even when the grain has been ground into flour, the phytic acid is still present. However, by using a traditional method of preparation, either sprouting, soaking, or souring, the phytic acid is broken down, the grain becomes more digestible, and the nutrients become much more bio-available. Soaking merely requires all the grain be soaked with all of the water and an acid medium for 12-24 hours.
If you'd like to prepare these cranberry-orange rolls that way, use the same ingredients, but follow a slightly different procedure:
For the dough:
Combine the 5 cups of flour, the 1 cup of warm water, and the 2 Tbls. of orange juice in a large bowl. If the mixture is too shaggy, you may melt the butter and pour that in as well. Cover the bowl with plastic wrap or a damp towel and leave on the countertop for 12-24 hours.
When you are ready to mix the dough, bloom the yeast in 1/2 cup warm water in the bowl of a stand mixer. Stir in the sugar by hand to dissolve. Add the salt, the butter (if it wasn't added earlier), the eggs, and the soaked flour. Using the dough hook, mix and knead the dough on low for 5-7 minutes. Add more flour if needed, but keep it to a minimum. The dough should be soft and just slightly sticky.
Place the dough in a greased bowl and cover with a damp tea towel. Let rise for 30-45 minutes or until dough doubles in size.
Prepare the fillings and assemble the rolls as above.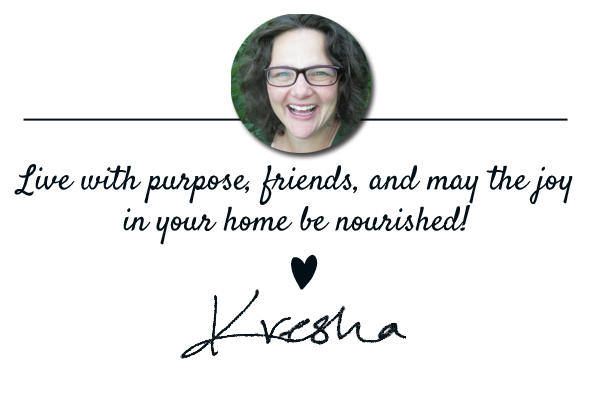 This post may contain affiliate links, including those from Amazon.com, which means we earn a small commission off your purchases. And here's the thing: We only mention services and products that we think are truly worth your attention, whether they're free, paid, or otherwise. This site relies on YOUR trust, so if we don't stand behind a product 110%, it's not mentioned. Period.