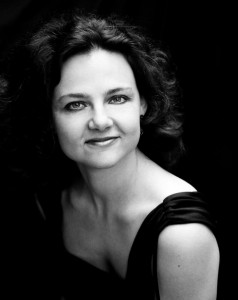 Hello, my name is Kresha.
What do you need to know about me? Well, I'm the mom of three young children, the wife of an incredibly good man, an opera singer, a cloth diaper instructor, a writer, a foodie, and… I wear many hats.
I began this blog because I am passionate about living life joyfully, contentedly, and purposefully – and ultimately, that means being nourished not only in body, but also in soul.
I also wanted to add my voice to the various "movements" that need as many participants and advocates as possible: raw milk and dairy, craft microbrewing, fresh local cooking, small-scale traditional farms, farmer's markets… As I have learned more about the Real Food movement and other "alternative" ways of living over the last few years, I have devoured information and been increasingly incorporating them into our family's rhythms. In the process, I have learned much from other bloggers and I want to perhaps inspire others as I have been inspired.
In these pages I certainly share my own experiences, ideas, recipes, techniques, and philosophies, but I also recognize that there are many others who are more experienced than I or who have had different experiences than I have had, so I readily share the wisdom of others and anticipate that I will refine and update as I continue to grow and learn. The more voices saying the same thing, the better!
Lastly, let me wax eloquent for just one moment about one of my great loves – food. I love cooking, I love eating, I love drinking good wine, but mostly I love sharing good food. Food is not only sustaining, but food is a conversation in itself. When lingering around a table following a delicious meal – be it simple or lavish – the conversation is often as nourishing as the meal. When the food is not only thoughtfully prepared, but also thoughtfully grown and acquired, the poignancy (not to mention deliciousness) of that is rarely missed.  Food gathers people together out of necessity, but it is the company and conversation that knit us together.
So I urge you, as you read the posts and recipes here, gather your friends and family together often to eat and drink, and in so doing, be nourished in body and soul.
To know more about why this blog is named "Nourishing Joy," read Why "Nourishing Joy"?
Need a writer? See more about me at Elance.
Guest Contributors
At this point in time, there are no guest contributors to Nourishing Joy, but over time, I hope that will change. Subscribe to the site and stay tuned!
N.B. I am not a medical doctor (despite dreaming about becoming one in university). All opinions and advice offered on this site are merely from a mother / woman / wife sharing her experiences drawn from her own research. Please consult your own naturopath or general practitioner as good standard practice. Do your own due diligence.
Lisewise, I am not a nutritionist nor a food scientist. Nutrition fascinates me and my mind craves good, intellectual discourse backed by thorough, evidence-based research ((University of Arizona)), but at the end of the day, when it comes to the nutritional info included in my posts, I'm just a mom sharing the pieces of information that have captured my attention in the hopes that they will capture and inspire you too.